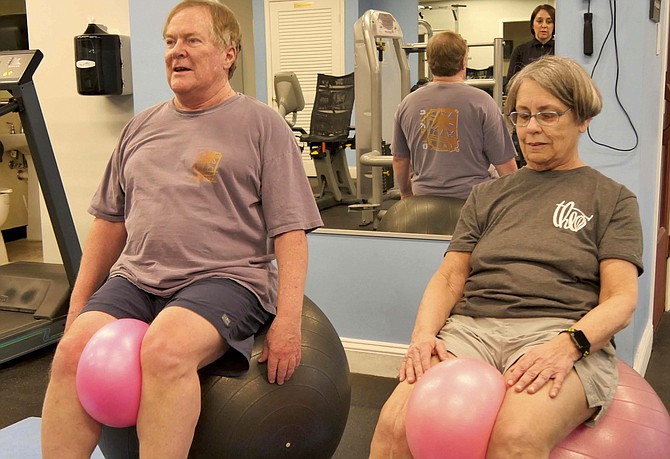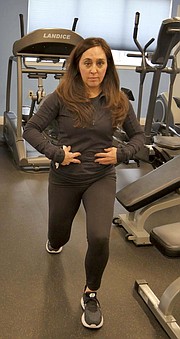 "Shall we start with the monster walk?" Beth Donnelly, home personal trainer for clients 55+, has met Cynthia and Jeremy Baskin in the gym of their building on S. Eads in Arlington.
She says, "This is a great exercise to wake up the glutes. We spend a lot of time loosening the muscles and warming up." Cynthia Baskin pulls the yellow band around her ankles while her husband Jeremy Baskin pulls on his band across the room. "Drop the band and walk up and back two sets. When I use bands, it builds the glutes."
Donnelly says what they do is mostly functional, what they do in everyday life. "We do balance in a lot of what we do. Cynthia has been training with Donnelly since May, and Jeremy says he's a little behind "but she convinced me. Cynthia has great powers of persuasion. I'm ready to be molded into an Adonis."
Donnelly says the goal is actually more to thrive in life than build weight like it might have been when they were younger.
Next they work 15 reps with ten-pound dumbbells, then on to the walking lunge. "Drop the band, up and back two sets. Donnelly says, "This is challenging balance, one foot in front of the other."
Cynthia says she likes Donnelly's flexible style, giving you options. "I want somebody who is checking my form and helps me stick with it, and we actually have fun." Cynthia heads for the Superwoman TRX suspension trainer which she likes the best because it is a great one for the core. She grabs the bands and swings forward like she is ready to fly.
One of the most difficult exercises comes up. Jeremy describes the plank as defying physics. "Forty five seconds. 30 to go. 15 to go." Jeremy pictures Donnelly on a horse holding a riding crop. "If you don't make it, you get a taste," he laughs.
Jeremy says let's do the one I like the best. It's sort of a modified plank. "We call it Jer's Favorite." Turns out Jeremy has given nicknames to a number of the exercises. They stretch out face down on mats side by side with arms lifting their bodies and legs stretched in back on tiptoes. "O.K. 40 seconds. 30 to go. 3-2-1" and a sigh of relief. Cynthia says, "I feel that one all over my body."
"Oh, let's do this one," Donnelly says as she places two large pink balls in front of the mirror in the gym. O.K. sit on the ball. Let's do it for 40 seconds." She gives Cynthia and Jeremy each a smaller ball to squeeze between their knees. "What I love is that the large ball is unstable so they engage their core. The small ball is working their interior muscles and notice they are on tiptoes so it takes more. "
She says this is harder than it looks. "I have one 82-year-old woman and just staying upright on the ball is a challenge." But she continues, "It doesn't take long for your body to learn muscle memory from when you were younger."
Although Cynthia and Jeremy do the same basic exercises, Donnelly adjusts it for each depending on specific health concerns. Cynthia has had two knee surgeries so Donnelly is careful not to do exercises that put stress on her knees, a little more careful with things like the curtsy. Donnelly says what's fun is that they do this together.
Donnelly says her clients are 55-82 years old and she meets with them in their homes or the gyms in their buildings. Her business is based in Alexandria but serves clients in the metropolitan area.