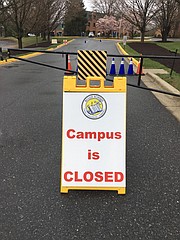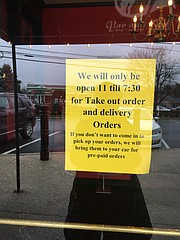 It is rarely easy to find a parking space in front of the stores in Potomac, but it is now. Most of the spaces in front of the Safeway or Giant are occupied, as are those closest to the Walgreens, but other than that, there are plenty of spaces for the rare shoppers looking to park.
Most restaurants are adhering to Maryland Governor Larry Hogan's guidelines to offer carry out only. Those that are not are closed completely. Starbucks, usually one of the busiest places in Potomac, is closed.
A sign posted on the door reads: "Our Store Is Temporarily Closed. Please accept our apologies for any inconvenience. We are working to re-open our store as quickly as possible."
Outside, all the tables and chairs in the courtyard, usually inviting people to gather, are corralled close to the stores, indicating that it is no longer a gathering place.
Guidelines call for groups no larger than 10, and each person staying at least six feet from anyone else, but also suggest not gathering at all. The strongest message is Stay Home… and Wash Your Hands!
Here are a few photos — Signs of the Times – from around Potomac on Monday.