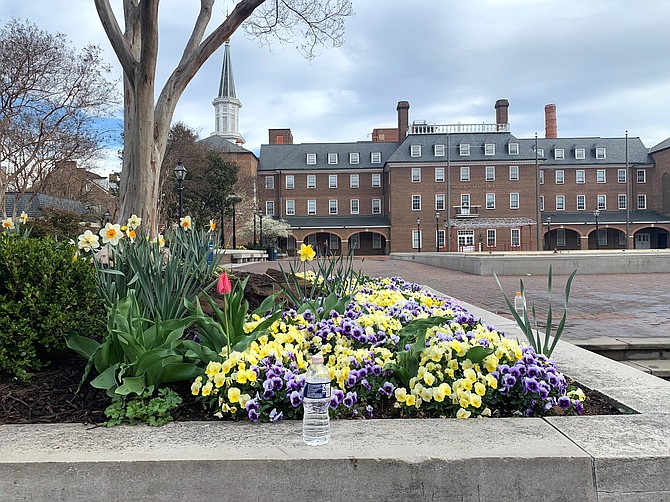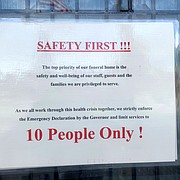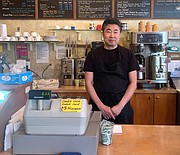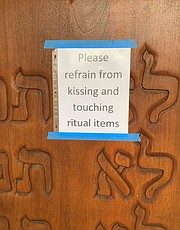 The Royal Restaurant has weathered economic challenges before. Since opening in Old Town in 1904, it has maintained operations through two World Wars, the Great Depression and the more recent recessions of the 20th and 21st centuries. But the COVID-19 pandemic has altered life across the city for businesses and residents alike in a way never experienced in recent memory.
"No one expected this," said Chris Euripides of The Royal Restaurant. "I've had to cut some staff and no one likes to do that. But even though it would save some money, I won't completely shut down. I'm trying to get creative to keep people working, to keep paying them. They are like family."
Euripides and other business owners are adjusting to Virginia Governor Ralph Northam's executive order announced March 23 that mandates strict guidelines during the state of emergency due to the COVID-19 pandemic.
Executive Order 53 took effect at 11:59 p.m. March 24 and remains in effect through 11:59 p.m. April 23 unless otherwise modified. The order bans all gatherings of more than 10 people; closes non-essential recreation and entertainment businesses; permits food service establishments to remain open only for takeout and delivery; permits essential retail businesses to remain open only with social distancing and enhanced sanitizing practices; limits non-essential retail businesses to no more than 10 patrons per establishment with social distancing and sanitizing; and requires non-essential professional businesses to use telework as much as possible.
Businesses across the spectrum are being forced to modify services or close completely.
"We are taking this situation very seriously," said Scott Sanderford, managing partner of Everly-Wheatley Funeral Home. "Nothing is more important than the health and well-being of clients. Our associates are following all directives of the CDC and Virginia Department of Health and we are limiting gatherings to no more than 10 people. In making arrangements, we are trying to handle details over the phone or by email and fax but we want everyone to know that we are open and here for the community."
Law enforcement and first responders are also implementing procedural changes.
"We instituted changes four weeks ago by going in prevention mode," said Sheriff Dana Lawhorne. "All visitation to the detention center has ceased, new arrest protocols are in place, IT staff developed a system for virtual attorney visits, and our cleaning efforts have tripled. Our medical teams are monitoring our inmates and staff daily and we have worked with our judicial partners to reduce the jail population."
The most visible effects of the statewide mandates are the empty streets of Old Town and Del Ray.
"King Street and Mount Vernon Avenue look like ghost towns, by design," said Bill Reagan, Executive Director of the Small Business Development Center. "We want people out of the flow so that the virus does not peak too heavily."
Reagan and Small Business Development Center staff are assisting small businesses in applying for Small Business Administration Economic Injury Disaster Loans, which were made available this week.
"About 90 percent of the businesses in Alexandria have fewer than 20 employees," Reagan said. "The most tangible thing a business owner can do today is apply for the EIDL. These are 30-year loans at 3.75 percent interest with the first payment not due for a year. Additionally, the city is looking at what concessions it can make to ease the burden on businesses."
The Small Business Development Center has set up a COVID-19 Information and Resources page on its website to assist small business owners: www.alexandriasbdc.org
"We're really in the early stages of dealing with this," Reagan said. "Information is changing rapidly – a week ago seems like a month ago. The EIDL program might be what makes the difference in keeping people employed and businesses running for a while longer."
With restaurants under tight restrictions, some, like those operated by Alexandria Restaurant Partners, have temporarily closed their doors. The ARP group, which owns Vola's, Mia's Italian Kitchen, Riverside Taco, The Majestic, Lena's, Theismann's and Palette 22, is selling gift cards to raise money for an employee relief fund. So far more than $30,000 has been collected and ARP has offered fresh produce, milk and toilet paper to over 80 employees free of charge.
Servers at Atlantis Restaurant in the Bradlee Shopping Center can come in for meals free of charge.
"Customers can get carryout and we are following closely the rules and regulations of the health department," said Atlantis owner Bill Patrianokos. "We are doing what we can and hoping for the best."
As the situation continues to evolve, Euripides is heartened by the way people are coming together during this unprecedented crisis.
"All across the country, we are seeing people working together," Euripides said. "Detroit manufacturers are making ventilators, textile companies making masks. This is the America that I appreciate – Americans coming together to solve a problem. I hope and pray this comes and goes but we are in this together and will survive."
ESSENTIAL BUSINESSES – these business may remain open during normal hours but are required to practice social distancing as much as possible and implement enhanced sanitization procedures:
• Grocery stores, pharmacies and other retailers that sell food and beverage products or pharmacy products, including dollar stores and department stores with grocery or pharmacy operations;
• Medical, laboratory and vision supply retailers;
• Electronic retailers that sell or service cell phones, computers, tablets and other communications technology;
• Automotive parts, accessories and tire retailers as well as automotive repair facilities;
• Home improvement, hardware, building material and building supply retailers;
• Lawn and garden equipment retailers;
• Beer, wine and liquor stores;
• Retail functions of gas stations and convenience stores;
• Retail located within healthcare facilities;
• Banks and other financial institutions with retail functions;
• Pet stores and feed stores;
• Printing and office supply stores; and
• Laundromats and dry cleaners.