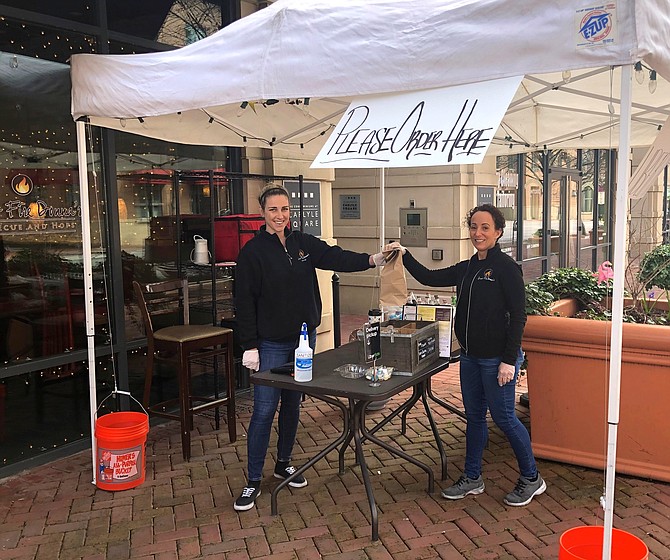 The Alexandria City Council scheduled an emergency meeting March 18 to consider COVID-19 status, response and recovery initiatives following a news conference by Virginia Governor Ralph Northam declaring a public health emergency across the Commonwealth.
In his March 17 order, Northam announced that restaurants, fitness centers and theaters are prohibited from operating with more than 10 customers present. Violation of the order is a criminal offense, although businesses may continue to provide carry-out and delivery options.
"This is unchartered territory," said "Mango" Mike Anderson, partner in the HomeGrown Restaurant Group that operates six restaurants in Alexandria. "We're trying to figure out how to survive, but a lot of places are not going to make it.
As of Monday, Anderson indefinitely closed his newest restaurant, Whiskey & Oyster, in the Carlyle District, and is cutting staff at other restaurants.
"With the exception of Whiskey & Oyster, all of our other places are geared towards delivery," said Anderson, whose restaurants include Pork Barrel BBQ, Holy Cow, the Sushi Bar, Sweet Fire Donna's and Tequila & Taco. "We have set up safe, non-contact pick-up tents so customers can pick up food from their car. There has been a run on grocery stores, so we want to fill any need that is there, yet do everything we can to keep our staff and customers safe."
As of March 18, 77 individuals have tested positive for the virus across the state, with five of those located in Alexandria. The Alexandria Health Department joined Northam in urging residents to comply with new federal guidelines not to gather in groups of more than 10 and for people older than 65 to self-quarantine.
Residents are advised to check with retailers and grocery stores for any amended hours of operation and to practice social distancing. In grocery stores, use non-cash forms of payment whenever possible and wash all fruits, vegetables and other exposed foods with dish soap and water prior to consumption. Wash or sanitize hands immediately after handling cash or payment devices.
"Our business has been down about 35 percent," said Alexandria Cupcake owner Adnan Hamidi. "But it's too hard to gauge the long-term fallout, since the city has been absolutely dead. We are still open and offering curbside pick-up and waiving delivery fees with a minimum purchase of $25."
On Wednesday, Amazon announced a donation of $1 million to kick-start collaborative emergency COVID-19 response funds to benefit the four largest local community foundations across the Greater Washington region who are working to support vulnerable populations disproportionately impacted amid the coronavirus outbreak, including ACT for Alexandria.
ACT for Alexandria, Arlington Community Foundation, Community Foundation for Northern Virginia and the Greater Washington Community Foundation will each use these funds for grants to nonprofits addressing food insecurity, shelter and providing emergency financial assistance. In the near term, ACT will prioritize efforts that focus on the needs of children and youth, low-wage workers, seniors and immigrants.
Dominion Energy Charitable Foundation is committing $1 million to aid COVID-19 relief efforts both for national organizations, such as the American Red Cross, as well as address local needs.
Dominion has suspended all service disconnections for nonpayment. Residential customers previously disconnected due to non-payment may contact the company for assistance reconnecting service.
Small business owners like Anderson are working to find a balance between paying salaries and operating costs while keeping staff and customers safe.
"We're trying to figure out the finances that will allow us to keep the doors open and survive until the end," Anderson said. "It won't be pretty but we're hanging in there and just trying to figure out how to make it to the other end."
As Alexandrians are staying at home and practicing social distancing, Visit Alexandria launched a new web hub called ALX at Home, which connects residents and nearby visitors with Alexandria restaurants, shops and attractions.
The website offers curbside beer-to-go to FaceTime shopping, and numerous ways to support the independent businesses.
ALX at Home features:
Restaurant offerings, such as Chop Shop Taco's Home Meal deal that includes dinner for 4-5 people, zero-contact payment and pickup, a $25 gift card and two rolls of toilet paper, and Bastille's special menu for curbside take out with select wine bottles also available for $25.
Retail offerings, including AR Workshop's DIY kits to go and Old Town Books' Writer's Retreat care packages, virtual author workshops and more.
Attraction offerings such as virtual tours and a "Ride it Out" bike rental program from Unlimited Biking.
Cocktail Corner for Happy Hour at home with instructional videos from The Hour boutique.
Puppy Love, bringing a daily dose of cuteness from Alexandria's four-legged friends.
To learn more, visit ALXAtHome.com.
Del Ray Business Association is also highlighting connections between small business and customers during the crisis.
"Any time a restaurant or a small business closes, so many customers come forward to say how much they wish they could have helped," said Del Ray Business Association President Sue Kovalsky. "These are unprecedented times, and our business owners are leading the way in responding to this rapidly changing situation, always prioritizing the health and safety of their customers. We need to rally around our local businesses so they stay in business."
See www.visitdelray.com for ideas and offers.
For more information about the COVID-19 coronavirus, visit alexandriava.gov/Coronavirus.
Food for Students and Families
Alexandria Public Schools is continuing to provide food at no cost for any child and any family who needs it during the school closures. There are two ways to access food while schools are closed.
Individual Meals to Go: Any child - whether or not they are eligible for Free or Reduced Price Meals - can pick up a meal to go in a bag. Stop by the Chinquapin Drive side of T.C. Williams High School (door 14) between 8 a.m. and 1 p.m. to pick up a meal-to-go (8 a.m. - 10 a.m. for breakfast and 11 a.m. to 1 p.m for lunch). You do not need to fill out any forms to pick up a meal-to-go.
Family Meal Packs: You can order a family meal pack online and pick it up at the drive through pick-up point outside Chinquapin Recreation Center (Chinquapin Drive side of T.C. Williams High School, door 14) between 8 a.m. and 1 p.m the following day. If transportation is an issue, please remember to check the box to request free meal delivery. Fill out the form to request a family meal pack. www.acps.k12.va.us/emergency-mealform
Food Resources in the City of Alexandria: For food pantry locations and schedules in Alexandria, visit www.hungerfreealexandria.comor call 703-662-1067.