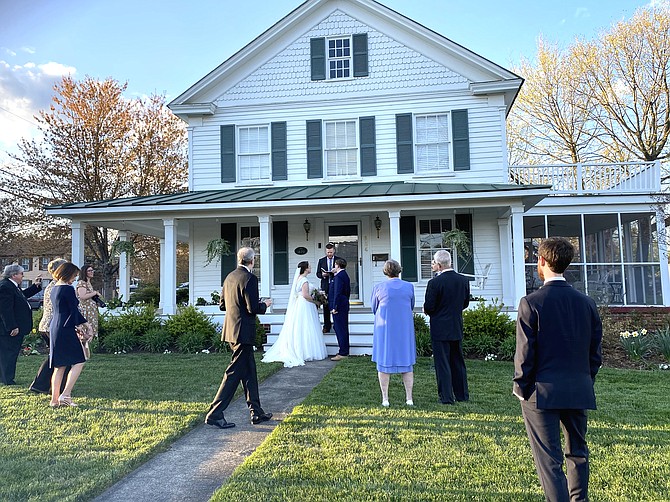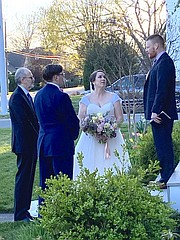 Heidi Marie Metz and Seth Adam Field married on Monday, March 30, on the front porch of his family home in the Town of Herndon. Guests practiced social distancing, watched and cried. Drivers beeped their horns, and for a moment, love powered over COVID-19.
It wasn't the initial wedding the couple and their families planned, the one filled with over a hundred loved ones gathered at the McLean Presbyterian Church, with a reception to follow at Fort Belvoir Officers' Club. Instead, coronavirus and Gov. Ralph Northam's Executive Order Number Fifty-Three canceled that wedding planned for April 4.
The couple understood. Seth serves in the National Guard as a Sergeant. Instead, they drafted Wedding Plan B, a ceremony at Seth's parents' home, same pastor, same day, April 4. And they slashed the guest list to abide with Gov. Northam's Order banning ten or more.
However, on Monday, March 30, Gov. Northam surprised the couple. He strengthened Executive Order Fifty-Three to a temporary Stay-at-Home order through June 10. Family and friends took action. Wedding Plan C went into effect: marry now, today, in four hours.
Shortly after 6:30 that evening, with Heidi's immediate family and Seth's gathered on the front lawn. He waited at the bottom of the porch steps. Reverend James Forsyth held the Bible. Best man and brother Ethan waited with Seth and sister Abby took photos. No music played. Heidi walked across the lawn, holding onto the arm of her father, Donald Metz and toward her groom.
"During a time of great fear, lives a flash of hope amidst the storm," said Tim Field, Seth's father.