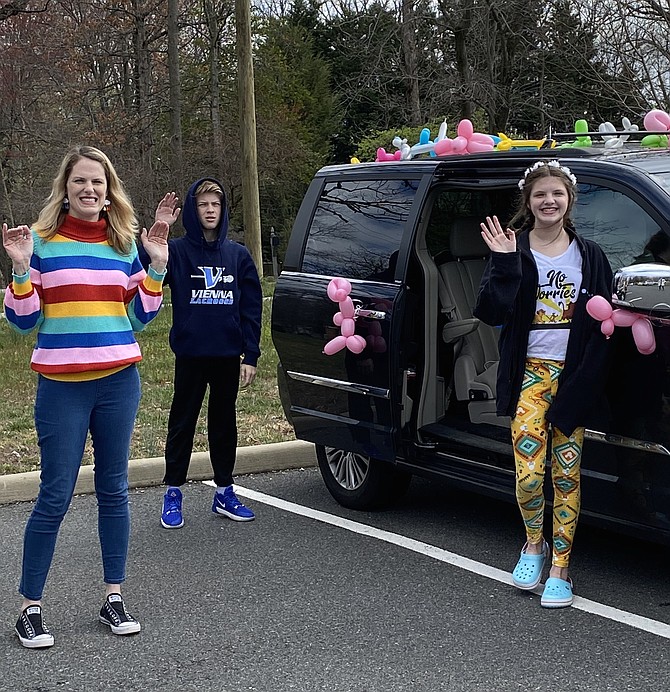 Social distancing doesn't mean social disengagement and no comforting. And who wouldn't appreciate a Love Parade even if the participants cried? On Thursday, March 26, two weeks to the day after students K-6 last walked out of Cunningham Park Elementary School in Vienna, teachers, administrators and support staff gathered at the school's parking lot. Each one had decorated their vehicle and now stood ready to kick off the "Love Parade," their mobile greeting card 40 units strong in a show of support to students during the coronavirus challenge.
"There are going to be tears," said Katie Le, Principal of Cunningham Park Elementary School. "This is a happy-sad moment. We are fortunate to be geographically so close to our students and have the support of the Town of Vienna Police Department and Mayor Laurie DeRocco. Teachers and staff would drive through the school's neighborhoods waving and cheering their students who waited on porches and driveways.
All Fairfax County Public Schools closed Friday, March 13. March 23, Virginia Gov. Ralph Northam extended the statewide school closure order through the rest of the academic 2019-2020 school year. Life had changed rapidly for these students—no end of the school year goodbyes and well wishes and no after school programs, sports practices and play dates with friends. Kitchen tables turned into the children's classrooms. Living rooms turned into parent office spaces.
The decorated cars and vans continued to pull into the lot – some with balloons, some with handwritten posters sharing words of encouragement and some decorated solely with a teacher's name written boldly across the top of the windshield. "We are so excited to get out of the house and see my students," said Ellen O'Hearn, Cunningham Park Elementary School art teacher accompanied by her children, Nick, 14, an eighth grader at Thoreau Middle School and Chloe, 12, a sixth grader at Stenwood Elementary School.
School librarian Meg Brinkhuis decorated her vehicle with a banner created by her daughter, Celeste, who was supposed to participate in graduation ceremonies in June. It read: "myON and Tumblebooks." Social distancing in her van, Brinkhuis called out, "These are digital books any child in Fairfax County Public Schools can read." Custodian Jose Lopez made a banner and taped it to the side window of his van. It said: "The custodian team misses each and every one of you...We love you. " Teacher Meghan Mancuso peeked out of her car and said, "It breaks my heart that I won't see the children until summer or longer."
Principal Le looked out at the parking lot filling with teachers and support staff ready to roll. "I simply want to say that since students can't come to us, we are coming to them."