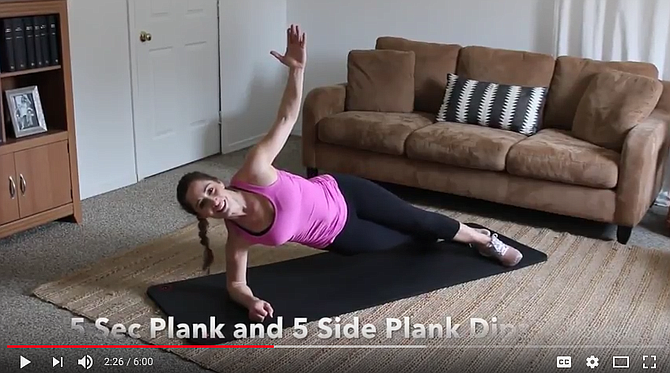 Staying physically and mentally fit is proving to be a challenge for some as local gyms, yoga studios and weight management clinics have closed their doors in an effort to prevent the spread of the coronavirus. As a solution, many local health and fitness studios are offering live-streamed and recorded digital classes that can be joined from almost anywhere. From pre-recorded sessions on Facebook to live sessions with an instructor and personal sessions with a physical trainer, instructors are giving the curious and uninitiated a look inside their cyber classrooms.
"I am encouraging people to focus on the mental health benefits from exercise and movement to help deal with the stress of COVID-19," said Rachel Trope, clinical exercise physiologist at the Washington Center for Weight Management and Research in Arlington. "I am also encouraging people to be okay with exercise looking and feeling different right now. Something is better than nothing."
Practicing yoga can offer mental health benefits, says Luann Fulbright, Studio Director of Dream Yoga in McLean. "Yoga means to unite, and human beings, like other mammals, need to connect to stay well," she said. "The virtual classes enable our community to continue to come together to practice."
A disrupted schedule can lead to increased anxiety during this time of uncertainty. "The crux of regular exercise for many people is routine and familiarity, when that gets interrupted, it can be difficult to establish a new normal with exercise," said Trope. "This is a very tricky time. We are using both live exercise classes and pre-recorded exercise content combined with written workouts."
Creating as close to a real experience as possible for students, including allowing for teacher-student interaction makes the classes more effective. "We transformed one of our classrooms into a virtual studio with good equipment so our classes look as professionally done as possible," said Fulbright. "We have a good camera, microphone, umbrella lighting, and large monitor screen so teachers can better see their students and alignment."
The students who are joining the classes represent a wide demographic. "Many of our regular students have gone virtual with us," said Fulbright. "The ones that surprised us were our older students in our Yoga for Creaky People and other classes. At first, we wondered if they would want to Zoom, but we were wowed. Most of them are Zooming with us now. They are rocking it."
There are even solutions for those who are only marginally interested in fitness or need help staying motivated.
"I had a former client reach out to me yesterday saying she just couldn't stay motivated doing the free home workouts because no one cared if she did or didn't show up," said Christian Elliot, Health Coach at TRUE Whole Human. "She's finding she prefers an appointment to keep her accountable. The one-to-one personal training with trained eyes watching, although more expensive, often provides the most accountability and bang for the buck, especially if you don't have much equipment to work with."
Classes can be tailored to the abilities and interests of each student. "I've found, probably not surprisingly, that different people prefer different formats," said Elliot. "Not having to think of what to do may be the biggest draw, regardless of the format. Some like the structure of a program and thoughtful movement and a slower pace, others like showing up at a particular time, doing whatever the workout is for the day, and knowing when the workout will be over."
"I'm excited to watch our great, collective, American ingenuity have a new outlet for creativity," added Elliot. "I look forward to seeing how this strange blip in history brings new and better solutions to the market that we otherwise would not have come up with."