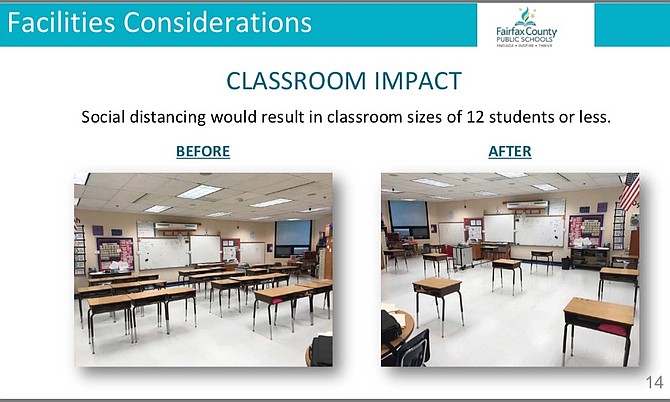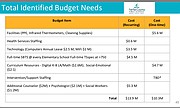 What might school look like to children in Fairfax County Public Schools this fall — remote learning or social distance learning with masks and temperature checks? Which students would schools bring back first — the older ones or most vulnerable? And what might students face when they get there — a climb back to grade level or multi-age classes?
With the calendar moving forward and the absence of a vaccine for COVID-19 expected soon, Fairfax County Public Schools tasked cross-departmental work groups with coordinating overall planning for a return to school.
At the May 11 School Board Work Session, Francisco Durán, chief equity officer and Sloan J. Presidio, assistant superintendent, Instructional Services Department, presented early drafts of what the academic year 2020-21 might look like as a discussion item. Superintendent Scott Brabrand said, "This Return to School in the fall is preliminary thinking...it's just information we want to share...We are still very much hopeful we will get additional guidance from the state."
Beyond blanket health recommendations to ensure a safe learning and working environment and providing options for those unable to return to school/work in the fall, Presidio said they were continuing to address other concerns. He named connectivity issues, technology access and the need to provide staff with "adequate time and training to prepare for the new school year." He said, "We want to make decisions as soon as possible...(and) continue to involve all of our stakeholder groups." According to Presidio, schools must provide the students with social-emotional support, revise some of the curricula, and include a fourth-quarter review of major topics and standards covered this quarter, as well as cover "the most essential standards" for next school year. He said, "That means modifying our instructional delivery...We need models that are actually preparing for students and teachers to be able to work in a blended learning environment and to be able to actually deploy into a distance learning environment if we would need to do that in the future."
Presidio said they looked at making sure to support special education students and their need to receive necessary service levels. Also, they worked to be sure they had a strong intervention program in place at all schools, ensuring students who had additional academic and social-emotional needs would be able to be identified and receive needed services. Finally, it was essential to continue to pursue accreditation waivers and put students' needs first. "We believe strongly that this is really the time to push the state and the federal government to allow us to focus on the needs of the whole child, and not just be solely focused, or over-focused on state standardized scores and accreditation," Presidio said.
Schools looked at potential associated budgetary costs and their impacts. For Social Emotional Learning, Schools needed $1.1M to purchase/develop a curriculum, along with another $1M for assessment tools. "We also strongly believe that we need to enhance some of our staffing ration and key areas like counseling, psychology and social work," said Presidio referencing totals for all three at $5.3M.
For Curriculum and Instruction, they were looking at a way to put together a technology adoption plan after deploying all existing resources at the elementary level. "We'd still have a gap of about 20,000 devices," said Presidio. Ensuring 1:1 device and connectivity for all students ran $2.5M for annual lease and $1M for MiFis, portable broadband devices. "If all of our students are equipped with devices and connectivity, we would like to have a digital curriculum for Literacy and Mathematics," said Duran. That cost would be $2.6M. With devices, students would not be reliant on paper packets that required much parental support. The curriculum could also be differentiated and students more self-directed. The target intervention needed to begin in the fall and occur throughout the entire school year. Targeted Intervention costs for additional flexible school-based staffing to support interventions had not been determined.
Fall 2020 Learning Scenarios
Scenario 1 proposed a virtual start to the school year with enhanced distance learning resources in the realms of technology, connectivity, and a self-paced curriculum with revised schedules to better meet student learning needs offset with expanded community childcare partnerships.
Scenario 2 planned a return to school with social distancing and first serving students based on need level. Presidio said, "We may need to identify those students that most require in school or face-to-face support (and) provide those services to students first." He said they would look at IEPs, English as a Second Language students and those with developmental needs. "Students at the primary grades developmentally...don't have the attention span and ability to be successful in distance learning...We need to bring those students back into our schools first if we do have social distancing."
Scenario 3 addressed students and staff who would be unable to return to a school building for personal reasons like health concerns. For those students in high school, they could enroll in an online campus. Middle and elementary students could enroll with an online provider such as Virtual Virginia or in grouped online class sections.
Even after developing scenarios, schools had to prepare for future closures, if they needed to move immediately into a distance learning mode. According to Durán, schools anticipated receiving $20.8 million in CARES stimulus, and the $8M in the COVID reserve of the operating budget, which would be voted on May 21.
Board Members' Comments
Melanie K. Meren, Hunter Mill District Representative: "I would like information about how we are going to really acclimate our youngest learners...to school when so much of it relies on trust-building and being comfortable in school."
Karen Keys-Gamarra, Member-at-Large: "I am really glad to see a focus on those kids who simply do not thrive in the virtual world."
Elaine Tholen, Dranesville District: "I am not confident that we will get back devices that have been handed out to students...We really want to make sure we have a good solid number of devices that we need and what budget is associated with that."