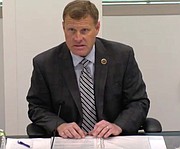 Some of the first words Chairman Jeffrey C. McKay Fairfax County Board of Supervisors said at the May 12 Board of Supervisors meeting were for county families; in particular, those who lost loved ones or had family members hospitalized with the coronavirus. "If we could keep them and their entire families in our thoughts and prayers," McKay said. "As a reminder, our County flag continues to fly at half-staff, throughout the County at our facilities, in honor of the residents who sadly died as a result of COVID-19 and in recognition of our many essential workers who are responding to the pandemic," he said.
AT THE REGULAR MEETING of the Fairfax County Board of Supervisors held remotely on Tuesday, May 12, the Board voted 9-1, with Supervisor Pat Herrity (R-Springfield) voting "NAY," to set the real property tax rate at $1.15 per $100 of assessed value. The Board then unanimously approved the FY 2021 Tax Rate Resolution Adopting Tax Rates for Fairfax County, as detailed in Attachment I of the Memorandum to the Board dated May 11, 2020, at the same rate.
In their next action, the Board approved, in a vote of 9-1, with Supervisor Herrity voting "NAY," the FY 2021 Appropriation Resolution for County Agencies/Funds, for FY 2021 Appropriation Resolution for School Board Funds, and the FY 2021 Fiscal Planning Resolution as outlined in Attachments II, III, and IV of the Memorandum to the Board dated May 11, 2020.
According to a memorandum from Bryan Hill, County Executive: "Approval of the FY 2021 Appropriation Resolutions, the FY 2021 Fiscal Planning Resolution, and the FY 2021 Resolution Adopting Tax Rates will result in a FY 2021 General Fund Disbursement level of $4.47 billion, which is a decrease of $281.63 million, or 5.9 percent, from the FY 2020 Revised Budget Plan and an increase of $22.49 million, or 0.5 percent, over the FY 2020 Adopted Budget Plan. The FY 2021 School transfer for operations totals $2.14 billion. In addition, $198.18 million is transferred to School Debt Service and $13.10 million is transferred to School Construction. Total County transfers to support Schools are $2.35 billion or 52.7 percent of total County Disbursements."
Finally, the Board unanimously approved the amendments to maintain Sewer charges at FY 2020 levels for FY 2021 through FY 2024, at $0.0325 per $100 of assessed value. The Personal Property Tax rate remained at $4.57 per $100 of assessed value for most personal property classes.
THE BOARD took action and unanimously authorized the establishment of a new $25 million grant program to provide immediate financial relief to small businesses and nonprofits impacted by the COVID-19 pandemic. Called the Fairfax Relief Initiative to Support Employers (Fairfax RISE), it was funded through the CARES Act and addressed existing gaps among complementary programs. Awards upwards of $20,000 would be based on the number of employees and delivered as grants with no repayment required.
"We want to ensure that these businesses survive," said Supervisor Rodney Lusk (D-Lee District).
Chairman McKay said in his weekly newsletter: "At least 30percent of the program's funds will be allocated to minority-, veteran-, and women-owned businesses." The County Executive would administer the program. Applications open in early June.
According to the Fairfax County website: "To be eligible, applicants must be established and have one or more location(s) in Fairfax County, including the principal place of business. Fairfax County includes businesses and organizations located in the Towns of Herndon, Vienna and Clifton. Additionally, awardees must have at least one full-time-equivalent (FTE) and less than 50 FTE total employees across all locations, in operation over 1 year, and, with the exception of nonprofits, have a valid Business, Professional and Occupational Licenses (BPOL)."
The Board also established a $5 million fund using CARES ACT dollars to help nonprofit organizations whose primary work supports social safety net services. The application deadline is May 22. More information is coming.