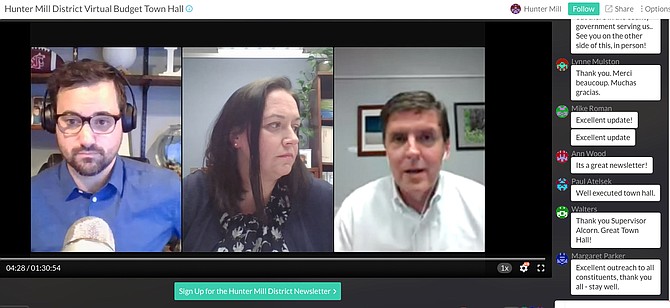 Fairfax County does not have an FY 2021 Adopted Budget Plan yet. That is the annual budget approved by the Board of Supervisors for the upcoming fiscal year running from July 1, 2020, through June 30, 2021. Up until April 7, what the Supervisors did have in their hands was the $3.2 billion FY 2021 Advertised Budget Plan, County Executive Bryan Hill presented on Feb. 25. It focused on employee compensation as well as new programs and initiatives.
No more.
On April 7, Hill released the FY 2021 Updated Budget Proposal to the Board of Supervisors in response to the pandemic. In his message to the Supervisors, Hill wrote, "Life as we know it has been significantly and, perhaps, to some extent, permanently altered. ...It is imperative that our initial FY 2021 budget proposal be updated to reflect the new economic realities."
With coronavirus' impact weighing on County residents, many furloughed or laid off from jobs and businesses shuttered; the Updated Budget Proposal no longer recommends the three-cent increase in the Real Estate Tax Rate as presented in the earlier FY 2021 Advertised Budget Plan. Of the increase, two cents was to be utilized to fund priorities in the General Fund and, per Board Budget Guidance, one cent dedicated to affordable housing. The Updated Budget Proposal also did not recommend the previously recommended 4 percent Admissions Tax on the sale of movie, theatre and concert tickets. Revenue would have been deposited into the Contributory Fund and used for arts, cultural, and tourism activities, relieving pressure on the General Fund.
HILL WROTE that the County's most important priorities, including schools, affordable housing, employee pay, early childhood opportunities, environmental investments, the expansion of library hours and support for arts and cultural activities, remained its priorities. "However, our residents' ability to absorb the impact of increased taxes has diminished."
According to Hill, although increased revenue of more than $100 million was projected based on increased real estate values, this revenue is anticipated to be offset by losses as a result of the coronavirus pandemic, "resulting in no net growth in revenue for the County in FY 2021."
Hill wrote, "I am recommending that General Fund revenues be held flat as compared to the FY 2020 Adopted Budget Plan."
According to the Revised Proposal, based on the actions of the Fed to lower interest rates to 0 percent, the FY 2021 estimate for interest income should be reduced by $25 million. Major revenue sources relative to the FY 2020 Revised Budget Plan estimates indicated reduced tax revenues — decreases in Sales ($26.7 million), Transient Occupancy ($7 million) Business, Professional, and Occupancy License ($17.2 million), Personal Property ($9 million), Interest on Investments ($36.7 million) and more. Hill added: "With the significant impact to revenues, most of the recommended spending adjustments that had been included in my original proposal will need to be deferred. All increased disbursements in this proposal are paid for by savings in fringe benefits and required reserve contributions."
Hill recommended to only fund items critical to maintaining the health and safety of county residents and the continued function of essential services.
The Updated Budget Proposal cut nearly all new spending. It eliminated all pay adjustments for County employees. Hill wrote, "Protecting the jobs and current pay levels of the County's existing employees continues to be of the utmost importance." The proposal did recommend 19 new positions for the Health Department to address COVID-19 and one in the Office of Elections.
Other areas recommended to receive funding: $0.58 million to the Community Funding Pool, which provides funding to community organizations to meet human services needs; $1.77 million to support the workload for the County's Police Body-Worn Camera program; and $0.58 million to support the information technology requirements of the Office of Elections and needs for the 2020 Presidential election. Additionally, $9.84 million was set aside as an appropriated reserve for potential requirements to address the pandemic.
According to the Updated Budget Proposal: "In the absence of solid data and with so much uncertainty about the outlook, General Fund revenues are projected to be $4,457,199,539, which represents no change from the FY 2020 Adopted Budget Plan level. This level of revenue is based on the assumption that by July, the health crisis is over, and gradual recovery in consumer confidence leads to the resumption of economic activity." Estimates for FY21 revenue were anticipated to be revised as more data became available.
As with the FY 2021 Advertised Budget Plan, the Updated Budget Proposal recommended equal growth of county disbursements and school transfers; however, that meant a drastic growth reduction from 3.65 percent to 0.32 percent over the FY 2020 Adopted Budget Plan reducing the transfer to the Schools Operating Fund from $85.52 million to $7.31 million.
Hill recommended the FY 2021 budget be shifted back one week to May 12; public hearings, except the Effective Tax Rate public hearing, moved back two weeks to April 28-30; approval of the CIP be postponed until June and Board approval of the Countywide Strategic Plan also be delayed.
Jeff McKay, Chairman of the Fairfax County Board of Supervisors said: "Our priorities remain our priorities... We're committed to finding creative ways to get them done." McKay added the County Executive's amended proposed budget did not yet include emergency funding provided by the federal and state governments.
Supervisor Pat Herrity (R-Springfield) said in The Herrity Report, April 9: "I'm glad to see most of these changes were included in the revised budget, including limiting the rollout of the police body camera program and focusing the resources of the Consolidated Community Funding Pool on pandemic-related efforts."
SUPERVISOR Walter Alcorn (D-Hunter Mill) held a Hunter Mill District Virtual Budget Town Hall on April 8. It featured Christina Jackson, Director of the Department of Management and Budget for Fairfax County, Alcorn's input and a Q &A opportunity. Data on the screen reported 116 people attended. Jackson said, "A lot has been stripped out [of the budget] ...It's almost like a back to basics budget."
Alcorn reassured listeners that his priorities and values had not changed. "I'm still committed to helping our most vulnerable. I'm still committed to doing everything possible to address the affordable housing crisis. I also am committed to our Schools... many of the things... that we were keyed up to do before this public health crisis hit, I still am committed to doing," Alcorn said.
View the video with Jackson's 8-minute budget summary, comments from Alcorn and questions from the public at https://www.crowdcast.io/e/hunter-mill-district
Residents can provide testimony on the budget via video, phone or online for upcoming budget hearings, scheduled April 28-30. After a planned mark-up meeting on May 5, the Board of Supervisors is expected to adopt the budget on May 12.