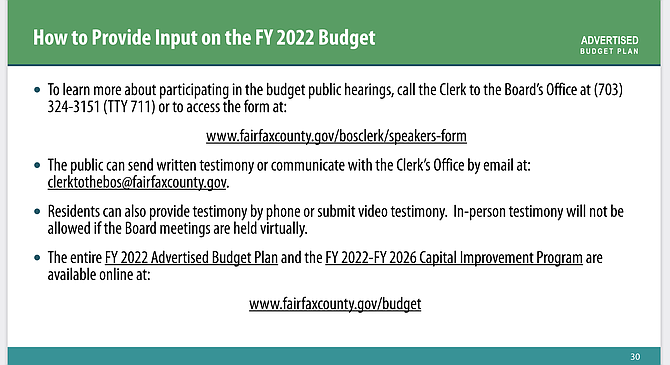 "What a difference a year makes" said Fairfax County Executive Bryan Hill.

On Feb. 23, Hill presented his FY2022 Budget Plan to the Fairfax County Board of Supervisors. The fiscal year will run from July 1, 2021, through June 30, 2022.
The FY2022 Advertised Budget is not a done deal; it is the county executive's recommendation. The final FY2022 Adopted Budget will happen May 4 after what Chairman Jeff McKay called "robust conversations with the community in order to prioritize funding."
Hill's proposed plan builds on the County's success to utilize federal stimulus funds, most notably the $200.2 million CARES Act Coronavirus Relief Fund.
"I THINK IT'S CLEAR that we won't be able to do everything we want to, just like our residents and businesses can't in these unprecedented times," said Chairman McKay. "And obviously, we wish that we had better certainty about what the year ahead is going to look like, but clearly, nobody does... It's prudent for us to plan for this year to continue to be spry and to be able to pivot and respond to what's happening just as we have done through this last year in a really successful way."
Hill's recommendation includes reducing the Real Estate Tax rate by one cent, bringing the rate from $1.15 to $1.14 per $100 of assessed value. In Hill's Message to the Chairman and Board, he said, "I recognize that many of our homeowners may be struggling. ... Fairfax County's unemployment rate stands at 4.4 percent – far greater than the 1.9 percent we saw one year ago."
According to Hill, with the proposed reduction in the Real Estate Tax rate, additional revenue available to the County for FY 2022 is $42.23 million – an increase of only 1.51 percent over the current FY 2021 estimate.
Highlighting other Advertised Budget areas, it recommends a $20 million unappropriated reserve for economic recovery.
It includes an overall increase for County and Schools of only 0.55 percent, excluding reserves.
The plan provides a $14.13 million increase over FY2021 for School Operating, far short of the School Board's approved request on February 18 of $104.40 million additional.
No funding is allocated for employee pay increases in FY22.
While the Budget does not make broad investments in pre-COVID goals proposed last year, resources are recommended to focus on more targeted areas. According to Hill, they are "modest investments" in Board and community priorities, such as expanding funding for criminal justice programs and mental health and addiction treatment. Examples are public safety staffing, Diversion First, opioid use prevention efforts, and environmental Initiatives. Previously approved initiatives, such as body-worn cameras and health department positions funded initially with stimulus funds, are proposed to include baseline funding. An increase of 109 positions is proposed primarily for the continuation of previous initiatives and new facilities.
Concurrent with the Budget's release, Hill made available a revised draft of the Countywide Strategic Plan at www.fairfaxcounty.gov/strategicplan for consideration by the Board and our residents.
Looking ahead, the Board will advertise a tax rate at its March 9 meeting. Various district meetings will occur in February and March, and the Board will hold public hearings from April 13-15.
McKay said that for FY20 – 22, the County expected revenue loss to approach $300 million to the General Fund. He said that while appreciative of prior stimulus money and hoped additional stimulus money was on its way to the County, "hope is not really what you base a budget on; it's reality."
Vice Chairman Penny Gross (D-Mason District) discussed nonresidential real estate. The amount of empty office space increased to 18.5 million square feet out of 119.2 million square feet.
"It does tell me that we need to go gangbusters on our repurposing of vacant buildings," Gross said.
Supervisor James Walkinshaw (D-Braddock) said that Fairfax County is one of the thousands of jurisdictions across the country that Congress members watch, which is why he appreciated the prudent proposal Hill released. "I think if we had a budget proposal that showed us with a lot of new spending initiatives or dramatic pay increases, it would have made our job more difficult as we're making the necessary case for additional federal support for state and local governments at this point."
Supervisor Pat Herrity (R-Springfield) said he hoped to see a "flat tax bill," especially given the pandemic. "I expect things, especially in the commercial real estate world, will probably get a lot worse next year. But this Budget still represents a 3.4% tax increase on our residents…I believe we have a lot of work to do."
Mount Vernon Budget Town Hall
Monday, March 1, 7 p.m.
Where: Live Virtually on Channel 16, the County's Livestream and Facebook
Program: County & Schools Budget Presentation & Audience Q&A's
www.fairfaxcounty.gov/mountvernon/mount-vernon-district-virtual-budget-town-meeting
See the Budget plan at https://www.fairfaxcounty.gov/budget/advertised-budget-plan