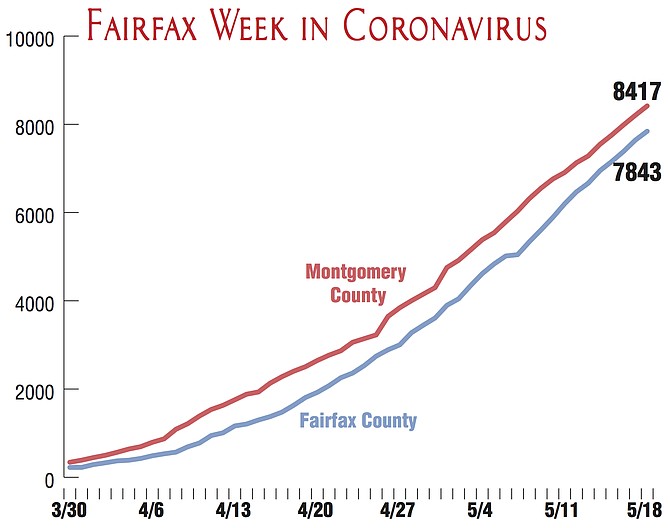 Monday, May 18
Fairfax County Cases: 7,843
Virginia Cases: 31,140
United States Cases: 1,480,349
Fairfax County Deaths: 284
Virginia Deaths: 1,014
United States Deaths: 89,407
Monday, May 11
Fairfax County Cases: 6,200
Virginia Cases: 25,070
United States Cases: 1,300,696
Fairfax County Deaths: 243
Virginia Deaths: 850
United States Deaths: 78,771
DISPARITIES: The population of Fairfax County is 16.8 percent Hispanic but Latinx individuals account for 60.3 percent of positive cases in Fairfax County.
"That is outrageous, and must be addressed," said U.S. Rep. Gerry Connolly.
Of the 1,041 deaths in the state of Virginia, 51 percent have come from Northern Virginia, including 292 deaths in Fairfax County, 79 in Arlington and 34 in Alexandria, said Steven H. Woolf, of Virginia Commonwealth University and Northern Virginia Health Foundation.
"A large number of patients who require admission to Northern Virginia hospitals, who occupy ICU beds, and who die from this disease are likely to be people of color and who come from the islands of disadvantage," said Woolf. "These economically marginalized communities will face devastating wage losses, unemployment and food scarcity. Low income families will undoubtedly struggle the most to rebound."
Although Northern Virginia is a "seemingly affluent area" with good health statistics in general, life expectancy varies by 17 years within the region, he said."People of color and low income individuals are especially vulnerable to Covid-19 and have higher death rates."
Everyone wants to reboot the economy, said Woolf. "In other words, we have a common agenda, and that common agenda makes it a win-win argument to prioritize those marginalized groups because their health is necessary to control community spread."
"When we compel workers to go back on the job, are we doing enough to protect their health and prevent transmission? Which populations are at risk if we fail? Too often, executives with the luxury of working from home make decisions over Zoom calls that put front line workers at risk, often people of color, immigrants, and the poor who have no choice but to show up for work," said Woolf.
STILL STAYING HOME: Fairfax County and Northern Virginia continue under stay-at-home restrictions despite most of Virginia transitioning to Phase One of Governor Ralph Northam's "Forward Virginia" reopening plan.
"I appreciate the Governor's reliance on the data and metrics provided by our Health Directors," Fairfax County Board of Supervisors Chair Jeff McKay said.
Executive Order Sixty-Two permits Northern Virginia to delay transition to Phase One of the "Forward Virginia" reopening plan. This means the existing stay-at-home order and restrictions on certain business operations for Phase Zero will remain in effect in Northern Virginia until at least May 29, while the rest of state moves on to Phase One on May 15.
The order applies to the cities of Alexandria, Fairfax, Falls Church, Manassas and Manassas Park; the counties of Arlington, Fairfax, Loudoun and Prince William; and the towns in those counties.
The City of Richmond and Accomack County requested extensions, as well.
"The Northern Virginia region will continue to track the necessary statistics because we are all anxious to reopen our economy as soon as possible based on public safety and data," said McKay. "It is therefore necessary that you continue to stay home and follow health directives. This will be incredibly important not only to move into Phase I of Governor Northam's Forward Virginia Plan, but Phase II, which will allow many more businesses to open."
"I understand the frustrations and fears in regards to reopening. I do not take lightly the financial struggles that many are experiencing nor the devastating impacts this virus has on health. The Board continues to address the community's needs. We allocated over $25 million to non-profits and $25 million to small businesses."
Springfield Supervisor Pat Herrity was the dissenting voice on the Board. "This virus will be with us for a long time, and with no end in sight, we need to take small, cautious steps toward reopening to allow struggling families to get back to work and some form of normalcy," said Herrity. "Overall, Phase One is a very slow step toward reopening and is by no means a full return to normal life. In delaying this very small step to reopen some businesses in a highly restrictive manner, Fairfax County is missing the opportunity to adapt to the impacts of this pandemic."
CLASS OF 2020: No commencements. Instead, Fairfax County High Schools will schedule individual graduate photo opportunities beginning in June, with each graduate wearing their cap and gown along with appropriate cords and medals. Seniors will be able to receive their diploma at this photo event. A limited number of family members will be permitted to join the graduate.
"We share the disappointment that the COVID-19 pandemic and subsequent school closure placed on our senior class," said Scott Brabrand, Superintendent of Fairfax County Public Schools.
"Based on data from the Fairfax County Health Department, a summer in-person ceremony poses too many health risks and too much uncertainty with regard to social distancing requirements and restrictions on large gatherings that could still be in effect at that time. Health Department data indicates that Fairfax is still experiencing community spread of the virus with increasing infection rates and a University of Virginia model predicts the number of cases will remain elevated in Fairfax in the summer," he said.
A Class of 2020 celebration video will be produced and seniors will be contacted this month to submit information and photos for the video. The video will be professionally produced and distributed at no cost to all members of the Class of 2020.
Brabrand also said an in-person ceremony will be scheduled in the fall at each school if conditions allow. "If a fall in-person ceremony cannot be held for health and safety reasons, then we will consider scheduling the face to face ceremony in the winter or next spring," he said.
"Please know that the Class of 2020 will forever remain in the hearts and thoughts of all of us," said Brabrand.
GRANTS FOR BUSINESSES: The Board of Supervisors approved a new $25 million grant program, Fairfax RISE, to provide immediate assistance both to small businesses and nonprofits affected by COVID-19. The Board hopes to help small businesses and non-profits remain in business and address gaps that may exist in federal funding. At least 30% of the program's funds will be allocated to minority-, veteran-, and women-owned businesses. The program is expected to open in early June. criteria is primarily based on an organization's size, location, and time in operation.
FOOD ASSISTANCE: The Pandemic-Electronic Benefit Transfer (P-EBT) provides temporary food assistance to cover the cost of meals students have missed due to school closures. Families of FCPS students that already received free and reduced-priced lunch prior to closures will automatically get this benefit. Those not in the program can apply to free and reduced-priced lunch by June 11 to also receive the additional benefits. Families can apply online or request a paper application by calling FCPS Food and Nutrition Services at 703-813-4800.
GRANTS FOR NONPROFITS: A $5 million fund will help non-profit organizations whose primary work supports social safety net services to vulnerable populations within Fairfax County.
The application period is open until 2 p.m. on Friday, May 22. See https://www.fairfaxcounty.gov/procurement/nsgrant, email dpmmnsgrant@fairfaxcounty.gov, or call 703-324-2861.
Nonprofits that function as a part of Fairfax County's social safety net provide support in the areas of financial stability, food and nutrition, literary/educational attainment, health, housing, positive behaviors and healthy relationships. These organizations are focused primarily on helping people with limited income; immigrants and refugees; people with disabilities.

SHELTER AVAILABLE: According to the Office to Prevent and End Homelessness: As of May 12, 152 individuals have moved to shelter in three hotels for isolation, quarantine, and protection. Approximately 70 hotel rooms remain available and two additional hotels with approximately 160 rooms are identified for use in the north and south county areas. In addition to sheltering homeless individuals, the hotel rooms are also now being used for sheltering clients of the Community Services Board, the Department of Family Services, and families and individuals referred by Healthworks of Northern Virginia and Neighborhood Health that have been affected by the pandemic.
SHOPPING HELP FOR 60-PLUS Fairfax County Health Department's Neighbor to Neighbor Program has launched a grocery shopping and pharmacy pick-up service for County residents aged 60 and over.
The service is provided to seniors at private residences by volunteers who have completed background checks.

To request shopping and pharmacy pick up, or to find out if you are eligible for financial assistance to obtain food, contact the Fairfax County Aging, Disability, and Caregiver Resource line at 703-324-7948.

MASKS REQUIRED Beginning Monday, May 18, face coverings or masks will be required when traveling on Metro and on Fairfax Connector buses. County officials previously encouraged riders to wear face coverings, but that will now become mandatory. Face coverings may include bandanas, scarves, neck gaiters, or homemade coverings made from t-shirts or other materials at minimal cost.
Metro is open for "essential travel only," and the public is encouraged to stay at home whenever possible.
Visit https://www.wmata.com/ and https://www.fairfaxcounty.gov/connector/ for more information.
POSTAL SERVICE INCLUDED: Last week, the U.S. House of Representatives passed the Health and Economic Recovery Omnibus Emergency Solutions Act or the HEROES Act. The $3 trillion HEROES Act includes $25 billion to save the United States Postal Service. An additional $25 billion for capital investment is set to be included in upcoming infrastructure legislation, according to U.S. Rep. Gerry Connolly.
"This will keep the Postal Service afloat. But let me be absolutely clear: If President Trump and the Senate GOP demand anything less than the Heroes Act provides, the Postal Service will continue to sink."
Indications are that the Senate will not take up the HEROES Act.
GREAT DEPRESSION: U.S. Sen. Mark R. Warner (D-VA), spoke on the Senate floor about the need to provide relief to the more than 30 million Americans who have lost their jobs due to the coronavirus outbreak, as well as the potential consequences if Congress fails to act. In his remarks, Warner urged Congress to include a Paycheck Security program in the next coronavirus relief bill.
"Just as it took the U.S. years to emerge from the Great Depression, it could take years or even decades to recover from the coronavirus recession if we do not take immediate, bold action in the next coronavirus relief bill. Our first goal must be to prevent further job losses, as well as permanent disruptions like business closures, evictions, and foreclosures. Second, we must work quickly to reduce the economic uncertainty facing workers and small businesses. To do this, we need to provide immediate assistance to the millions of American workers who have gone overnight from a steady job to unemployment through no fault of their own."
INTERNET GAP: More than 20 million Americans lack access to meaningful broadband service, with at least 770,000 Virginians currently unserved. As schooling has moved online, this has particularly impacted students.
The "homework gap" is experienced by 12 million students in this country who do not have internet access at home and are unable to complete their homework. This affects students in both rural and urban areas and disproportionately affects lower-income students and students of color. Students without internet access at home consistently score lower in reading, math, and science. The impact is worse during this public health emergency as schools suspend in-person classes and transition to remote learning over the internet to protect the health of students, faculty, and staff.
This week, Sens. Warner and Kaine introduced the Emergency Educational Connections Act, legislation aimed at ensuring K-12 students have adequate home internet connectivity and devices during the coronavirus pandemic. This would provide $4 billion in federal support for elementary and secondary schools and libraries, including tribal schools and libraries, to provide Wi-Fi hotspots, modems, routers, and internet-enabled devices, as well as internet service; and allow schools and libraries to continue to use the equipment after the emergency period.
Warner and others also urged CEOs of eight major internet service providers to make it easier for customers to use telepresence services for telework, online education, telehealth, and remote support services. Within days, AT&T, CenturyLink, Charter Communications, Comcast, and Cox Communications, as well as a number of smaller ISPs announced plans to accommodate the unprecedented demand for telepresence services.
REVENUE DOWN: April revenue collections in Virginia fell 26.2 percent, primarily due to the extension of individual and corporate income tax deadlines until June 1 to provide relief amid the ongoing COVID-19 pandemic. "We are facing an unprecedented health and economic crisis, and we must combat this virus before we can begin to repair our economy. My top priorities continue to be protecting the health and safety of all Virginians," Northam said.
STATE AND LOCAL BUDGET HELP: Congress should address the budgetary disaster facing state and local governments due to the economic effects of the pandemic. U.S. Sen. Mark Warner urged Congress to provide additional financial assistance to states and localities and flexibility in how they use coronavirus relief funds. Failure to address these budget shortfalls could threaten the jobs of first responders and other public servants on the front lines of the pandemic.
SOME COURTS OPEN: The Supreme Court of Virginia will allow courts to hear non-emergency matters if they deem it is safe to do so, effective May 18. The Fairfax County General District Court will open to a limited number of civil trials and small claims cases starting May 18.
CONTACT TRACING The Virginia Department of Health will hire 1,300 individuals to conduct and oversee the contact tracing process. See https://www.vdh.virginia.gov/content/uploads/sites/182/2020/05/Staffing-Agency-List.pdf