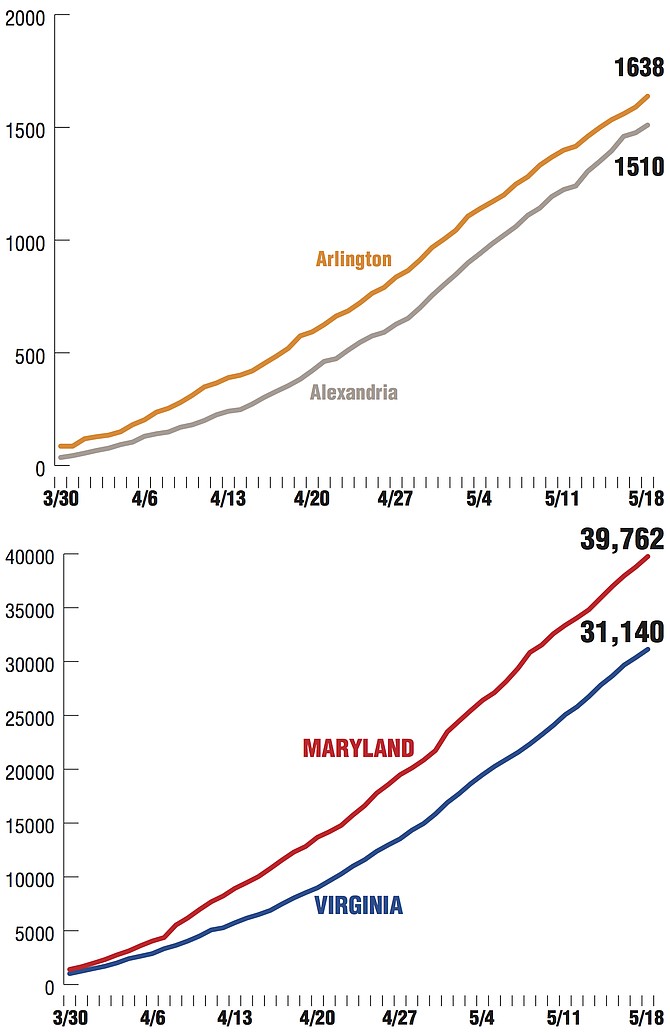 Monday, May 18
Arlington County Cases: 1,638
Virginia Cases: 31,140
United States Cases: 1,480,349
Arlington County Deaths: 77
Virginia Deaths: 1,014
United States Deaths: 89,407
Monday, May 11
Arlington County Cases: 1,399
Virginia Cases: 25,070
United States Cases: 1,300,696
Arlington County Deaths: 60
Virginia Deaths: 850
United States Deaths: 78,771
Arlington and Northern Virginia will continue stay-at-home restrictions despite most of Virginia transitioning to Phase One of Governor Ralph Northam's "Forward Virginia" reopening plan.
"The Board appreciates the Commonwealth's acknowledgement that the Northern Virginia region faces challenges that differ in number and scale from the Commonwealth as a whole. Over half of the cases and hospitalizations and nearly half of the COVID -19 deaths are here in Northern Virginia — despite our constituting a little more than a quarter of the state's population; and we continue to see a rise in hospitalizations," said the County Board.
Executive Order Sixty-Two permits Northern Virginia localities to continue the stay-at-home order and maintain restrictions on certain business operations until May 29, while the rest of state moves on to Phase One on May 15. The order applies to the cities of Alexandria, Fairfax, Falls Church, Manassas and Manassas Park; the counties of Arlington, Fairfax, Loudoun and Prince William; and the towns in those counties.
"We are committed to mitigation strategies, such as wearing masks and maintaining social distance, that will help us meet the critical health metrics. Our top priority is the health and well-being of Arlingtonians and all of Northern Virginia," said Board Chair Libby Garvey.
Garvey said entering Phase One in Arlington and other Northern Virginia jurisdiction will not begin until key health metrics can be met in the region, including: downward trend of positive test results over a period of 14 days; downward trend of hospitalizations over a period of 14 days; sufficient hospital beds and intensive care capacity; increasing and sustainable supply of personal protective equipment such as masks, respirators, gloves and gowns; and increased testing and tracing.
FOOD ASSISTANCE: Arlington Public Schools families whose children are eligible for the federal free and reduced-price meal program can receive benefits for temporary food assistance to cover the cost of meals missed while schools are closed. Families that are already eligible to receive free or reduced-price meals do not need to fill out additional forms as they will receive the funds automatically. Families that are not currently receiving free and reduced-price meals can apply now by visiting https://www.myschoolapps.com/.
The Pandemic Electronic Benefit Transfer (P-EBT) food purchasing assistance program, being implemented by the Virginia Department of Social Services (VDSS) and the Virginia Department of Education (VDOE), provides extra benefits for food assistance to families, through electronic transfers. APS encourages families whose needs have changed due to the pandemic to enroll now, so that all families who are eligible can receive the P-EBT food assistance benefits. VDOE and VDSS ultimately approve eligibility and issue the benefit.
CLASS OF 2020: Dear Seniors, wrote Cintia Z. Johnson, Arlington Public Schools Interim Superintendent, " I want you to know first and foremost, that I congratulate you, the Class of 2020, on your success.
"At the same time, I share in your disappointment about the current situation. This was supposed to be a time for gathering with friends and families, not of social distancing. As a mother myself, I understand how trying this time can be for you and your families.
"While we all recognize the end of the school year cannot be the same as in years past, it is my intent to ensure that you are all celebrated in ways that honor this major accomplishment. As a result, we have decided to move forward with graduation plans that will allow you and your family members to come together to recognize this significant milestone in a way that reflects the current reality we are living and uses the digital tools and social media platforms, which so many of you rely upon daily. That said, I have been working closely with your principals, and we are planning virtual graduation ceremonies for each of the comprehensive high schools and high school programs ... You will be provided with more information soon, as we continue planning for this celebration. Please note that I am not ruling out any future opportunities to celebrate in person, however I do feel it is important to plan for ways we can honor the Class of 2020 now."
DEPRESSION, ANXIETY: The COVID-19 pandemic and subsequent economic downturn are causing many people to experience depression, anxiety, stress and isolation, among other challenges. "One in five people will experience a mental illness at some point during their lifetime," said Dr. John Palmieri, Behavioral Healthcare Division Chief for Arlington County. "Because many people are facing mental health challenges now, we want to raise awareness of the many resources Arlington offers to help people manage mental health issues under these challenging circumstances."
See https://health.arlingtonva.us/ to go to Arlington's COVID-19 Mental Wellness page, which offers numerous health and wellness resources to help residents through the pandemic, and Arlington's Mental Health Programs and Services division which provides assistance to adults with mental health and/or substance abuse issues. Bilingual staff are available and all services are strictly confidential.
Health and Wellness Resources for Arlingtonians
Arlington Behavioral Healthcare Services Emergency Line: 703-228-5160
Children's Behavioral Healthcare: Outpatient Services 703-228-1560
POSTAL SERVICE INCLUDED: Last week, the U.S. House of Representatives passed the Health and Economic Recovery Omnibus Emergency Solutions Act or the HEROES Act. The $3 trillion HEROES Act includes $25 billion to save the United States Postal Service. An additional $25 billion for capital investment is set to be included in upcoming infrastructure legislation, according to U.S. Rep. Gerry Connolly.
"This will keep the Postal Service afloat. But let me be absolutely clear: If President Trump and the Senate GOP demand anything less than the Heroes Act provides, the Postal Service will continue to sink."
Indications are that the Senate will not take up the HEROES Act.
GREAT DEPRESSION: U.S. Sen. Mark R. Warner (D-VA), spoke on the Senate floor about the need to provide relief to the more than 30 million Americans who have lost their jobs due to the coronavirus outbreak, as well as the potential consequences if Congress fails to act. In his remarks, Warner urged Congress to include a Paycheck Security program in the next coronavirus relief bill.
"Just as it took the U.S. years to emerge from the Great Depression, it could take years or even decades to recover from the coronavirus recession if we do not take immediate, bold action in the next coronavirus relief bill. Our first goal must be to prevent further job losses, as well as permanent disruptions like business closures, evictions, and foreclosures. Second, we must work quickly to reduce the economic uncertainty facing workers and small businesses."
INTERNET GAP: More than 20 million Americans lack access to meaningful broadband service, with at least 770,000 Virginians currently unserved. As schooling has moved online, this has particularly impacted students.
ARLINGTON RESIDENTS who lack reliable internet service at home during the COVID-19 pandemic can now benefit from two new free County Wi-Fi hotspots.
Access to the ArlingtonWireless network is now available at the Central Library, Columbia Pike Library and Aurora Hills Library parking lots. The lots are open daily to County residents who need online access for work, schooling, health-related information or to complete essential tasks such as ordering groceries and household supplies.
Residents are asked to remain in their vehicles while on site to help mitigate the spread of the COVID-19 coronavirus.
Those who are not in vehicles should always maintain a physical distance of 6 feet apart and comply with public health guidelines.
Accessing the network is simple. Using a mobile device, choose the ArlingtonWireless network and accept the terms of agreement. While no user ID or password is required, it is important to remember that the County's wireless network is not secure like most public hotspots. Users will be asked to acknowledge this fact before being provided access to the free wireless.
Users should not transmit sensitive information over the wireless network and make sure that they have firewall and anti-virus software installed on their equipment.
The "homework gap" is experienced by 12 million students in this country who do not have internet access at home and are unable to complete their homework. This disproportionately affects lower-income students and students of color. Students without internet access at home consistently score lower in reading, math, and science. The impact is worse during this public health emergency as schools suspend in-person classes and transition to remote learning over the internet to protect the health of students, faculty, and staff.
This week, Sens. Warner and Kaine introduced the Emergency Educational Connections Act, legislation aimed at ensuring K-12 students have adequate home internet connectivity and devices during the coronavirus pandemic. This would provide $4 billion in federal support for elementary and secondary schools and libraries, including tribal schools and libraries, to provide Wi-Fi hotspots, modems, routers, and internet-enabled devices, as well as internet service.
REVENUE DOWN: April revenue collections in Virginia fell 26.2 percent, primarily due to the extension of individual and corporate income tax deadlines until June 1 to provide relief amid the ongoing COVID-19 pandemic. "We are facing an unprecedented health and economic crisis, and we must combat this virus before we can begin to repair our economy. My top priorities continue to be protecting the health and safety of all Virginians," Northam said.
STATE AND LOCAL BUDGET HELP: Congress should address the budgetary disaster facing state and local governments due to the economic effects of the pandemic. U.S. Sen. Mark Warner urged Congress to provide additional financial assistance to states and localities and flexibility in how they use coronavirus relief funds. Failure to address these budget shortfalls could threaten the jobs of first responders and other public servants on the front lines of the pandemic.
CONTACT TRACING: The Virginia Department of Health (VDH) is hiring 1,300 contractors for work related to COVID-19 contact tracing, including district case investigators, district contact tracers, regional testing coordinators, contact tracing supervisors, district data managers, and regional analytics coordinators. For more information and a list of staffing agencies, visit the Virginia Department of Health Coronavirus page and look for the orange box on the left.