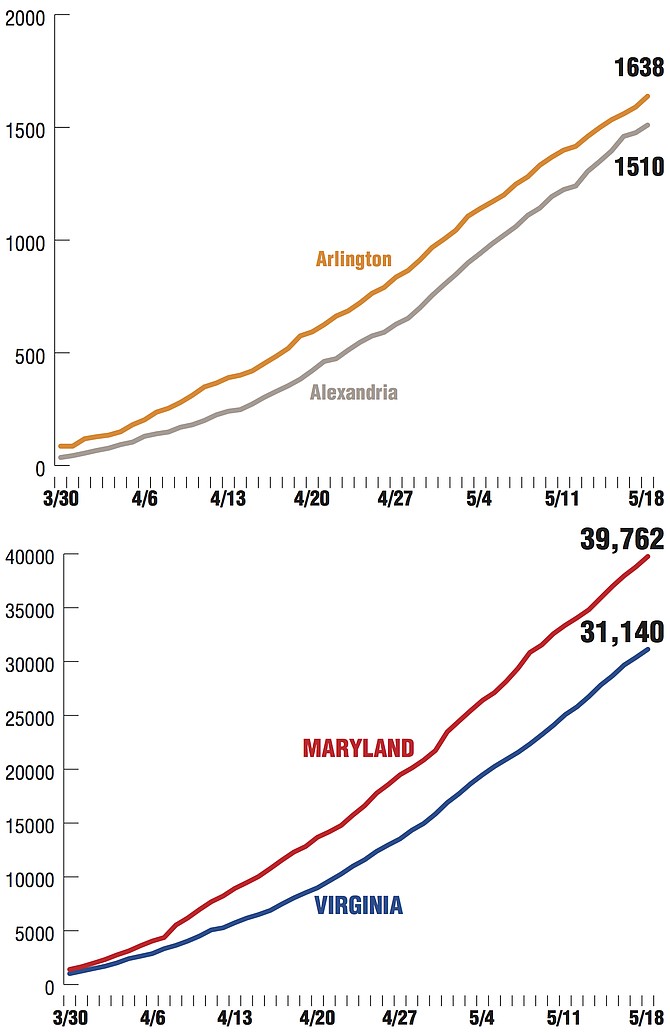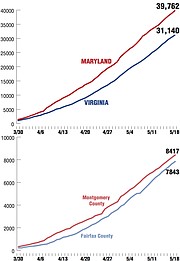 Monday, May 18
Alexandria Cases: 1,510
Virginia Cases: 31,140
United States Cases: 1,480,349
Alexandria Deaths: 34
Virginia Deaths: 1,014
United States Deaths: 89,407
Monday, May 11
Alexandria Cases: 1,224
Virginia Cases: 25,070
United States Cases: 1,300,696
Alexandria Deaths: 30
Virginia Deaths: 850
United States Deaths: 77,781
DISPARITIES: Of the 1,041 deaths in the state of Virginia, 51 percent have come from Northern Virginia, including 292 deaths in Fairfax County, 79 in Arlington and 34 in Alexandria, said Steven H. Woolf, of Virginia Commonwealth University and Northern Virginia Health Foundation.
"A large number of patients who require admission to Northern Virginia hospitals, who occupy ICU beds, and who die from this disease are likely to be people of color and who come from the islands of disadvantage," said Woolf. "These economically marginalized communities will face devastating wage losses, unemployment and food scarcity. Low income families will undoubtedly struggle the most to rebound."
Although Northern Virginia is a "seemingly affluent area" with good health statistics in general, life expectancy varies by 17 years within the region, he said. "People of color and low income individuals are especially vulnerable to Covid-19 and have higher death rates."
Everyone wants to reboot the economy, said Woolf. "In other words, we have a common agenda, and that common agenda makes it a win-win argument to prioritize those marginalized groups because their health is necessary to control community spread."
"When we compel workers to go back on the job, are we doing enough to protect their health and prevent transmission? Which populations are at risk if we fail? Too often executives with the luxury of working from home make decisions over zoom calls that put front line workers at risk, often people of color, immigrants, and the poor who have no choice but to show up for work," said Woolf.
Alexandria City Council unanimously approved three programs May 12 to provide support to vulnerable Alexandrians and small businesses affected by COVID-19 pandemic. Rent relief, food security support and small business programs will be funded by $13.9 million allocated to the City through the federal Coronavirus Aid, Relief and Economic Security (CARES) Act.
The $4 million Residential Rental Assistance Program will benefit eligible renters who have suffered income loss due to COVID-19; the $2.4 million Food Security Plan will support large-scale food distributions, home delivery for seniors, and augment ongoing food programs; and the $2.4 million Small Business Grants Program will provide eligible businesses with grants to offset costs and investments related to reopening.
The programs are not yet accepting applications; additional information will be announced as soon as it is available.
The City of Alexandria and Northern Virginia will continue stay-at-home restrictions despite most of Virginia transitioning to Phase One of Governor Ralph Northam's "Forward Virginia" reopening plan.
The existing stay-at-home order and restrictions on certain business operations for Phase Zero will remain in effect in Northern Virginia until at least May 29, while the rest of state moved onto Phase One on May 15. The order applies to the cities of Alexandria, Fairfax, Falls Church, Manassas and Manassas Park; the counties of Arlington, Fairfax, Loudoun and Prince William; and the towns in those counties.
The top elected officials of the five largest localities in Northern Virginia sent a letter to Gov. Ralph Northam, supporting his "Forward Virginia" reopening plan in general but urging him to implement it for Northern Virginia only once regional threshold metrics have been met. The 2.5 million residents of the city of Alexandria and the counties of Arlington, Fairfax, Loudoun and Prince William represent nearly a third of the population of Virginia and half of the Commonwealth's COVID-19 cases, hospitalizations and deaths.
"We eagerly wish to rebuild our economy and help our residents recover," wrote Mayor Justin Wilson (Alexandria) and Chairs Libby Garvey (Arlington County), Jeff McKay (Fairfax County), Phyllis Randall (Loudoun County) and Ann Wheeler (Prince William County). "It is only through our regional achievement of these milestones that we will be positioned to avoid a more damaging return to business closures later in the summer."
More than 236 Alexandrians were tested as part of a pilot initiative by Neighborhood Health to provide community testing for COVID-19.
"Community testing" refers to testing residents regardless of whether they have symptoms of the virus. So far, virtually all other COVID-19 testing in Alexandria has been available only to people with symptoms.
The May 16 testing event was intended as the first step in the process to expand community testing as capacity expands in the future. The Alexandria Health Department and Neighborhood Health coordinated the event with Arlandria-based nonprofits Casa Chirilagua, Community Lodgings, and Tenants and Workers United to reach Alexandrians in the areas hardest hit by COVID-19 so far.
The Alexandria Health Department will contact individuals with both positive and negative results. Neighborhood Health will contact any individual who tests positive and connect them with medical care if they do not already have a provider. Neighborhood Health and the Alexandria Health Department will provide guidance to any individuals with positive test results, including information about steps to protect others from infection.
Anyone who is not feeling well should call their primary care physician to ask if it is appropriate to come in for an exam or test.
Neighborhood Health, a nonprofit community health center serving approximately 8,500 low-income residents, conducts COVID-19 screening and testing for its patients. Patients who need evaluation should call 703-535-5568 for a phone or video appointment with a provider. All Neighborhood Health sites require appointments; walk-ins are not accepted.
The nonprofit Virginia 30 Day Fund provides forgivable loans for Virginia-based small businesses. The loan is intended to provide immediate financial assistance to meet payroll, preserve healthcare coverage for employees, and save jobs. Help is designed to be quick, easy, and free of red tape, as small business owners work to keep employees on board in the near term.
Face coverings or masks will be required when traveling in all Metro stations, trains, buses, and MetroAccess vehicles, and all Alexandria Transit Company (DASH) buses starting May 18. Riders are reminded that these transit systems are open for essential travel only, and the public is encouraged to stay at home whenever possible.
HIRING NOW The Virginia Department of Health (VDH) is hiring 1,300 contractors for work related to COVID-19 contact tracing, including district case investigators, district contact tracers, regional testing coordinators, contact tracing supervisors, district data managers, and regional analytics coordinators. For more information and a list of staffing agencies, visit the Virginia Department of Health Coronavirus page and look for the orange box on the left.
POSTAL SERVICE INCLUDED: Last week, the U.S. House of Representatives passed the Health and Economic Recovery Omnibus Emergency Solutions Act or the HEROES Act. The $3 trillion HEROES Act would include $25 billion to save the United States Postal Service. An additional $25 billion for capital investment is set to be included in upcoming infrastructure legislation, according to U.S. Rep. Gerry Connolly.
"This will keep the Postal Service afloat. But let me be absolutely clear: If President Trump and the Senate GOP demand anything less than the Heroes Act provides, the Postal Service will continue to sink."
Indications are that the Senate does not intend to take up the HEROES Act.
GREAT DEPRESSION: U.S. Sen. Mark R. Warner (D-VA), spoke on the Senate floor about the need to provide relief to the more than 30 million Americans who have lost their jobs due to the coronavirus outbreak, as well as the potential consequences if Congress fails to act. Warner urged Congress to include a Paycheck Security program in the next coronavirus relief bill.
"Just as it took the U.S. years to emerge from the Great Depression, it could take years or even decades to recover from the coronavirus recession if we do not take immediate, bold action in the next coronavirus relief bill. Our first goal must be to prevent further job losses, as well as permanent disruptions like business closures, evictions, and foreclosures. Second, we must work quickly to reduce the economic uncertainty facing workers and small businesses."
INTERNET GAP: More than 20 million Americans lack access to meaningful broadband service, with at least 770,000 Virginians currently unserved. As schooling has moved online, this has particularly impacted students.
Students without internet access at home consistently score lower in reading, math, and science. The impact is worse during this public health emergency as schools suspend in-person classes and transition to remote learning over the internet to protect the health of students, faculty, and staff.
This week, Sens. Warner and Kaine introduced the Emergency Educational Connections Act, legislation aimed at ensuring K-12 students have adequate home internet connectivity and devices during the coronavirus pandemic. This would provide $4 billion in federal support for elementary and secondary schools and libraries, including tribal schools and libraries, to provide Wi-Fi hotspots, modems, routers, and internet-enabled devices, as well as internet service; and allow schools and libraries to continue to use the equipment after the emergency period.
Warner and others also urged CEOs of eight major internet service providers to make it easier for customers to use telepresence services for telework, online education, telehealth, and remote support services. Within days, AT&T, CenturyLink, Charter Communications, Comcast, and Cox Communications, as well as a number of smaller ISPs announced plans to accommodate the unprecedented demand for telepresence services.
REVENUE DOWN: April revenue collections in Virginia fell 26.2 percent, primarily due to the extension of individual and corporate income tax deadlines until June 1 to provide relief amid the ongoing COVID-19 pandemic. "We are facing an unprecedented health and economic crisis, and we must combat this virus before we can begin to repair our economy. My top priorities continue to be protecting the health and safety of all Virginians," Northam said.
STATE AND LOCAL BUDGET HELP: Congress should address the budgetary disaster facing state and local governments due to the economic effects of the pandemic. U.S. Sen. Mark Warner urged Congress to provide additional financial assistance to states and localities and flexibility in how they use coronavirus relief funds. Failure to address these budget shortfalls could threaten the jobs of first responders and other public servants on the front lines of the pandemic.