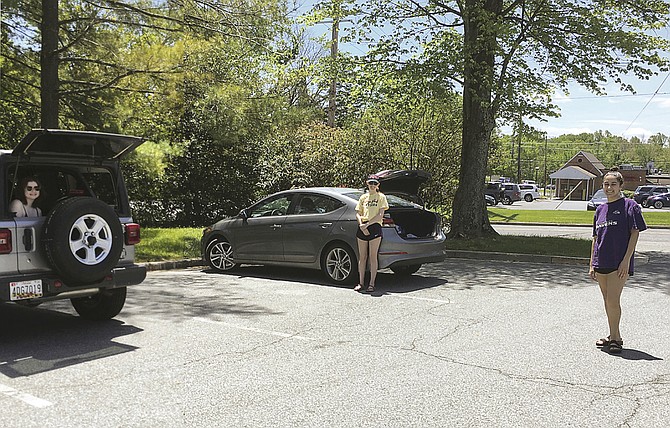 Where there is a will, there is a way, and three high school friends wanted to visit in person in spite of the rules about social distancing.
So, Sophie Shapiro, Sheerin Naimi and Maya Rosenberg planned a get together by meeting in the parking lot of Potomac Library Saturday afternoon.
"We haven't met since March," the Churchill graduates said.
It was, at first, a strange sight.
Three cars, parked several spaces apart, created a friendship triangle where the former classmates could safely visit and catch up on what they have been doing. Sophie climbed into the back of her small SUV, Sheerin opened the back of her hatchback and Maya stood by the back bumper of her car. They were close enough to see each other and talk, far enough away to stay virus safe.
Sophie, who worked as a nanny before the coronavirus changed people and places, shared that she is doing a lot of digital art in her newfound time. She said she expects to go back to work soon.
Maya is a sophomore at the University of Maryland College Park, and has just finished finals, which she took online. She expected to have an internship this summer but is not certain that will work out now.
Sheerin is also a student at University of Maryland College Park and is finishing up her semester. She has one more final and like Maya, had expected to have an internship this summer.
"I was supposed to intern at a lab this summer but that won't happen," she said.
The young women speculated about the fall semester. They do not know if school will resume as before the pandemic or continue online.
"I hope [classes meet]," Sheerin said. "I study public health, so I take a lot of labs. That's been hard online."
The conversation soon turned lighter, with each sharing the shows they have been streaming, comparing views on those they considered best and suggesting new ones to try.
Tips from the CDC
Social distancing, also called "physical distancing," means keeping space between yourself and other people outside of your home. To practice social or physical distancing:
Stay at least 6 feet (about 2 arms' length) from other people

Do not gather in groups

Stay out of crowded places and avoid mass gatherings
In addition to everyday steps to prevent COVID-19 including handwashing and wearing a mask, keeping space between you and others is one of the best tools we have to avoid being exposed to this virus and slowing its spread locally and across the country and world.
Limit close contact with others outside your household in indoor and outdoor spaces. Since people can spread the virus before they know they are sick, it is important to stay away from others when possible, even if you — or they — have no symptoms. Social distancing is especially important for people who are at higher risk for severe illness from COVID-19.