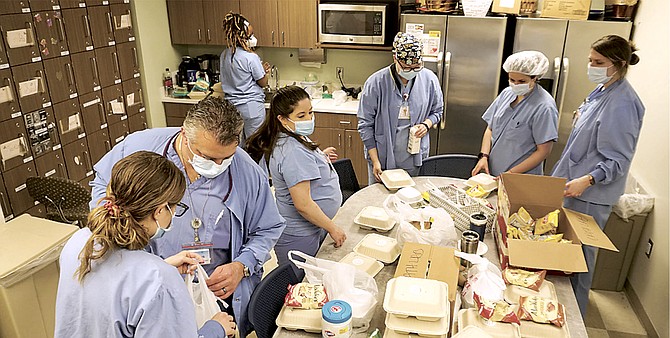 A caravan of cars packed full of food donations pulls up in hospital parking lot C at 11 a.m. on Thursday, May 14 to deliver 350 lunches as part of a partnership between Amazon and Freddie Lutz, owner of Freddie's Beach Bar & Restaurant. One hundred and fifty dinners will be delivered later the same day for the night shifts. Over a series of days the total meals delivered to the hospital staff through this initiative will be over 2,300.
Adrian Stanton, VP for Business and Community Relations at Virginia Hospital Center (VHC) says, "We have a very generous community in Arlington, and we get donations two-to-three times a week. It may be donuts, and we have a kind donor who is sending ice cream."
Today's choices organized by Freddie's are ham and cheese and turkey sandwiches, 35 sautéed vegetarian boxes as well as a lentil dish, chips, mac and cheese and a drink.
Stanton says it is nice for the health care workers to be able to have a meal delivery and take a break. The hospital has a command center that coordinates the donations and divides up the food among departments. He explains these are staff who said "send me where I'm needed" since some of the hospital functions such as elective surgeries have been temporarily suspended.
"They may put the meals out in the lunchroom and people stop by whenever and pick up something to eat, or on a day like today they may step outside." He says there is joy in their faces. "You can tell it's more than a nice free lunch."
Stanton says since the hospital is 24/7 and operates in shifts, they have a lunch and dinner arrangement so the departments can decide what works best for them. "Freddie has been willing to accommodate us with that."
Lutz says he first reached out to Amazon over a year ago when they came to Arlington and he has built a relationship with them. Amazon came to him recently and asked if he would like to partner with Amazon to provide 10,000 meals in the month of May. Lutz is the President of the 23rd Street Merchants Association and so he asked Amazon if he could involve other restaurants nearby in the effort.
Now he has enlisted the efforts of Urban Thai, Young Chow, Crystal City Sports Pub, Federico Restaurante Italiano, and Enjera Ethiopian Restaurant. Amazon pays for the meals and Lutz does the organizing and coordination of the food.
Lutz says this has allowed him to hire back about nine employees who spend the night before the delivery boxing the meals. "Some of them have other jobs, but some of them are really desperate to get back to work. It's so gratifying to be able to help them."
Lutz says he has put Tony Rivenbark, who has worked at Freddie's for 17 years, in charge of the project. Rivenbark has already organized meals for the Arlington County Police and Fire Departments. He says he coordinates with the individual players to accommodate special tastes like vegetarian although they have not yet been able to provide gluten-free preferences.
"Some good comes out of every situation."
—Adrian Stanton, VP for Business and Community Relations at VHC
Amazon told them a good planning tool would be 25 percent vegetarian meals but when Rivenbark asked the firemen ahead of time, "they said they had 5 percent vegetarians at most and they said we have big tough guys who need a little bigger meal." On the other hand, on the nursing side, they don't need quite so much. Rivenbark says when they feed the same group again, like the firefighters last week, he makes sure they get a different meal each time.

Rivenbark remembers, "we spent the first several days trying to figure out what Freddie's could do and do well. Vegetarian was not our strong point," so they passed it along to other neighbors. As a result, for the hospital workers, Young Chow provided sautéed mixed vegetables and Enjera a spicy lentil dish. Rivenbark walks up and down the street asking the 23rd Street restaurants "what can you provide us within this budget."
In order to prepare the 150 chicken pesto fettuccine dinners for the hospital workers on Thursday as well as the 350 lunches, Rivenbark says Maria and Francis came in at about 5:30 a.m. on Wednesday and worked until noon to prepare the pesto, chop and slice the tomatoes and turkey and ham for the sandwiches the next day. They were back at 5:30 p.m. working until 8:30, then back the next day to finish the job. Rivenback says "There are 6 of us who are actively working 100 percent of the time just on this project."
The next two weeks they will be providing meals for "our most vulnerable neighbors in low-income housing at Arlington Housing Corporation and Arlington Partnership for Affordable Housing. I especially look forward to seeing their faces."
Lutz says the first thing the hospital workers do is thank him but I tell them "we need to thank you guys for what you do for us."
Stanton comments, "There is always some good that comes out of every situation and one of these things that people have learned is to say thank you." He contemplated that people didn't think to say it so much before this pandemic hit. "But we know that it is within us."
This initiative is part of Amazon's efforts to support their headquarters communities where they live and operate. As part of this effort Amazon donated $1 million to kick start emergency COVID-19 response efforts in the Washington D.C. area. This will enable four community foundations to distribute grants to nonprofits addressing food insecurity, housing and shelter and emergency financial assistance.