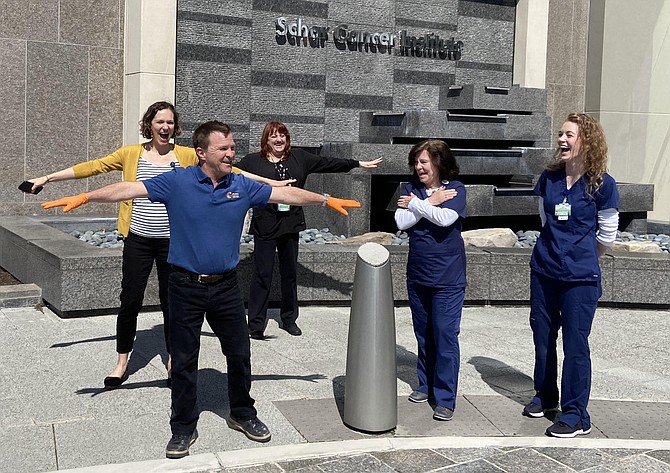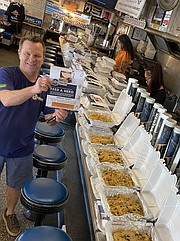 Matt Curry doesn't own a restaurant – yet, Monday through Friday, he's feeding doctors and nurses in hospitals. He's able to do it because he partnered with five restaurants who make and deliver the meals. He provides the funding and they provide the food.
Curry owns Craftsman Auto Care at 14510 Lee Road in Chantilly and has additional locations in Fairfax, Alexandria and Merrifield. And he wanted to do something to help the healthcare workers on the front lines of battling the COVID-19 pandemic.
"My sister's an ER nurse in Illinois, and a good friend, Mark Franke, is an ER doctor at Inova Fair Oaks Hospital," explained Curry. "We were chatting, and he said they needed meals. So on March 22, I sent 20 meals to them and 20 meals to my sister's hospital, through Jimmy John's."
"They were super appreciative," he continued. So, realizing how much it meant to them – and would mean to other doctors and nurses, as well, he formed a plan. "I decided to give hospitals 100 meals/day for 30 days," said Curry. "I also realized how hard restaurants were getting hammered [since being limited to offering just takeout and deliveries]."
THAT'S WHEN he created his "Feed a Hero" program to help both hospital workers and restaurants. At the same time, he started a GoFundMe page and asked his customers to donate to it to provide food to doctors and nurses.
Those funds enabled Curry to hire five different restaurants from around Fairfax County – including Ciao Osteria in Centreville and 29 Diner in Fairfax – to cater and deliver those meals. To contribute, go to https://www.gofundme.com/f/44yc4-feed-a-hero.
Meanwhile, John K. Wood, who owns the 29 Diner, had already begun his own initiative in response to the virus. He turned his restaurant into a community kitchen to feed children no longer receiving food from FCPS.
The Fairfax Education Assn. and Fairfax County Professional Firefighters Assn. contributed financially, enabling him to feed firefighters, children and out-of-work teachers for free. Wood also has a school bus parked in front of his restaurant, where people donate nonperishable food, toiletries, first-aid items and household supplies to families in need.
And with so many people now out of work, his demand to deliver to individual families in need keeps surging. "I'm getting 50 calls/day asking for help," he said. In addition, Wood – who'd already launched his own fundraiser, as well – was also bringing lunch and dinner to area hospitals. Donations from the community have helped greatly, and so has the partnership with Curry.
That's because Wood has a large-scale operation, feeding emergency-room doctors and nurses at Inova Fair Oaks, Fairfax and Alexandria hospitals and at the Schar Cancer Institute across the street from Inova Fairfax. And he's providing food, as well, to The Lamb Center, Shelter House and Pathway Homes – which all help the homeless.
"Typically, we bring 200 meals/day," he said. "We're blessed by everyone's kind donations; we wouldn't be able to do this without their help and without our community sponsors like Matt Curry of Craftsman Auto Care, who's been really wonderful."
AS FOR CURRY, he's pleased to be able to lend a hand where it's needed most. And he's happy that his collaboration with the restaurants is working so well.
"It keeps their employees employed, they stay in business and the healthcare workers get fed," said Curry. "It started as a little gesture and grew into something much bigger, and we're going to keep it going as long as the donations keep coming in."