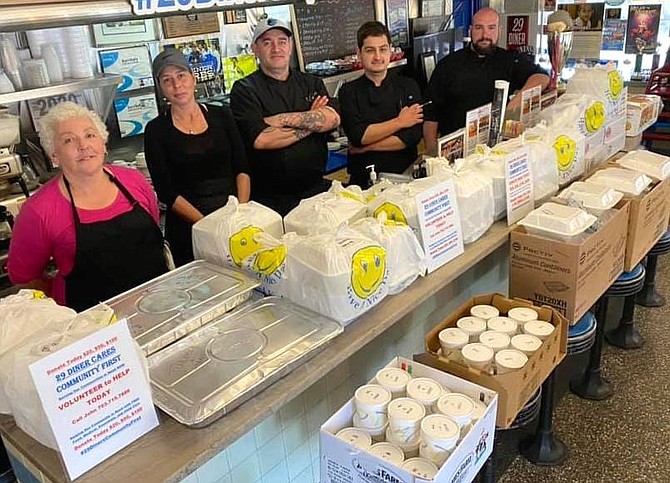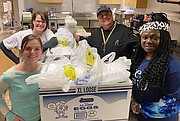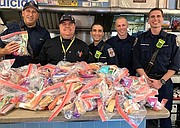 On a recent Friday afternoon, John K. Wood, owner of 29 Diner in Fairfax City, delivered 50 lunches to Inova Fairfax Hospital for the health-care workers fighting COVID-19. The meals included pulled pork and pulled chicken sandwiches, macaroni and cheese, coleslaw, potato salad and cookies.
As Allison Barole, with the hospital's Volunteer Services, placed it on a cart to take inside, she told him, "Thank you so much for delivering all this. The staff's loving it." She knew that because he's brought meals there for three weeks now.
And while leaving, Wood told her he'd return later with hot meals for the 11 p.m. shift. He then crossed the street and delivered lunches to the doctors and nurses at the Schar Cancer Institute before doing likewise at Inova Alexandria. But that's not all. He's also feeding the Inova Fair Oaks ER, Fairfax County school children, firefighters and people at The Lamb Center, Shelter House and Pathway Homes – which all help the homeless.
"Typically, we bring 200 meals/day," he said. "We're blessed by everyone's kind donations; we wouldn't be able to do this without their help and without our community sponsors. For years, we've established ourselves as a leader in the community in times of need. And it's humbling that so many people are reaching out to me during this crisis."
WOOD revamped and reopened the historic 29 Diner, at 10536 Fairfax Blvd., in September 2014 with six service-disabled veterans. He's always believed that, "If I, as a small businessman, stood with the fiber of our community – firefighters, police, veterans and teachers – and helped them form small LLCs, then they could employ their families, community and others like them."
Then, he explained, "If people saw them doing the Lord's work, leading with their hearts and taking care of our community, they'd know they had the community's best interests at heart. Then their businesses couldn't fail because the community would patronize them."
So Wood focuses on at-risk youth and people putting their lives on the line to help others. His signature, "Feed a Vet, Save a Vet" program involves his diner patrons leaving donations in jars. He uses the money to give veterans free meals while they listen to the American Foundation for Suicide Prevention talk about preventing military suicides.
Now, responding to the virus, he's turned 29 Diner into a community kitchen to feed children no longer receiving food from FCPS. The Fairfax Education Assn. and Fairfax County Professional Firefighters Assn. have contributed financially, enabling him to feed firefighters, children and out-of-work teachers for free. Wood also has a school bus in front of his restaurant, where people donate nonperishable food, toiletries, first-aid items and household supplies to families in need.
The idea for his current Community First Initiative, encouraging donations so he can bring free food to hospitals, came from Fairfax's Billy Reilly, whose Shamrock Solutions Group promotes the diner. And, said Wood, "He's supported this initiative every day, connecting me with others needing help."
Also instrumental was Matt Curry, owner of Craftsman Auto Care in Fairfax and Chantilly. He asked his customers to donate to his "Feed a Hero" program to provide food to doctors and nurses. Those funds enabled Curry to hire 29 Diner to cater and deliver those meals. To contribute, go to https://29diner.com or https://www.gofundme.com/f/44yc4-feed-a-hero.
"My sister's an ER nurse in Illinois, and a good friend, Mark Franke, is an ER doctor at Inova Fair Oaks Hospital," explained Curry. "We were chatting, and he said they needed meals. So on March 22, I sent 20 meals to them and 20 meals to my sister's hospital, through Jimmy John's. They were super appreciative, and I decided to give hospitals 100 meals/day for 30 days. I also realized how hard restaurants were getting hammered."
CURRY then started a GoFundMe page, heard about Wood's efforts and partnered with 29 Diner and four other restaurants to provide the food. "It keeps their employees employed, they stay in business and the healthcare workers get fed," said Curry. "It started as a little gesture and grew into something much bigger, and we're going to keep it going as long as the donations keep coming in."
Wood feels likewise. In addition, with so many people now out of work, his demand to deliver to individual families in need is surging. "I'm getting 50 calls/day asking for help," he said. As of Monday, he's served more than 7,500 free meals – including 200 on Easter.
So, said Wood, "I'm going to partner with Summit Church in Springfield to provide nonperishable food, plus healthcare and household items, and do pop-up locations with our community food pantry to distribute it. We'll post them on social media and work with Britepaths, FACETS and Food for Others to spread the word. I won't stop until the last person in Fairfax County is fed and well taken care of."