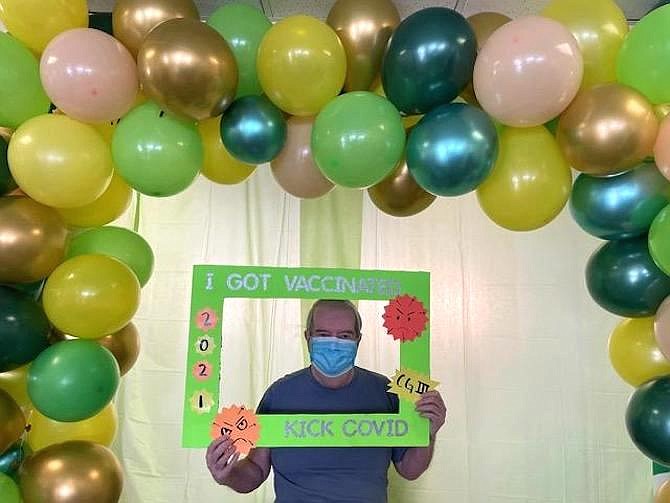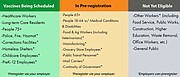 Arlingtonians are angry, frustrated and frightened about Covid. The cancellation of some appointments for those 75 years-old and older, the uncertainty of the vaccine supply and the Governor's evolving decisions about eligibility, distribution metrics and priorities have led to mass uncertainty about who is in charge and what to do.
The bottom line is there simply aren't enough vaccines to go around.
On Dec. 12, Virginia Hospital Center received Pfizer vaccines and began vaccinating medical workers who are included in tier 1(a). When Moderna vaccine came in Dec. 28, VHC repeated the process. They are currently administering second doses. VHC next partnered with Arlington County to operate a clinic for residents over the age of 75 as the County moved into phase 1(b) of the Virginia Department of Health vaccine distribution plan.
Jan. 9, VHC physicians sent out an email about vaccine availability inviting individuals who are part of phase 1(a) and 1(b) to schedule vaccine appointments. Phase 1 (a) included health care workers and residents of long-term care facilities with phase 1(b) including persons 75 and older and frontline essential workers including police, fire and Hazmat, postal workers, childcare/K12 teachers and staff, public transit workers as well as grocery store workers and a few others.
Arlington residents over 75 were required to schedule an appointment, and vaccination began Jan. 13. Each person upon leaving was given a card with an appointment time for his or her second vaccination. Moving into phase 1(b) means that approximately 50 percent of Virginia's population is now eligible for COVID vaccines.
Despite difficulty of scheduling appointments in an overworked system, many people secured appointments for the weeks ahead. Then Jan. 15, Northam announced he was including people 65 years and older, people with underlying medical conditions, as well as teachers in the 1(b) category, thus making them eligible for vaccination. The race for appointments began again overloading the system's ability to respond. Many people reported hours of waiting, getting kicked off the VHC system, and having available time slots disappear before their eyes. The expansion of eligibility had led to more demand than vaccine available.
On Jan. 15, Culpepper Garden low-income senior residence vaccinated 189 residents and 36 staff during the first of three clinics. They held a follow-up clinic for assisted living residents, vaccinating an additional 97 people on Jan. 27. The third clinic is scheduled for Feb. 2 where they will administer the second dose of the vaccine as well as inoculate those who may have missed the first clinic.
On Jan. 16 and 18, the Arlington Department of Public Health set up clinics for vaccinating childcare/K-12 staff. They were able to vaccinate 1,800 staff in those two days, and additional clinics have been scheduled. According to Frank Bellavia, Arlington Public School (APS) Media spokesman, about 82 percent of the staff said they want the vaccine. He said, "APS has a significant portion of positions that interface with students from food service to bus drivers to assistants to teachers. All employees are afforded the same priority since the majority of our employees are school based and work directly with students."
In the Jan. 22 vaccine update provided by Dr. Danny Avula, the Governor's vaccination coordinator, he said Virginia had changed the approach of allocating doses to any place that requested it to a geographically population-based distribution. Doses are given to local health departments. "The health department works with their local partners, their health systems and other pharmacies to determine where do we want the vaccine to go. Where should it be prioritized this week?"
Avula explained as health districts moved to phase 1(b) of vaccinations with expanded eligibility; it led to more requests for appointments than doses. "Up until last week, we were able to … allocate vaccine to everybody who wanted it. But last week we had over almost 300,000 dose requests and only 105,000 doses to allocate." Avula said it could take two to three months to work through the people in-group 1(b) waiting for vaccinations. He said the state has a goal of providing 50,000 doses a day and has the capacity to administer that many; it just doesn't have the vaccines.
On the same day, Jan. 22, those who had an appointment but had not yet been vaccinated received a text message from VHC saying, "The Virginia Department of Health announced that going forward, disbursements of vaccines would only go to health districts. Hospitals in Virginia will no longer receive vaccines from VDH. As a result of this change VHC Physician group must cancel all future dose appointments at our vaccine clinic, beginning with appointments that were scheduled for Jan. 26, 2021 or thereafter. Your appointment at VHC Physicians Group vaccine clinic has been cancelled."
On Jan. 26 those with cancelled appointments got a "Dear Arlington Resident" letter stating "we will be scheduling you for a new date and time as soon as vaccine supplies are available. Our goal is to reschedule the canceled appointments in the order of VHC appointment schedules." Arlington County Board chair Matt de Ferrante in a Covid update on Jan. 28 said Arlington would be reaching out in the next few days to the 3,000 people 75 and older whose appointments had been cancelled.
One 80-year-old resident who had spent 12 hours getting her appointment said it had been scheduled for Jan. 27. Then they cut off appointments Jan. 26. "They said they would call me when they could reschedule. I know I will be on the alert to pick up when I see a 703-228 phone number." On Jan. 29 she reported she had just been able to reschedule for Feb. 2, the day of the expected snowstorm.
One 74-year-old who had scored an appointment that was cancelled said, "My understanding is that they are going to just reschedule for 75 and older and essential workers. I guess I'm just out of luck."
Residents have also been concerned about their second dose as they watch some other localities make the decision to expand the number of people who can receive a first dose by delaying the second dose until they have a larger supply of vaccine.
Adrian Stanton, Vice President of the Health System at VHC, says they have guaranteed the second dose to everyone who has had the first one. "I don't believe others in the state are doing that. He indicates it's difficult to anticipate what will happen with the supply available. "We weren't going to go cold turkey. As things got a little shaky, we wanted to be sure we got the last batch in time to cover everyone. We have some doses in the freezer."
In an Arlington vaccine town hall Jan. 27 Reuben Varghese, Arlington County Public Health Director in a response to a question from State Senator Adam Ebbin indicated Arlington is vaccinating essential workers who work in Arlington but live outside the County.
Rick Hale, a 74-year-old Arlington resident who has had his appointment cancelled wrote his local representatives, "Some, potentially a considerable amount, of the COVID vaccine that Arlington receives from the State is being used to vaccinate teachers and other essential workers who work in Arlington, but are not Arlington residents. Since Arlington is receiving a very limited supply of vaccine from the State, which is distributed according to a county's population, this policy reduces the number of vaccine doses that go into the arms of Arlington residents."
Stanton, Vice President of the Health System at VHC says people have anecdotal stories about unexpected vaccinations. "I don't know why but people cancel. But you have the vaccine and once it is pulled and prepped, you're locked in. You can't put it back in the freezer. If people don't show, it's wasted." So you hear about someone suddenly getting a vaccine in a grocery store or a call from a healthcare provider. "I recently heard about vaccinations in a snowstorm to be sure the shots weren't wasted."
On Jan. 28, de Ferranti issued a coronavirus update with the latest information on vaccine availability. "We expect 2,750 doses per week but have the staff to do 14,000 per week." He added on Jan. 27 the Governor announced that Virginia would receive a 16 percent increase in Covid-19 vaccines immediately from the Federal government. This will allow planning vaccine distribution for months ahead instead of week to week.
He said Arlington County expects to receive more doses gradually. De Ferranti added that in Virginia, there are 110,000 doses per week to reach 8 million residents across the state. In Arlington 50,000 residents have preregistered for the vaccine. He has indicated because there is not enough vaccine supply, the County is starting with residents 75 and older and a few categories of essential workers including police, fire, EMTs, homeless shelter workers and pre-K-to-12 staff.
Carnegie Mellon's University Delphi Lab statistics indicate 92 percent of people in Arlington would accept a vaccine. Arlington's numbers stand at 11,487 Covid cases (with 73 new today), 723 hospitalizations, 199 deaths (two today.)
In Arlington County, 11,996 doses of vaccine have been administered, with 1,236 fully vaccinated.
De Ferranti says, "Vaccinating Arlingtonians remains County Government's most urgent priority."