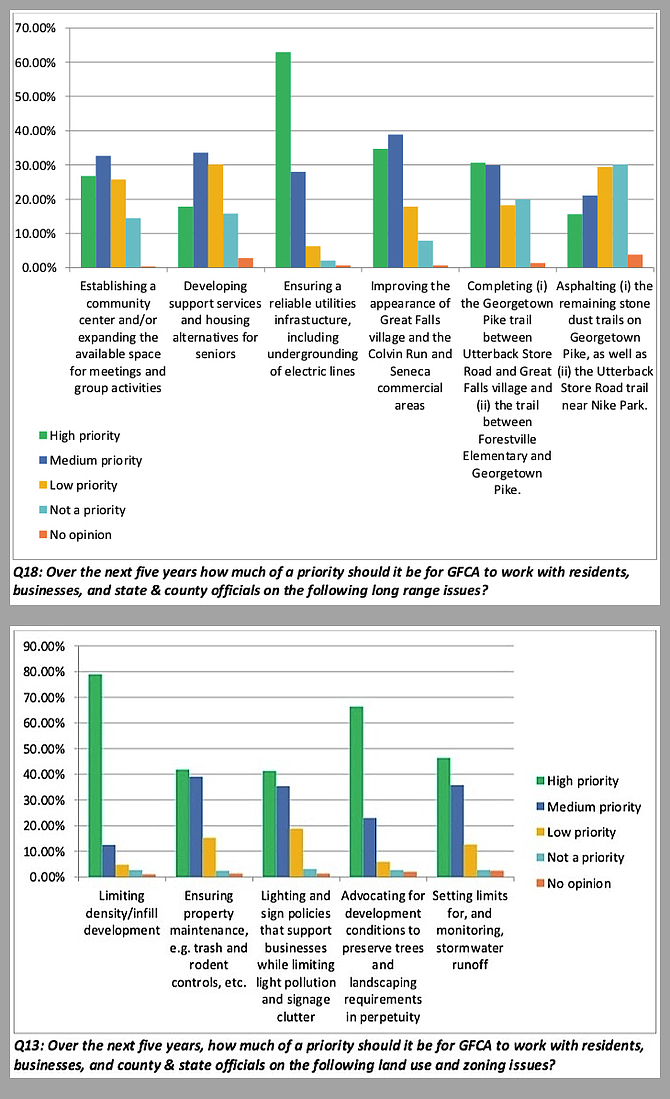 In its first survey since 2007, the Board of Directors and Committee Chairs of the Great Falls Citizens Association, a 100 percent volunteer 501(c)4 organization without paid staff, released findings of its Looking Forward to 2025 Survey, meant to gather feedback from the community on what was important to them and where the Association should direct its efforts and resources now through 2025. Rather than Great Falls being described any longer as a semi-rural community, findings from the recently completed survey lean to the concept of Great Falls as "a community that seeks to preserve its environmental and aesthetic character."

BILL CANIS, President of the Great Falls Citizens Association, said that member Pam Grosvenor acted as the project manager for the survey that identified key interests and issues in the community. "What came through loud and clear is maintaining the more green character, the natural environments that Great Falls has still. We're losing it bit by bit, piece by piece," said Grosvenor. "We want to use the survey as a tool, a guide, to point to with our elected officials, and as I see it, make changes."
Since Great Falls is a census-designated place, the Fairfax County Board of Supervisors governs the locality. "We interact with our supervisor's office quite a bit, and we keep pushing forward and advocating for what we want. But that's the best we can do with not having a pound," said Grosvenor. Canis explained that the Association also works extensively with the County Planning Commission. They had been open to many suggestions as had former Chairman Sharon Bulova, as seen when issues with the Virginia Department of Transportation arose for the widening of Route 7 at the intersection of Georgetown Pike.
"We also have close relationships with our delegate, Kathleen Murphy and our state senator, Barbara Favola. We are in contact with them when there are issues in Richmond that can affect the agenda items we have there too...For example, we worked with both of those offices on some legislation, which was signed into law by Governor Northam about a year ago, that could be a way to help control traffic, (an Act to amend the Code of Virginia by adding a section numbered 15.2-2022.1, relating to turns into or out of certain residential areas; resident permits [H 2033] Approved)...If necessary, we work with our members of Congress as well," said Canis.
IN ANALYZING RESULTS from the survey data, the Association found the ever-growing volume of commuters brought new challenges for transportation, and increasing residential density and infill development raised new environmental and land use issues for residents. On the other hand, many interests and concerns brought forth in conjunction with the 2007 survey continued to be important in 2020, particularly those related to development and how they might affect the community's quality of life.
A reported 327 residents participated in the circulated survey. They will be among the first to receive the results, as will the 1000 members of the Association. While the Association will also post the report on the organization's webpage, when it does its annual community wide mailing to every household in Great Falls, Canis said that when that goes out, the survey results would be a prominent feature. "The work of GFCA goes on through our committees," said Canis. "They're all mentioned in that report- Environment, Planning and Zoning, Long Range Planning and Transportation and a Special Committee on Schools... Those are the pillars of our committees... Whether they're a member or not, any resident can attend any of our committee meetings. We will most likely be discussing these survey results and applying them through our committee structure," he said.
The Association advertised its survey in the local media, mentioned it at public meetings and events, included it in the monthly newsletter, Dranesville Happenings by Supervisor John Foust (D- Dranesville) and emailed notifications to local nonprofit organizations and PTAs/PTOs/PSTAs. Out of the 5,391 households in Great Falls, 327 residents participated according to the survey.
Highlights of Findings/Next Steps
Source: Great Falls Citizens Association Looking Forward to 2025 Survey Executive Summary

Many issues and initiatives cross-cut, in that they affected other areas, particularly those regarding development. Initiatives with the highest priority spanned land use, transportation, environment and infrastructure.
Limiting density and infill development, i.e., managing growth (79 percent)
GFCA will continue to engage in and monitor local development projects and advocate to preserve what residents value about our community. In addition, GFCA will be investigating the feasibility and ramifications of designating Great Falls as a special planning district.
Reducing cut-through and commuter traffic (73 percent)
GFCA supports VDOT's plan to redesign the Georgetown Pike/I-495 intersection and advocates for improvements to I-495. We will also continue to encourage our elected representatives to work with Maryland on widening the American Legion Bridge and exploring other alternatives to address increasing congestion on roads in Northern Virginia.

Advocating for development conditions to preserve trees and landscaping requirements in perpetuity (66 percent)
GFCA will continue to engage in and monitor local development projects and advocate to preserve what residents value about our community. In addition, GFCA will be investigating the feasibility and ramifications of designating Great Falls as a special planning district.
Calming traffic and improving safety on local roads (64 percent)
GFCA continues to push for crosswalks that would connect the library to the commercial areas. In addition, GFCA plans to reexamine other recommended improvements and pursue those that are felt to be the most viable; other ideas for calming traffic will also be examined.

Ensuring a reliable energy infrastructure (63 percent)
Although undergrounding across the entire community at Dominion's expense is unlikely because of the high costs involved, it may be possible if everyone in a particular neighborhood, or along a road, agreed to have an undergrounding fee added to their power bills for a specified number of years...Given the interest in this issue, GFCA will continue to pursue undergrounding, reaching out to both residents and Dominion Energy to discuss options.

Additional High Interest Initiatives
Setting limits for, and monitoring, stormwater runoff (46 percent)
Monitoring underground storage tanks and harmful waste to protect well water and septic systems (44 percent)
Ensuring property maintenance (42 percent)
Creating an interconnected trails system and sidewalks in the commercial area (41 percent)
Controlling the deer population and managing other wildlife (41 percent)
Lighting and sign policies that support businesses while limiting light pollution and signage clutter (41 percent)
Visit https://gfca.org/Looking-Forward-to-2025-Survey for more information.
More like this story