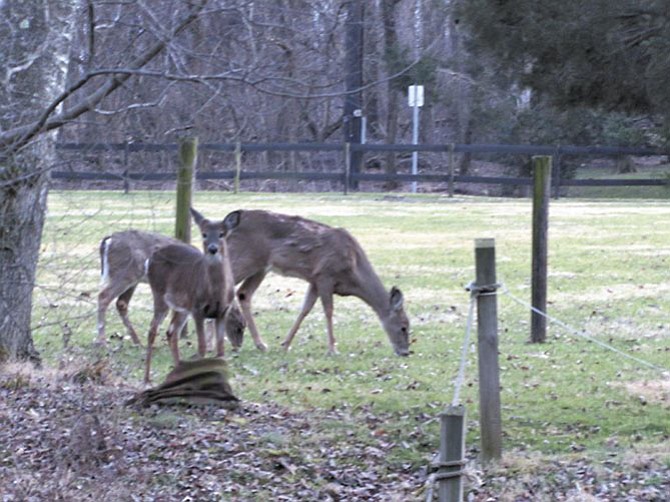 Great Falls has a lot to look forward to this year.
Community leaders said the biggest topics the village will discuss this year include deer management, the Route 7 expansion and possible Independence Day fireworks.
Erin Lobato, executive director for Celebrate Great Falls (CGF), said the lack of fireworks last year at Turner Farm Park may have sparked more volunteers for this year's event.
"Sometimes it takes something like that to happen to galvanize people," she said. "There have been a number of people who stepped up and said they want to help bring the fireworks back."
Another problem CGF faced last year was the lack of volunteers, a problem that slowly is being resolved.
"We will continue to broaden the base of volunteers," said Lobato. "We need some people to help direct traffic at events or just run the popcorn machine - just little things like that."
THE DEER MANAGEMENT survey taken last year will be presented at Great Falls Citizens Association's (GFCA) next meeting by Vice President Bill Canis. The survey, taken by residents, will show how locals feel about various methods of deer population control, as described at a GFCA meeting last year.
"People will like to see the deer population controlled for various reasons," said Canis.
Canis and GFCA Communications and Outreach Chairperson Phil Pifer also noted they will be working with the county on the proposed resident curatorship program.
The association plans to advocate the Turner Farm House to be a first or pilot project for the program and will include a master plan on how the 3.5 surrounding acres will be designed.
To help solve the ever-growing traffic problem, Route 7 will continue to be redesigned for expansion. Two more lanes to a seven mile stretch is being planned - but is not finalized - to alleviate the growing number of cars that come through the area due to the Silver Line Metro stations that opened in July.
Construction is slated for 2018.
"It's thought of by (Virginia Department of Transportation) as a tube that funnels people from Loudoun County to Tysons," said Pifer.
However, he said, it affects traffic in Great Falls, including on historic byway Georgetown Pike.
GFCA plans to works on microdesigns of the intersections, including advocating for traffic lights for various neighborhoods to ensure speedy and safe exit points.
"It's one of the biggest things affecting quality of life for our citizens," said Pifer about the traffic congestion.
According to JMT-Design consultant Phitsuru Tanaka at a public information session last year, 2,117 cars travel towards Tysons during morning rush hour in the area being studied.
DURING EVENING RUSH HOUR, 2,000 cars travel westbound and 1,300 travel eastbound.
They are working with Reston Association and McLean Citizens Association to form a transportation coalition.
Although he did not comment about a particular instance, Pifer also said the association will continue to enforce Great Falls' values, including "improper development."
"We'll continue to work on the environment and the safety of our citizens," he added.
Pifer noted that the association plans to continue to advocate for their fair share of the county budget.
"We're thinking of how to be more proactive," he said.
He said he does not expect that the village get as much as certain other areas of the county. However, he said the citizens need funding for items like parks and trails to increase local quality of life.
"Unfortunately, it's especially important in this strained budget environment," he said.