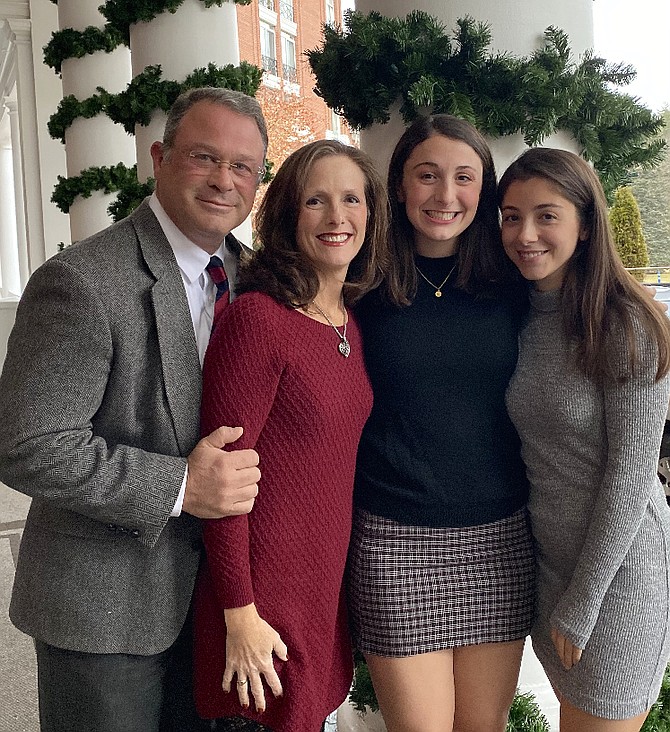 In a local election last week, Vienna now has a new mayor, Linda Colbert, who has deep roots in the town and a few goals in mind that surround her campaign slogan of "#OneVienna."
"I really want to unite Vienna," Colbert said, and that will start with good communications, she said. "One of the cornerstones of my campaign was communication," she said.
In her past position on the town council, Colbert started with a weekly video show and hopes to continue that, but possibly move it to monthly instead of weekly. Colbert got a good response from her video show and found that to be a good medium. "I just started doing it to reach out," she said.
Colbert is looking at the commercial situation in Vienna, and is working with Natalie Mankou, the new economic development manager the town recently hired. Colbert is a member of the Vienna Business Association, and hopes to keep the momentum that the past mayor had established. "We have things in place so we can hit the ground running," she said.
Parking is one area that Colbert has got on her radar. With Main Street and the shops on Church Street, a centrally-located garage would be a plus to the businesses. "That's a huge goal of mine," Colbert said.
Of course, things are hampered from moving forward by the coronavirus. Colbert is following the developments on that, seeing the cooperation of residents, and wears her mask on a regular basis. "People are trying to be respectful of others," she said.
The Town of Vienna recently got over $2 million from the Coronavirus Aid, Relief, & Economic Security Act and Colbert is working on using that according to the guidelines from the federal government. "It must be used for actions to respond to the public health emergency," she noted.
Colbert has a good relationship with the current mayor, Laurie DiRocco, and hopes to keep the cordial town atmosphere that DiRocco established since she was elected in 2014. In Vienna, there are no term limits, but DiRocco occupied the office for a few terms and just decided not to run again.
"She really cares about the Town of Vienna," DiRocco said.
Growing Up in Vienna
Linda Jane Colbert grew up in Vienna in the 1960s, graduating from Madison High School where she met her husband before going on to University of Virginia where she got a degree in mathematics, and then Virginia Tech for her masters in education. She was elected to town council in 2014, and valued the accomplishments of the former mayor, but when the election came this year, "I just saw this was the time," she said.
She and her husband Mike were involved in Vienna sports, and she was on the tennis team, and was a Girl Scout leader. She's now on the rotary club and the movers and shakers in the Vienna art community.
She was on the safety commission in Vienna, and the Tysons Transportation Committee, where she's concerned about other transportation systems besides cars on the road. Vienna has a large pedestrian and bicycle presence, and the Main Street is bisected by the W&OD Bike Trail, one of the larger bike trails in the area, so everything needs to be looked at as a factor. "More than just vehicles," she said. "Keeping the traffic moving on 123 safely," is one of her concerns, she said.
Vienna Town Elections Results
Linda Colbert is the Town of Vienna's new mayor. She will take office July 1.
Colbert was elected mayor in May 19, 2020 Town of Vienna elections, which also brought three new members to Town Council: Ed Somers, Ray Brill, and Chuck Anderson were elected to Council from a slate of seven candidates.
The unofficial vote count for mayor is provided below:
Linda Colbert 1,545
Pasha Majdi 1,172

Howard Springsteen 869
Springsteen will continue to serve on Town Council as his term has not expired.
Each voter could cast a vote for three Councilmembers. Unofficial vote totals for Council positions were:
Chuck Anderson 1,420
Roy Baldwin 1,256
Ray Brill 1,472
Andrea Dahl 1,336
David Patariu 1,214
Ed Somers 1,545
Chris Wright 1,265
In an unprecedented election – in that the Town's election date was delayed two weeks by order of the governor due to concerns related to the coronavirus health crisis and the extraordinary number of absentee ballots that were cast – the unofficial voter total was 4,195, including both absentee ballots requested (not necessarily returned and counted) and in-person voters, or 36.5% of active registered voters.