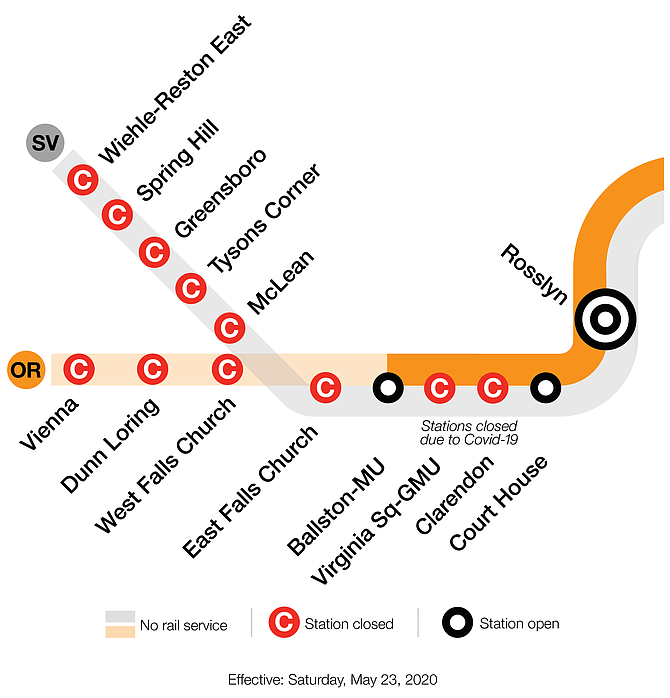 Last summer it was the blue line's turn; this summer it's the orange line stations closing, part of WMATA's Platform Improvement Project. The Vienna, Dunn Loring, and both East and West Falls Church Metro Stations, as well as all Silver Line service, will be closed from May 23 through Sept. 7, WMATA said. West Falls Church Metro Station will remain open as both Silver and Orange Line trains can pass through the closed stations but will not stop at them.
The Metro system has 45 outdoor rail stations constructed with concrete platforms. These platforms were designed and built over four decades ago to safely accommodate customers waiting for trains and boarding Metro railcars. Over the years, many of the platforms have begun to deteriorate due to routine wear and tear combined with exposure to weather and de-icing agents. Metro identified 20 additional stations in need of platform reconstruction, with the first six stations completed in Summer 2019 (Braddock Rd, King St-Old Town, Eisenhower Ave, Huntington, Van Dorn St and Franconia-Springfield).
As the station platforms are reconstructed, Metro is using the shutdown time to make improvements that enhance the customer experience with a higher level of safety, convenience and communication, WMATA said.
Key renovations include new slip-resistant tiles throughout the stations, brighter energy-efficient LED lighting and illuminated handrails. Additionally, new stainless-steel platform shelters will include charging ports and digital map/information displays. More Passenger Information Displays (PIDS) will be installed along the platforms, with larger digital screens to improve visibility. The new screens will display train arrival times continuously, while service alerts scroll along the bottom of the screen. Station improvements also include new surveillance systems (CCTV), clearer speakers for important announcements, and safety call buttons with direct contact to station managers and the operations control center.
Capital Improvement Program
Metro is investing in system safety, reliability and the region's economy through its 10-year, $15 billion capital program. For the first time in Metro's history, the capital program is bolstered by dedicated funding from Maryland, Virginia, and the District of Columbia. The capital program will improve the customer experience and keep the region's infrastructure in a state of good repair by investing in new railcars and buses, improving stations and platforms, upgrading fire-suppression and emergency response systems, replacing and repairing tracks, tunnels, bridges, signals, and communications systems, rebuilding decades-old bus garages and providing modern customer amenities such as passenger information systems. In spending local taxpayer dollars for capital projects, Metro is seeking to reinvest in our hometown economy, creating jobs and encouraging participation from disadvantaged, minority-owned, and small businesses in the region.