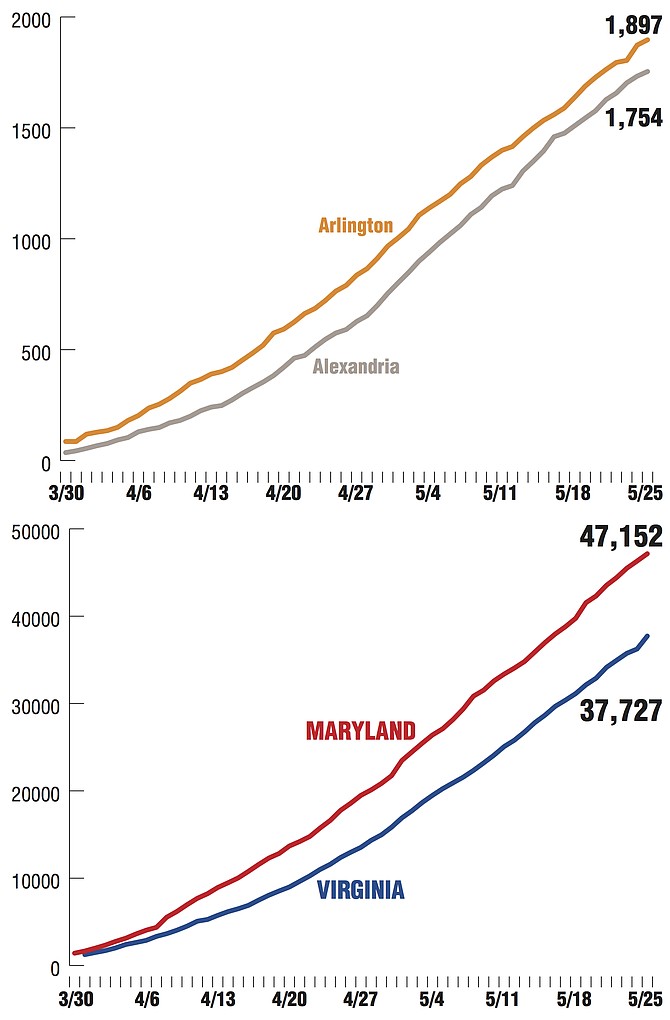 Monday, May 25
Arlington County Cases: 1,897
Virginia Cases: 37,727
United States Cases: 1,612,114
Arlington County Deaths: 101
Virginia Deaths: 1,208
United States Deaths: 97,049
OPENING NOW: Northern Virginia will open into Phase 1 on Thursday, May 28.
Arlington County Board Chair Libby Garvey, Alexandria Mayor Justin Wilson and the mayors and chairman of towns, cities and counties of Northern Virginia, wrote Gov. Ralph Northam on Memorial Day.
"We have enclosed the updated May 24th assessment by the five public health directors. They
have noted the regional attainment of four of the critical metrics and assessed the need for
continued focus on expanding our contact tracing capacity and developing sustainable supplies
of PPE. We appreciate the increased testing capacity the Commonwealth has provided for our region and realize that your assistance with testing and tracing in the future will be important to assist us as we move into subsequent phases.
Each of our jurisdictions have been making preparations to support a transition into Phase 1 at
midnight on May 28th. We do have two requests for your consideration:
1) As you have stated, we believe there is value for the Commonwealth moving forward together. If the data supports it, we would like the Northern Virginia region to move to
Phase 2 in concert with the rest of the Commonwealth when that date is established.
2) The "Stay-at-Home" phase has been especially hard on Virginians with Mental Health Diagnoses, particularly veterans. We ask that you establish distinct, accelerated availability of those services immediately for this group."
The letter was signed by Libby Garvey, Chair, Arlington County Board of Supervisors; Jeff McKay, Chair, Fairfax County Board of Supervisors; Phyllis J. Randall, Chair, Loudoun County Board of Supervisors; Ann B. Wheeler, Chair, Prince William County Board of Supervisors; Justin Wilson, Mayor, Alexandria City Council; David L. Meyer, Mayor, City of Fairfax; Derrick Wood, Mayor, Town of Dumfries; Lisa Merkel, Mayor, Town of Herndon; Bridge Littleton, Mayor, Town of Middleburg; and Laurie A. DiRocco, Mayor, Town of Vienna.
FREE TESTING: Arlington County hosted a one-day free COVID-19 testing event to limit community spread in areas that are disproportionately affected by COVID-19 on Tuesday, May 26 from 10 a.m. – 6 p.m. at Barcroft Fitness and Recreation Center after the Connection's presstime. Tests will be conducted on both a drive-through and walk-up basis.
"Hosting testing in this location is a conscious effort to concentrate resources in an area easily reachable to those residents who may not otherwise be able to access testing and information," said Dr. Reuben Varghese, Arlington Public Health Director. "We hope to reach as many of these residents as we can through this effort."
Arlington County opened its first walk-up COVID-19 sample collection site at the Arlington Mill Community Center earlier this month. It began a drive-through sample collection site in partnership with Virginia Hospital Center in March.
GRADUATIONS: In early June, Arlington Public Schools will begin featuring Class of 2020 graduates from each high school/program, and schools and families are encouraged to share memories, images and messages honoring seniors using hashtags #APS2020grads #Classof2020
The ceremonies will be aired on Comcast Xfinity Channel 70/1090 (HD) and Verizon FiOS Channel 41 and online via YouTube (with closed captioning) and Vimeo. Each ceremony will be broadcast multiple times.
Arlington Career Center, Thursday, June 11, 6 p.m.,
Eunice Kennedy Shriver Program, Friday, June 12, 12 p.m.
H-B Woodlawn Secondary Program, Wednesday, June 17, 6 p.m.
Washington-Liberty High School, Thursday, June 18, 10 a.m.
Yorktown High School, Thursday, June 18, 4 p.m.
Wakefield High School, Thursday, June 18, 8 p.m.
Arlington Community High School, Friday, June 19, 9:30 a.m.
Langston High School Continuation, Friday, June 19, 1 p.m.
Sunday, May 24
Arlington County Cases: 1,873
Virginia Cases: 36,244
Arlington County Deaths: 98
Virginia Deaths: 1,171
Saturday, May 23
Arlington County Cases: 1,804
Virginia Cases: 35,749
Arlington County Deaths: 95
Virginia Deaths: 1,159
PARKS REOPENED: Ninety nine percent of Arlington County residents live within a 10-minute walk of a park. Arlington County reopened its 148 parks on May 23 for limited use. While parks will reopen, amenities in the parks such as playgrounds, picnic shelters, athletic courts, restrooms and dog parks will remain closed. At this time, organized sports are not allowed in parks.
The County's nearly 49 miles of trails and community gardens remain open, as they have throughout the COVID-19 pandemic.
"We need the community's help in practicing safety guidelines so we can keep our parks open, and to allow staff the necessary time to prepare to open even more facilities and programs, when it's safe to do so," said Parks & Recreation Director Jane Rudolph. "As long as the community stays safe, we can stay open."
Park visitors are asked to adhere to the physical distancing and small group guidelines – keep at least six feet of distance from others and groups should not exceed 10 people. Don't use any closed park amenities. Face masks in public are recommended. Don't use parks if you are sick or recently exposed to COVID-19.

While park open areas, community gardens and trails are open, park amenities will remain closed due to health safety concerns.
All Arlington summer camps, classes and programs are canceled.
Friday, May 22
Arlington County Cases: 1,795
Virginia Cases: 34,950
Arlington County Deaths: 91
Virginia Deaths: 1,136
SELF CHECK: COVIDCheck is a new online risk-assessment tool for Virginians to check their symptoms and connect with health care resources. COVIDCheck can help individuals displaying symptoms associated with COVID-19 self-assess their risk and determine the best next steps, such as self-isolation, seeing a doctor, or seeking emergency care. See https://www.vdh.virginia.gov/coronavirus/covidcheck/
CENSUS: More than 68 percent of Arlington households have responded to the 2020 Census, but close to 30,000 households have not been counted, according to a presentation shared with the Arlington County Board.
The areas with the lowest response scores, as reported by the Census Bureau's Response Rate Map, make up slightly more than 20% of Arlington's total population, including 40.7% of Arlington's Black or African American population, one-third of Arlington's Hispanic or Latino population and 27.4% of Arlington's Asian population. Apartments and condos make up 94% of housing in the low response tracts.
COURTHOUSE: Beginning May 22, 2020, cloth face masks will be available for all people who do not have one as they enter the Arlington County Courthouse. All courthouse patrons are required to wear a cloth face covering or face mask in the courthouse.
SNAP ONLINE: More than 740,000 Virginians who receive Supplemental Nutrition Assistance Program (SNAP) benefits will be able to pay for their groceries online and have them delivered, after the United States Department of Agriculture (USDA) approved Virginia to participate in an innovative online purchasing pilot program. The program will launch statewide in Virginia on Friday, May 29 with online shopping access available through Amazon and Walmart online.
FLAGS LOWERED: Flags of the United States of America and the Commonwealth of Virginia were flown at half-staff over the state Capitol and all local, state and federal buildings and grounds in the Commonwealth of Virginia to honor the victims of the Novel Coronavirus Pandemic.
NICKEL AND DIMING: U.S. Sen. Mark R. Warner (D-VA) and Sen. Tammy Duckworth (D-IL) introduced legislation to ensure that all National Guard troops activated in response to the COVID-19 pandemic receive full benefits. "While the Trump Administration gave an extension, it cynically chose a peculiar date that was later revealed to result in a hard deployment stop at 89 days for thousands of National Guard members – one day short of the 90-day threshold to receive additional federal benefits, like access to Post-9/11 GI Bill benefits," according to Warner.
Thursday, May 21
Arlington County Cases: 1,763
Virginia Cases: 8,580
Arlington County Deaths: 89
Virginia Deaths: 309
40 PERCENT HURTING: U.S. Sens. Mark R. Warner (D-VA), Bernie Sanders (I-VT), Doug Jones (D-AL) and Richard Blumenthal (D-CT) introduced the Paycheck Security Act to cover the wages and benefits of employees of affected businesses and non-profits until the economic and public health crisis is resolved.
"Right now nearly 39 million Americans are out of work due to the coronavirus. This is hitting working class folks particularly hard, with 40 percent of all workers making under $40,000 out of work right now," said Warner.
Since the COVID-19 pandemic began, nearly 39 million workers have filed for unemployment. More than 20 million people lost their jobs in the month of April alone, the most in a single month on record. An estimated 27 million people have already lost their employer-provided health insurance coverage, and millions more could lose coverage before this crisis is over. The unemployment rate is likely close to 20 percent, and could exceed the depths of the Great Depression in the coming months.
The pandemic has also devastated small businesses and sole proprietors. A recent study found that more than 100,000 small businesses have already closed permanently as a result of the health and economic crisis.
REGIONAL TEAMWORK: Connected DMV is a non-profit regional collaboration across Washington D.C., Maryland, and Virginia--the DMV. Its participants include local jurisdictions, federal agencies, industry, community, and academia who work together to advance the region's opportunities, generate economic development, and shape a stronger future for the well-being of our region. TTask Force will stand up a sub-group dedicated to developing a detailed regional contact tracing position and recommendation. The group also discussed the need for a responsible reopening of public transportation that gradually and safely restores bus and rail service ahead of demand. The Task Force will continue to meet monthly through October with meetings facilitated by Greater Washington Board of Trade President and CEO Jack McDougle. See https://www.connecteddmv.org/strategic-renewal-task-force
Wednesday, May 20
Arlington County Cases: 1,728
Virginia Cases: 32,908
Arlington County Deaths: 81
Virginia Deaths: 1,074
SUMMER CAMPS, NOPE: Arlington officially cancelled summer camps. Questions regarding cancellation should be directed to registration@arlingtonva.us.
UNTOLD SUFFERING: Rep. Don Beyer (D-VA), Vice Chair of the Joint Economic Committee, made a statement on Republican opposition to extending further assistance amid the economic crisis caused by the COVID-19 pandemic:
"This economic collapse is an emergency. Tens of millions of Americans – one in five workers – just lost their jobs, and government aid is the only thing preventing many from losing their homes or starving. Yet, Republicans want to shut off unemployment benefits, force states to make further, disastrous cuts to crucial services, and sharply reduce access to food programs like SNAP. …Removing that support while eliminating access to food, shelter, and health care would inflict untold suffering and could cause widespread civic unrest."
SNAP CARRYOUT: U.S. Senators Mark R. Warner and Tim Kaine cosponsored legislation to increase the ability for Americans struggling with food insecurity to receive restaurant meals during the COVID-19 pandemic. Specifically, the COVID-19 Anti-Hunger Restaurant Relief for You Act of 2020 — or the SNAP CARRY Act — would expand eligibility for the SNAP Restaurant Meals Program (RMP) and would make it easier for states and restaurants to participate in the program during emergencies like the COVID-19 pandemic.
Tuesday, May 19
Arlington County Cases: 1,688
Virginia Cases: 32,145
Arlington County Deaths: 77
Virginia Deaths: 1,014
COVID IN CHILDREN: The Fairfax Health District confirmed the first case in Virginia of Multisystem Inflammatory Syndrome in Children (MIS-C).
MIS-C, previously called Pediatric Multisystem Inflammatory Syndrome may cause problems with a child's heart and other organs. Most children with MIS-C have fever lasting several days and may show symptoms of irritability or decreased activity, abdominal pain without another explanation, diarrhea, vomiting, rash, conjunctivitis, lack of appetite, red or cracked lips, red or bumpy tongue, or swollen hands and feet.
The first reports of this syndrome came from the United Kingdom in late April. U.S. cases were first reported in New York City in early May.
The CDC Health Advisory on May 14 said the syndrome may include persistent fever, hypotension, multisystem organ involvement and elevated markers of inflammation. It is not currently known how common it may be for children to experience these symptoms.
"I urge all health care providers in Virginia to immediately report any patient who meets these criteria to the local health department by the most rapid means," said Virginia Health Commissioner M. Norman Oliver, M.D. "All Virginians should take steps to avoid exposure to COVID-19 by practicing social distancing, frequent hand washing and wearing cloth face coverings if appropriate." Cloth face coverings are not recommended for children under 2 years old.
$20.66 MILLION: The Arlington County Board accepted and appropriated a $20.66 million federal grant to help support county programs and services affected by the COVID-19 pandemic. The Coronavirus Aid, Relief, and Economic Security (CARES) Act funding can also be used to cover expenses related to complying with COVID-19 public health precautions.
INTERNET FOR STUDENTS: The Board allocated $500,000 of the funding for a joint county/school Internet grant program to provide broadband internet access to Arlington public school students in need. Some 5,000 to 8,000 families could qualify for the program.
FOOD ASSISTANCE: The Board allocated $400,000 to the Arlington Food Assistance Center and to THRIVE, the Arlington non-profit that provides emergency cash to those in need, and allocated an additional $500,000 to THRIVE for emergency assistance, including rental assistance, to residents in need.
REMAINING FUNDING: The remaining funding from the FY 2020 County Manager contingent will provide continued support for unanticipated funding needs through the beginning of the 2021 fiscal year, which starts July 1, 2020. The CARES grant will help support numerous programs and services throughout Arlington, including:
Food assistance programs, including food banks, home-delivered food, and meal services, and grab-and-go meal programs;
Funding emergency assistance to residents;
Buying personal protective equipment (PPE) and sanitizing products for health care workers, emergency medical responders, social workers, and other public health and safety staff;
Establishing and staffing COVID-19 testing sites for the community;
Hiring more public health workers;
Facilitation of distance learning for students and improving telework capabilities of public employees
HUNDREDS WILL AVOID EVICTION: The Board approved $1.069 million of federal funding to provide emergency assistance for low-and-moderate income Arlington renters who have experienced income loss directly related to COVID-19. The funding will be used to help households pay rent, utilities and internet costs to help students access school resources from home. Qualified households may receive payments of up to $1,500 per month for up to three months. The program is expected to help 200-600 Arlington households avoid eviction.
"This funding will be used to meet the most immediate, urgent needs of residents who have lost their livelihoods as a result of the pandemic," Garvey said. "It is in addition to the $20 million federal CARES Act grant and will quickly be put to use helping stabilize families at risk by paying rent, utilities, and other necessities."
SMALL BUSINESS: The Board appropriated $216,500 from the Rosslyn, Ballston and Crystal City Business Improvement Districts for the County's Small Business GRANT Program. The program offers grants of up to $10,000 to Arlington businesses and nonprofits with fewer than 50 employees that have been impacted by the COVID-19 pandemic.
"Normally, Arlington's BIDs focus on placemaking and beautifying our commercial areas," Garvey said. "Their work during the pandemic has become more focused and more urgent – to help Arlington's businesses survive and recover from the economic shock that has accompanied COVID-19's spread through our County and across our nation."
The appropriation brings the total funding available through the program to more than $1.2 million. More than 1,200 Arlington small businesses and nonprofits applied for the funding through the May 17 application deadline. The grants can be used to help pay employee salaries and benefits, and for other business capital and operating expenses directly related to the pandemic.
ARLINGTON MILL WALK-UP SITE: The Board approved an agreement between the County, Virginia Hospital Center and the Arlington Free Clinic for the walk-up COVID-19 walk-up sample collection site at the Arlington Mill Community Center at 909 S. Dinwiddie St.
"This collection site on the Columbia Pike corridor is set-up to make it easier for residents to access testing, especially those who may not have a doctor, may not have a car to drive to the collection site on N. Quincy, and may not have medical insurance," Arlington County Board Chair Libby Garvey said. The site opened May 12, bringing easily accessible testing to one of the County's most diverse areas. VHC's first site, operating on County-owned property at 1429 N. Quincy Street, is drive-up only. The Arlington Mill site is open weekdays from 1 p.m. to 5 p.m. It is testing 50 people a day, by appointment only.
To be tested at this site, Arlington residents may call 703-558-5766 for a referral to the site from VHC. Testing does not require health insurance, and Spanish-language translation is available for Spanish-speakers seeking to register.
WAVING LOAN PAYMENTS: Lenders of County Multifamily Revolving Loan Funds have the option of waiving their 2020 loan payments if they commit to using the money to address rent and vacancy losses and emergency needs that are associated with the COVID-19 pandemic. The program could waive up to $2.3 million in County loan payments through December 31, 2020. That will support rent payments for about 1,600 households facing hardship and/or other emergency needs at these properties.
CONNECT ARLINGTON: The Board approved two agreements that leverage Arlington's fiber-optic network, ConnectArlington, to support the Arlington Free Clinic and universities.
The agreement with the Arlington Free Clinic will provide the clinic two strands of "dark fiber" from the County's fiber-optic network, ConnectArlington, that will support the clinic's telehealth services, including access to medical record systems, by connecting it with Virginia Hospital Center. The connection will enable the hospital and the clinic to share important information, such as medical records, and allow the clinic to better serve its low-income, uninsured patients.
Under the agreement, the County will pay for the Clinic's equipment, and to put the system in place, and provide them 10 years of maintenance and an equipment refresh after five years.
The Board also approved an agreement that allows universities to connect to ConnectArlington, with the goal of creating an innovation platform to support research and education.
TWO BILLS PASSED: Gov. Ralph Northam signed two bills approved by the General Assembly during the reconvened session on April 22 that included his proposed amendments to provide relief to tenants and mortgage holders.
Capping late fees on rent. House Bill 1420 caps late fees at 10 percent of the periodic rent or 10 percent of the remaining balance due, whichever is lesser. This new law will help prevent cascading late fees, allow charges only on the amount due, and set a maximum late fee percentage for the first time in the Commonwealth of Virginia.
Protecting tenants from eviction during emergencies, House Bill 340 delays rental evictions or mortgage foreclosures for individuals who are not currently covered under the protections offered through the federal CARES Act or state and local protections.
METRO: The Washington Metropolitan Area Transit Authority (WMATA) will receive $876,806,108 in federal transit funding under the Coronavirus Aid, Relief, and Economic Security (CARES) Act, according to Sens. Mark R. Warner and Tim Kaine (both D-VA) and Sens. Ben Cardin and Chris Van Hollen (both D-MD). "With overall ridership down significantly, we need to make sure that WMATA has the resources it needs to purchase personal protective equipment to protect WMATA's workforce, as well as maintain safety and reliability, especially for essential workers who continue to depend on Metro every day." Through Sept 7, there is no Silver Line train service due to major summer construction; buses replace trains between Ballston & Wiehle-Reston due to major summer construction. E Falls Church, McLean, Tysons Corner, Greensboro, Spring Hill & Wiehle, Vienna, Dunn Loring, are closed. Face coverings/masks are required in all Metrorail stations, aboard trains and on buses.
For more info visit: wmata.com
INJURED HEROES: U.S. Senator Tim Kaine joined Senators Tammy Duckworth, Richard Blumenthal, Ed Markey, and Kirsten Gillibrand to introduce a bill that would create a new fund to provide compensation for injuries to any individual, or their families, who are deemed an essential worker and required to leave their home to perform services and who have become ill or died as a result of COVID-19. The Pandemic Heroes Compensation Act is modeled after the September 11th Victim Compensation Fund (VCF).
ICE CONDITIONS: U.S. Sen. Mark R. Warner (D-Va.) joined Sen. Tom Udall (D-N.M.) and 24 Senators announcing that the Department of Homeland Security (DHS) Inspector General (IG) will conduct a review of U.S. Immigration and Custom Enforcement (ICE) efforts to prevent and mitigate the spread of COVID-19 in its facilities. Following reports that ICE detention facilities with confirmed cases of COVID-19 were operating without processes to protect both staff and detainees such as providing protective gear, ensuring detainees have access to hygiene products, and practicing social distancing, Udall led a group of 26 Democratic senators in calling for the DHS IG to conduct a full assessment of ICE detention facilities nationwide to evaluate whether the facilities' operations, management, standards, and conditions have adapted to address the threat of COVID-19 to both the staff and detainees.