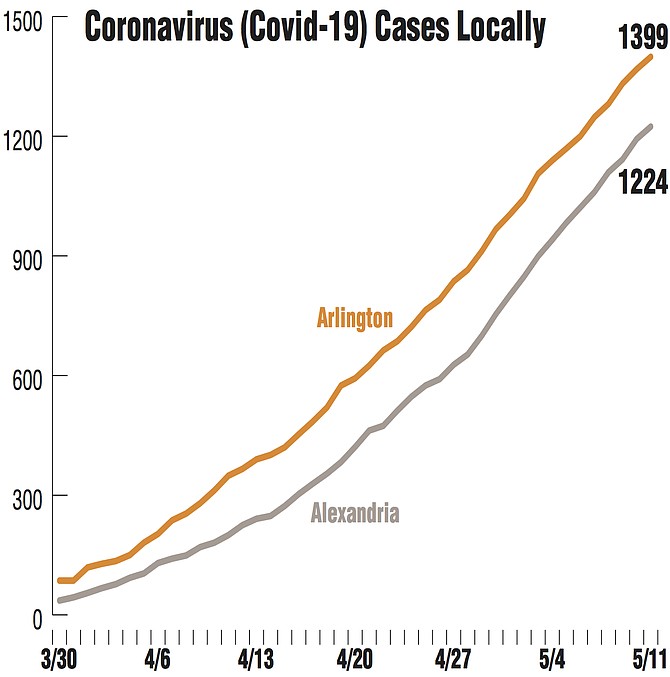 Tuesday, May 12
Northern Virginia Different
Arlington County Board Libby Garvey, Fairfax County Supervisor Jeff McKay and Alexandria Mayor Justin Wilson made a difference: Northern Virginia numbers are different during this pandemic.
Governor Ralph Northam issued Executive Order Sixty-Two Tuesday, May 12, allowing specific localities in Northern Virginia to delay entering Phase One of the "Forward Virginia" plan to ease restrictions.
"While the data show Virginia as a whole is ready to slowly and deliberately ease some restrictions, it is too soon for Northern Virginia. I support the request from localities in this region to delay implementation of Phase One to protect public health," said Northam.
Virginia as a whole may enter Phase One on Friday, May 15 based on achieving certain health metrics, he said.
Monday, May 11
Arlington Cases: 1,399
Virginia Cases: 25,070
United States Cases: 1,300,696
Arlington Deaths: 61
Virginia Deaths: 850
United States Deaths: 78,771
Sunday, May 10
Arlington Cases: 1,332
Virginia Cases: 24,081
Virginia Deaths: 839
Arlington County Board Chair Libby Garvey and the top elected officials of the five largest localities in Northern Virginia sent a letter to Gov. Ralph Northam, supporting his "Forward Virginia" reopening plan in general but urging him to implement it for Northern Virginia only once regional threshold metrics have been met. Although the metrics appear likely to be met for Virginia overall by May 15, this does not appear to be the case for Northern Virginia. The 2.5 million residents of the city of Alexandria and the counties of Arlington, Fairfax, Loudoun and Prince William represent nearly a third of the population of Virginia and half of the Commonwealth's COVID-19 cases, hospitalizations and deaths.
"We eagerly wish to rebuild our economy and help our residents recover," wrote Garvey, Mayor Justin Wilson (Alexandria), Jeff McKay (Fairfax County), Phyllis Randall (Loudoun County) and Ann Wheeler (Prince William County). "It is only through our regional achievement of these milestones that we will be positioned to avoid a more damaging return to business closures later in the summer."
The Forward Virginia plan requires the following metrics be met before the first phase of reopening can occur statewide: 1) a downward trend of positive test results over a period of 14 days; 2) a downward trend of hospitalizations over a period of 14 days; 3) sufficient hospital beds and intensive care capacity; 4) increasing and sustainable supply of personal protective equipment such as masks, respirators, gloves and gowns; and 5) increased testing and tracing. According to analysis by the region's public health directors, none of the five metrics for Northern Virginia have been achieved, or cannot be determined based on currently available data.
Saturday, May 9
Arlington Cases: 1,368
Virginia Cases: 23,196
Arlington Deaths: 60
Virginia Deaths: 827
Friday, May 8
Arlington Cases: 1,281
Virginia Cases: 22,342
Arlington Deaths: 57
Virginia Deaths: 812
COUNTY REACTION: "Arlington County supports Governor Northam's detailed framework for "Forward Virginia," and appreciates the Commonwealth's acknowledgement that the Northern Virginia region faces challenges that differ in number and scale from the Commonwealth as a whole. Over half of the cases and hospitalizations and nearly half of the COVID-19 deaths are here in Northern Virginia — despite our constituting a little more than a quarter of the state's population; and we continue to see a rise in hospitalizations," according to Arlington's County Board. "Arlington is working closely with the Northern Virginia Regional Commission, which comprises other localities in the region, to coordinate with the Governor's office to determine the safest path forward, with an extended timeframe for entering Phase One.
"Arlington County's top priority is to ensure the safety of the entire community; and we believe we must meet the criteria for entering Phase One. At this point, based on the data for our region as well as Arlington specifically, the most responsible path forward is maintaining our current operating status until these criteria are met."
WALK-UP SITE: Arlington County, in partnership with Virginia Hospital Center and the Arlington Free Clinic, will open its first walk-up COVID-19 sample collection site at the Arlington Mill Community Center, 909 South Dinwiddie Street.
"Arlington is committed to assuring everyone in our community has access to the testing they need during this pandemic," said Dr. Reuben Varghese, Arlington Public Health Director. "This is an important partnership that will help our more vulnerable or low-income groups who do not have access to cars to walk up and get tested."
"This is an exciting effort to create a more equitable testing model for everyone who needs it," said Nancy White, Executive Director, Arlington Free Clinic. "This model aligns with our mission to provide high-quality health care to low-income, uninsured Arlington residents through the generosity of donors and volunteers."
The clinic opened Tuesday, May 12 and will operate weekdays between 1-5 p.m. To be tested, patients must obtain a clinician referral and then schedule an appointment by calling 703-558-5766. Patients must schedule an appointment before visiting the collection site. Residents without health insurance can still access testing through the walk-up collection site by calling the appointment number. A VHC clinician will screen for symptoms over the phone and provide a follow-up referral to the Arlington Free Clinic if needed.
SMALL BUSINESSES: The Arlington Small Business Emergency GRANT (Giving Resiliency Assets Near Term) Program, designed to provide immediate financial assistance to Arlington's small businesses and nonprofits impacted by the COVID-19 pandemic, is now open for applications.
The GRANT program will provide a total of $1.2M in funding from Arlington County, the Industrial Development Authority (IDA) and the Rosslyn and Crystal City BIDs. The funds are meant to help provide near-term relief for businesses, some of whom have experienced delays or limitations with Federal relief initiatives. The program was initially approved during a County Board budget work session last month.
The GRANT Program will provide grants of up to $10,000 to businesses and nonprofits with fewer than 50 employees. Applications will be accepted now through May 17. Grant award decisions are expected to be made in mid-June.
Arlington Economic Development has provided resources to support businesses applying for the program and has compiled additional resources, including webinars, to help businesses navigate the pandemic and various relief efforts. Visit https://www.arlingtoneconomicdevelopment.com/
Thursday, May 7
Arlington Cases: 1,248
Virginia Cases: 21,570
Virginia Deaths: 769
Arlington Deaths:
NURSING HOMES are now required to report the first week of COVID-19 data to the Centers for Disease Control and Prevention (CDC) no later than May 17. For the first time, all 15,000 nursing homes will be reporting this data directly to the CD, the first such requirement in the agency's history. The CDC will publicly post this information so all Americans have access to accurate and timely information on COVID-19 in nursing homes.
SCALE UP PRODUCTION: U.S. Sen. Mark R. Warner (D-VA) joined Sen. Chris Van Hollen (D-MD) and seven other senators to tell President Trump it is imperative that the federal government fully use its authority to support and expand production of personal protective equipment and testing supplies.
"An analysis by Harvard University researchers found that the United States must, at minimum and under the best-case scenario, double the number of tests being conducted each week," wrote the Senators.
"From the outset of the pandemic, the United States has been dogged by testing shortages and supply chain issues—and Virginia is among the states where that testing shortage has been most severe," according to Warner. Sen. Warner has been outspoken about the need for a cohesive, national coronavirus testing strategy and has fought to secure additional funding for coronavirus testing—including $8 million for Virginia.
U.S. Sen. Mark R. Warner (D-Va.), Sen. Tom Udall (D-N.M.) and 30 other senators urged Secretary of the Treasury Steven Mnuchin to reject politically motivated conditions on financial relief for the U.S. Postal Service. The senators also expressed their strong opposition to the use of coronavirus as a pretext to pursue privatization of the United States Postal Service, which is unpopular with the American people. The senators called the postal service a critical lifeline for many Americans, especially during the COVID-19 pandemic.
CASH THROUGHOUT: Virginia Rep. Don Beyer and Rep. Madeleine Dean (PA-04) sent a letter to House Speaker Pelosi and Minority Leader Kevin McCarthy with recommendations on how to provide Americans with direct cash support throughout the duration of the Covid-19 pandemic and economic crisis.
"So many Americans need help right now, and Congress must not fail them. This is not a time to hold back – leaving people at the mercy of this crisis would be immoral and would hurt, not help, the broader economy," said Rep. Beyer. "We should make [payments] rapidly and get assistance to those who need it, especially the millions worried about making their rent payments or buying food." They emphasize the importance of ensuring all adults and all dependents receive payments, including getting payments out to those who were left out of the last disbursement. "These payments are a necessary vehicle to help American families weather this economic crisis."
PAYCHECK PROTECTION PROGRAM: U.S. Reps. Jimmy Panetta (CA-20) and Don Beyer (VA-08) unveiled a proposal to improve the newly created Paycheck Protection Program (PPP). The PPP, created by the Coronavirus Aid, Relief, and Economic Security (CARES) Act, provides forgivable loans to cover up to eight weeks of payroll and related expenses. However, structural and regulatory issues have hobbled the program, making it difficult for many small businesses, especially in the hospitality industry, to use the loans effectively. The Paycheck Protection Program Improvement Proposal provides dedicated funding for the smallest businesses and prevents publicly traded companies from receiving PPP funding; provides more clarity and flexibility for loan forgiveness and payroll requirements; allows small businesses to spread out payroll payments over a longer period; provides $660 billion for the PPP program overall, with amounts reserved for businesses with fewer employees, including; provides banks increased processing fee incentives for the smallest loans and lowers fees banks receive for processing the largest loans.
During a Senate Health, Education, Labor and Pensions (HELP) Committee hearing, U.S. Senator Tim Kaine pressed Dr. Francis Collins, Director of the National Institutes of Health (NIH), on the Trump Administration's response to the coronavirus and the differences in the death toll in the United States and in South Korea. He asked Dr. Collins why South Korea's death toll increased from 28 on March 3 to 256 today while the United States' death toll increased from 9 to 74,665 in that same time period.
"The numbers are large, but we can't forget that each one is a tragedy," said Kaine.
EARLIER: The Democratic Primary for County Board, originally scheduled for June 9, 2020 and subsequently delayed until June 23, 2020, will not be held. The Arlington Office of Voter Registration & Elections received a Candidate Withdrawal Form from Chanda Choun. Accordingly, Libby T. Garvey is the Democratic nominee for County Board in the General Election to be held on November 3, 2020.
The Republican Primary for U.S. Senate will still take place on June 23, 2020. All registered voters in Arlington are eligible to vote in this election. Voters who requested mail ballots for the Democratic Primary will need to submit a separate request if they want a mail ballot for the Republican Primary. They can do so online, by email, or mail.