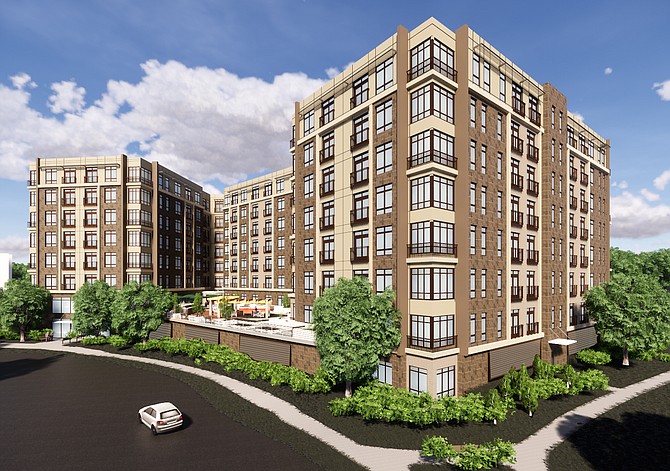 Christy Zeitz is CEO of the Fellowship Square Foundation (Fellowship). The nonprofit organization owns and operates the two aging 1970s era buildings that make up the Lake Anne Fellowship House on North Shore Drive in Reston. On Friday, May 22, Fellowship and Enterprise Community Development (Enterprise) announced they closed on the innovative $86 million development plan for the New Lake Anne House in Reston, built along North Shore Drive near the intersection with Village Road.
All 240 modern, affordable apartments will serve low-income seniors at or below 60 percent of AMI for at least 30 years. Located in one of Virginia's most expensive counties, each resident will pay no more than 30 percent of their income toward housing costs, including rent and a utility allowance. "The financing for the new project along with newly negotiated contracts with HUD and Fairfax County will ensure there is sufficient cash flow for construction and future operations," Zeitz said.
According to the Fairfax County website, Grimm+Parker Architects, Charles P. Johnson and Associates, Orr Partners, and Bozzuto Construction, Enterprise and Fellowship, will develop the 56 studio apartments, 178 one-bedroom apartments, and six two-bedroom apartments at the New Lake Anne House.
Jamie Rose, CCP of Momenta, described Lake Anne House as a seven-story concrete-and-steel frame building on top of a concrete parking deck podium that will feature a large social hall. She said, "The building's abundant common area spaces also include on-site management and resident services offices, a game room, lobby lounge, sunroom, crafts room, computer center, fitness center, and a wellness clinic for visiting medical professionals. The building has a 7,000-square foot terrace…including raised garden beds." Rose added the building would meet Earthcraft and Energy Star certification standards, and all units will meet Universal Design standards.
TWENTY PERCENT of them will meet Uniform Federal Accessibility Standards, nine will be barrier-free and six designed for residents with visual and/or hearing impairments. Unique features will include a terrace, outdoor park spaces, tree preservation and public art.
"The Fellowship House has been home for many low-income seniors over the past five decades, allowing them to age in place near the cultural and historical center of our Reston community. The New Lake Anne House will continue that tradition with essential upgrades," said Supervisor Walter Alcorn (D-Hunter Mill).
"Early on, the team realized that the right approach required writing a new playbook – one grounded in ingenuity, a real stick-to-it-ness and with existing residents squarely at the center," said Brian McLaughlin, President & CEO of Enterprise. Rather than relocating the residents temporarily until the new building was finished, they would construct the new Lake Anne House on an underutilized portion of the site. After the residents moved, the old Lake Anne Fellowship House would be torn down and the land sold for future townhomes Construction of the 39-unit market-rate townhouse development by a national homebuilder would help pay for the construction of the new Lake Anne House.
Zeitz said, "Building affordable housing is not cheap – in fact, it is very expensive, and knowing that your future residents cannot pay the rents needed to cover costs, it is critical that the right subsidies are in place." The novel project demanded the right mix of financing, and the team needed to secure project-based rental vouchers for 100 percent of the units. Fairfax County Redevelopment and Housing Authority awarded the project 122 project-based vouchers with HUD providing the rest. The project financing incorporated $46.5 million in tax-exempt bond financing from the Virginia Housing Development Authority and a $700,000 loan from the Virginia Housing Trust Fund.
Susan Dewey is the executive director of the Virginia Housing Development Authority. She said, "VHDA is proud to join the crucial effort to revitalize Lake Anne House…We were fortunate to deliver a package of nearly $50 million in first mortgage financing, along with tax credits and subsidized loans."
In addition, the package contained $21.5 million in Low-Income Housing Tax Credit equity provided through Enterprise Housing Credit Investments by Capital One, $3 million in Blueprint Funding from the Fairfax County Redevelopment and Housing Authority and $7.2 million in bridge financing from the Enterprise Community Loan Fund as well as equity from Enterprise and Fellowship. Virginia Community Capital provided $1 million in predevelopment financing early in the project. "We were happy to be involved and are excited to see this innovative development take flight," said Ed Delany, a Capital Officer on Capital One's Community Finance team who closed the financing the bank provided.
"Our commitment of resources to the New Lake Anne House is not only reflective of our commitment to affordable housing in general, but also to providing more opportunities for our older adult population to age in place safely in comfort and dignity," said Chairman Robert Schwaninger, Fairfax County Redevelopment and Housing Authority.
For Emilia Mensah, Hayne Wesson and Nick, the New Lake Anne House was personal. It would be their home. "We've been waiting for this for a long time," said Mensah, a retired teacher.
SITTING OUTSIDE in the sun, Wesson, a retired certified public accountant with a Master in Business Administration, looked over where backhoes cleared the land. "So far, so good. People know what they are doing." Another resident, who goes by Nick, looked at the downed trees. "It's for the progress of the new building. The positive side is that the contractor said that another tree would be planted for every one chopped down." A groundbreaking is planned for this summer, occupancy Summer 2022.