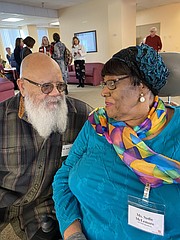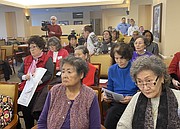 After two years of planning, on Thursday, Feb. 27, the nonprofit organization Fellowship Square kicked off its $12 million Preservation Project and renovation to improve its building and grounds at Hunters Woods Fellowship House, 2231 Colts Neck Road in Reston. Approximately 70 people attended the reception and program that featured guest speakers related to the project.
Hunters Woods is one of four Fellowship Square affordable housing properties in the region. The 41-year-old building in Reston offers 225 apartment units serving 300 residents aged 62 and older who live on minimum incomes of approximately $12,000 a year. The preservation project visioned by Miner Feinstein Architects based in Frederick, Md., will include modernization/upgrades of the building inside and out to bring it to contemporary standards of living and improvements in energy efficiency and sustainability, among other items according to Fellowship Square. At the same time, the renovation will respect the 1970s building.
Marc Feinstein, Principal at Miner Feinstein Architects, was one of the featured speakers at the Preservation Project Kick-off. "In the design of the building, our firm has sought to reorient the natural gathering spaces so that a front porch is created for the residents to utilize...Additionally, and just as importantly, we are looking to increase handicapped accessibility throughout and repair systems that have reached the end of their useful life (roof replacements, air handling unit, heating/cooling systems, overall building energy efficiency.) The second phase, the glitz and glamor…we are reimaging …what works with the building and what doesn't...We will be reorienting to the front with connectivity from the indoors to the outdoors, like a front porch to the building. The back will be transformed into community gardens and fitness, an active space. This area (the community gathering room) will have a movable wall…There will be ways to break it down for yoga (and) ping pong to meet. There will be 12 accessible units, updating the corridors and potentially doing upgrades in the units themselves. The whole process will take approximately two years or so. There will be a lot of positive energy," Feinstein said.
FELLOWSHIP SQUARE funded the project by taking advantage of the enhanced equity in their property. The organization recently refinanced and closed on a U.S. Federal Housing Administration loan, reinvesting in the property and their mission, according to Christy Zeitz, CEO of Fellowship Square. One of the values of the organization is "excellence," according to Fellowshipsquare.org that states, "We strive to provide quality housing and service to Fellowship House residents."
During the preservation, remodeling and afterward, the building will be home for residents who choose to reside there. They will live and play as they have chosen to do, in the community. According to Larry Butler, COO, Reston Association, such reflected the second goal of Robert Simon, founder of Reston. "With its commitment to affordable senior housing, many residents may continue to live and play in this great community...providing greater opportunities for learning, healthy living, social and community connections... enabling them to make the most of Reston."
FEATURED SPEAKER, Supervisor Walter Alcorn (D-Hunter Mill), said "In many ways, Reston has been a model for the rest of Fairfax County and actually for our country and beyond."
Ms. Sadie McLemore, a featured speaker and current resident of Hunters Woods Fellowship House said in closing, "We need more affordable housing for our seniors. When you guys finish this, I hope I'll be around to see what's still going on." Turning to the residents, McLemore added, "Be patient; be courteous, trust the Creator... I always say, a closed mouth never gets fed. So if you see something that you may think may be of help... come to them and discuss whatever... Maybe it will make it better for all of us... Hang tough...We will get through this."
Special thanks and recognition went to the team that made it possible to get this far among them: Southway Builders, Inc., JDC Management, CBRE Inc., Klein Hornig LLP, Miner Feinstein Architects, Gates Dunaway Group, Housing Opportunities Unlimited, S. L. Nusbaum Realty Co., the Board of Fellowship House and Executive Director Christy Zeitz, and the residents who shared their hopes and dreams.