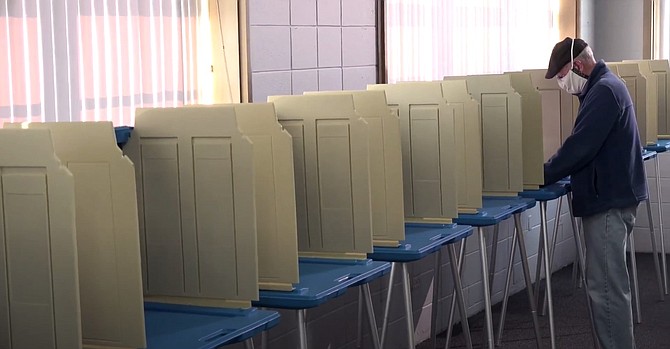 Virginia localities are taking a number of precautions to mitigate the spread of COVID-19 at polling places even though masks will not be required.
Saturday marked the last day to cast early, in-person ballots before Election Day, but voters can still cast in-person ballots on Nov. 3, Election Day. They also can mail or return absentee ballots by that day. Election officials have been working to keep voters and workers safe during an election that has yielded a record number of early votes.
More than 5.9 million Virginians were registered to vote as of Oct. 1, with the cutoff date in late October. Early voting commenced 45 days before Election Day, due to a new law. Legislators also recently changed laws to allow no-excuse absentee voting and made Election Day a state holiday. More than 2.7 million Virginians had voted as of Nov. 1, with around 1.8 million individuals voting or casting an absentee ballot in-person, according to the Virginia Department of Elections website. More than 886,000 voters have cast absentee ballots by mail and nearly 1.1 million mail-in ballots have been requested.
VOTERS are encouraged to wear a mask, and will be offered one, Andrea Gaines, director of community relations at the Virginia Department of Elections, said in an email. They will also be offered the opportunity to vote without leaving their vehicles.
"Ultimately, a voter will not be turned away if they are not wearing a mask, but the Department strongly encourages them to do so to keep themselves and others around them safe," Gaines said.
Even though there is a state mandate requiring individuals to wear masks when in close proximity with others, it's against state law to "to hinder or delay a qualified voter in entering or leaving a polling place," regardless of whether they have on a mask, Gaines said.
Poll workers and voters will be buffered with a number of measures. Such precautions include enforcing social distancing as well as placing plexiglass between voters and poll workers, according to Gary Scott, general registrar and director of the Fairfax County Office of Elections. Virginia Medical Reserve Corps volunteers will assist at polling places to ensure social distancing and sanitization measures are followed, according to Gov. Ralph Northam's office.
Fairfax County workers will also have shields, gloves and masks, which will be replaced throughout the day, Scott said. To avoid the chance of voters sharing pens, Fairfax County will provide voters with "I Voted" pens that they can use to fill out their ballots and keep instead of offering stickers.
The Virginia Department of Elections distributed $9 million in Coronavirus Aid, Relief and Economic Security Act funding that could be used to help secure personal protective equipment needed by local election offices, Gaines said.
Election workers in Fairfax County are trained every three years or when laws impacting election workers or voters change, Scott said. The county has been training election workers since July on how to follow and implement social distancing measures.
Virginia Department of Elections also provides training along with each locality's specific training, Gaines said over email.
FAIRFAX COUNTY has more than 700,000 registered voters, and around half of registered voters had voted in Fairfax, according to Scott.
"We've already gone over 50% of our anticipated turnout in five days of in-person voting," Scott said. "We anticipate close to 60% of our voters will have voted prior to elections."
Election Day is Tuesday, Nov. 3, and any registered Fairfax County voter who has not already voted can vote in person on this day. Polls are open from 6 a.m. to 7 p.m., and every polling place in the county will be open. Anyone in line by 7 p.m. will be able to vote.
Capital News Service is a program of Virginia Commonwealth University's Robertson School of Media and Culture. Students in the program provide state government coverage for a variety of media outlets in Virginia.