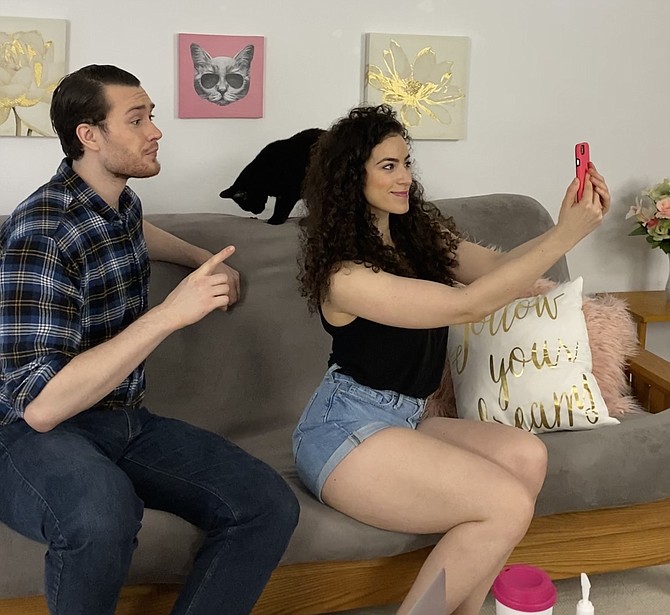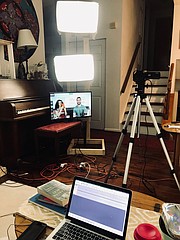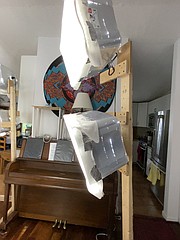 Will Meinert (bass) and Emily Misch (soprano) of Herndon are opera singers performing and streaming recitals and short productions with a mix of discussions. The pair recently adapted Gian Carlo Menotti's 1947 opera 'The Telephone', into an original, fully staged production in their living room. They are also co-founders of the Parea virtual recital Series.
When COVID hit and canceled their gigs, Meinert and Misch launched a music ensemble remotely from home. "We started thinking of ways to create musical projects that could take advantage of the fact that we couldn't meet in person but could take advantage of the fact that everything had to be remote now," said Misch. The pair decided to create something new, virtual recitals, conceiving a fusion of music and discussion to allow personal connections. "When you're performing live, you don't always get to hear from the people who are contributing behind the scenes," said Misch. Audrey Chait directed the opera remotely and the production featured curated discussion with Meinert, Misch, Chait, and other guest artists.
Ben (Meinert) is in the original short comic opera trying to propose to Lucy (Misch). She can't stay off her phone long enough to notice. Meinert and Misch put a modern, pandemic twist on the opera, flipping it on its side to a comedy, from the current pandemic to the technological advances of the past twenty years. "I don't think a lot of people will have seen opera like this before. It's in English and filmed like a TV show. If you like TV comedies, you will like this opera," said Misch.
WHEN THEY FIRST LOOKED at the score, they realized it was as if someone had written it yesterday. The pair set the production in April of 2020, as the pandemic forced people inside. Misch said they added some fun technology, FaceTime, text message pop-ups, and Siri and Alexa making small cameos in the production. "If you are someone who has not seen opera before and thinks it's intimidating, this is not what it is," she said.
According to Meinert, they had to learn many new skill sets to produce the TV-comedy opera from quarantine. "The lighting, the editing, the filming. I was learning all these things from the ground up. There was a moment in producing this when I realized we could just do a live performance immediately," he said.
Meinert and Misch built the set in the living room, and between rehearsals and filming, the set remained there for a month. To top it off, they live with Meinert's parents. "We had to buy some of our set pieces, but we also retrofitted some of the existing furniture," said Meinert. Misch added that since the opera was about two very relatable people today, many props were technology that they already had.
What makes the format special though, are the pre-show and post-show talks. "The modern setting of this production helps bring people in, who might not already be interested in opera. But the discussion portion helps contextualize it for some who might have no experience at all with the art form," said Meinert.
THE FULL PERFORMANCE of 'The Telephone,' is available to download/stream for October and November. Anna Betka accompanies on piano. Run time 50 minutes: 25m-music and 25m-discussion. Minimum price $15, Suggested price $25. Available through Dec. 1 at Pareas virtual recital Series.