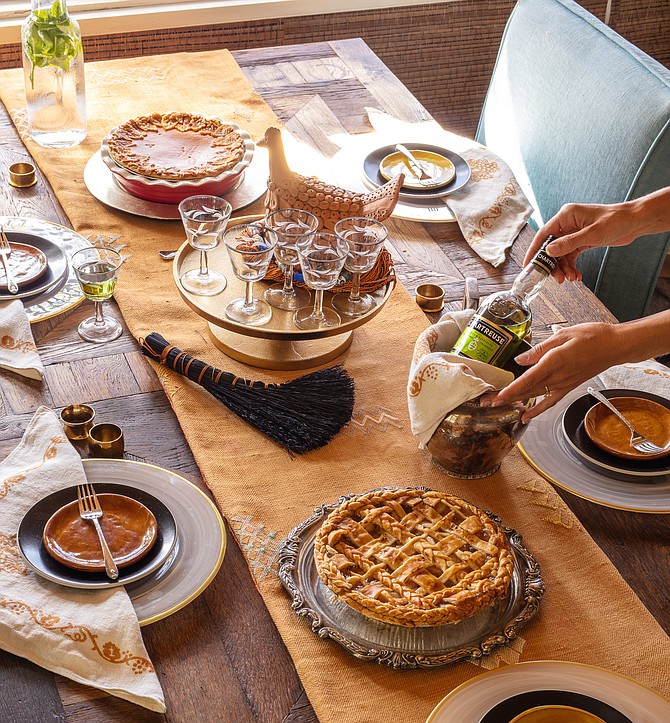 Naomi Patterson's Thanksgiving table is usually set with linen dinner napkins, cleaned and starched, and her wedding china, ecru with a platinum border. The guests include her 88-year old mother and a host of cousins. This year, she's debating a change.
"My mother is healthy, but because of her age, I'm nervous about having her around other people, especially my cousins who are in college," said Patterson who lives in Bethesda. "I still want it to be nice and I want to maintain our traditions."
Like many families, Covid-19 and the resulting safety precautions have changed the way they will celebrate Thanksgiving. Elaborate feasts might be scaled down, moved outdoors or held virtually. Though the structure is different, style needn't be sacrificed.
"Shouldn't your dinner al fresco be just as lovely as the one you host in your formal dining room?"
— Anne Walker, interior designer and owner of Farm and Feast
"Outdoor entertaining has been on the rise for a decade, but now more than ever outside is the place to be," said Potomac based designer Anne Walker of outdoor home accessories and design company Farm & Feast. "Whether you have a formal outdoor living room complete with stone fireplace and patio, or a balcony outside your apartment, or something in between, your Thanksgiving holiday will be most successful this year if you gather outside."
If the temperature is mild this year, a turkey dinner outdoors can allow one to achieve both elegance and safety.

"Shouldn't your dinner al fresco be just as lovely as the one you host in your formal dining room?" asks Walker. "What could be better than enjoying a cocktail and some wine and cheese en plein air?"
Durable and shatterproof serve wear is a must when dining outdoors, suggests Walker. "Enjoying hors d'oeuvres from a marble and wood rustic cheese board and wine from a silicone-wrapped outdoor wine glass will lift your spirits, as will wrapping yourself in an organic cotton throw to stave off the chill in the fall air," she said.
When setting an outdoor table, consider rustic accessories so that the design flows with the natural surroundings.

"Spray paint a fallen tree branch or tumbleweed in gold or a similar warm autumn tone and use it as a centerpiece, suggested Lisa Queen of Lisa Queen Design. "Nest it with candles, small pumpkins, and other soft decor to bring it to life."
Add warmth to a virtual celebration by using traditional table accessories. "We brought some additional character to our table by mixing antique brass napkin rings," said Queen. "Not everything needs to match, and this is one way to make a tablescape feel unique and curated."