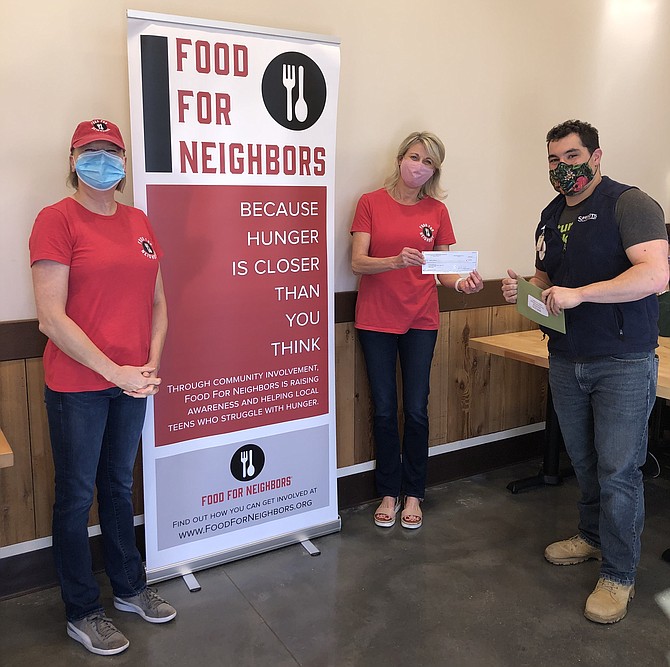 On Wednesday, Oct. 14, Bryan Daniell, Assistant Manager of Sprouts Farmers Market in Herndon, presented Food For Neighbors with a $5,000 Neighborhood Grant from the Sprouts Healthy Communities Foundation. The healthy grocer's annual grant program supports nonprofits working to advance nutrition education and fresh food access.

During the presentation, Daniell reminded his employees of the many times that he and others have provided hands-on support to Food For Neighbors, and Food For Neighbors volunteer, Renee Maxwell, agreed, "I have seen many of you at our local Red Bag Program food collection and sorting events, and you are always doing the 'heavy lifting,' literally, in the heat and the cold, with enthusiasm. This is a testament to your work ethic and community spirit."

Maxwell of Herndon, with fellow Food For Neighbors volunteers Romy Nathan of Reston and Liz Campbell of Sterling, thanked the Sprouts team members for their partnership and for the generous donation.

Karen and Mark Joseph launched Food For Neighbors to address teen hunger at schools where many students had few reliable food sources other than their weekday school breakfasts and lunches. While various programs had recently begun to address this concern at the elementary school level, they were too limited to address the large middle and high school populations. In 2016, Food For Neighbors began filling this gap via its Red Bag Program, which allows individuals to shop for nonperishable items at their convenience and to set them on their doorsteps for collection approximately five times per year. Volunteers organized by neighborhoods then collect the food and bring it to one of five central locations, where it is sorted and then provided to approximately 1,200 students from 22 participating middle and high schools in Northern Virginia.
Since Nov 2016, Food For Neighbors has collected more than 112,300 pounds of food. The nonprofit now has more than 1,200 households donating red bags filled with shelf-stable foods plus more than 650 drivers and volunteers variously participating in the food collection and sorting events.
To learn more, visit https://www.foodforneighbors.org/.