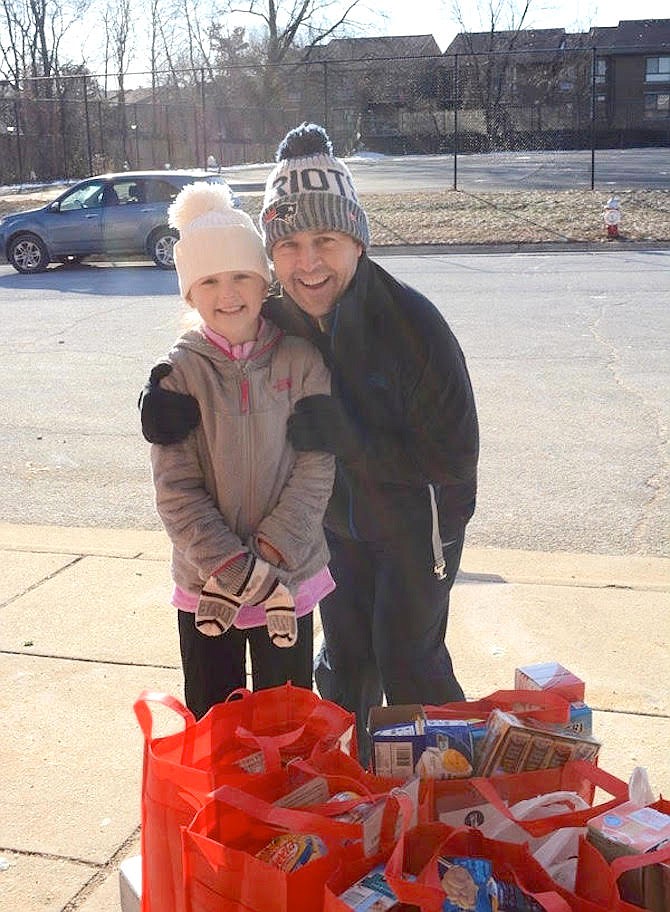 More and more Northern Virginia schools are reaching out to Food For Neighbors to address prevalent food insecurity among teenagers who lack a reliable source of nutrition over weekends. As Food For Neighbors expands its services, it heavily relies on volunteers to donate approximately $25 of food five times per year. Volunteering is easy, and it makes an immediate impact on students. https://www.foodforneighbors.org/get-involved/

"I'm so thankful to our volunteers and partners who allow Food For Neighbors to say 'yes' when a new school asks for help," said Food For Neighbors founder, Karen Joseph. "Currently, we're looking for 'Red Bag' food program participants in the Falls Church area, to which we're expanding services in early 2020."

AN ALL-VOLUNTEER CHARITY, Food For Neighbors has rapidly grown from serving over more than 100 students at Herndon Middle School and Herndon High School, to serving nearly 1,000 students. In addition to supporting its original Herndon schools and newly-added Falls Church schools, Food For Neighbors provides weekly food assistance to Irving, Key, Jackson, Whitman, and Carl Sandburg Middle Schools as well as to West Springfield, Lee, Bryant, Mountain View, West Potomac, and Mount Vernon High Schools. The program has moved into nearby Loudoun County schools including Sterling Middle School, Park View High School, River Bend Middle School, and Potomac Falls High School, and the nonprofit also provides supplemental food to Langston Hughes Middle School and the South Lakes High School food pantry. This is tremendous growth given that the nonprofit is only in its fourth year of existence.

"I was shocked to find that, in Fairfax County, one in four children go hungry every day," noted Karen Joseph. "To me, that meant that it could be the children next door, around the corner, or down the street who are struggling with basic nutrition. Our children's peers in their classrooms could be struggling to learn, pay attention, or stay focused as a result of being hungry. Mark and I felt we had to do something."
Karen and her husband, Mark Joseph, founded Food For Neighbors to address teen hunger at schools just like those in Herndon, where many students had few reliable food sources other than their weekday school breakfasts and lunches. While various programs had recently begun to address this concern at the elementary school level, they were too limited to address the large middle and high school populations.
In 2016, Food For Neighbors began filling this gap via its "Red Bag" program, which allows individuals to shop for nonperishable items at their convenience and to set them on their doorsteps for collection approximately five times per year. Volunteers organized by neighborhoods then collect the food and bring it to a central location, where it is sorted and then delivered to participating schools. At the schools, volunteers package the food, and social workers and parent liaisons distribute the packages to students on a weekly basis.
School counselors and social workers, who are at the heart of the program at the school level, continue to note the positive impact that Food For Neighbors is having on their students.

"The other amazing component of this program is that this might be the very reason—food assistance—that keeps them coming to school and not being a dropout," explains Florence "Pipi" Harrison of Bryant High School. "It opens doors to other conversations and resources that we can provide. Once again, it's not just a bag of food. It's keeping the connection to our school and help."

KAREN JOSEPH thanks the many school counselors and social workers for making a difference in the lives of their students as well as the "Red Bag" program participants, drivers, sorters, and deliverers for making Food For Neighbors possible. She also thanks Herndon community partners, Great Harvest Bread Company and Sprouts Farmers Market, and the many other organizations that have provided financial donations. These include Trinity Presbyterian Church, First Baptist Church of Herndon, Fairfax Oral and Maxillofacial Surgery, Town Center Family Medicine, Giant Food, MOD Pizza, Brandywine Realty Trust, Elden Street Tea Shop, Touchstone Crystal, Herndon Cheer, Herndon Navy Junior ROTC, and Hornets Lacrosse. She encourages community members to donate food via the "Red Bag" program and/or to provide other assistance by visiting https://www.foodforneighbors.org/get-involved/.