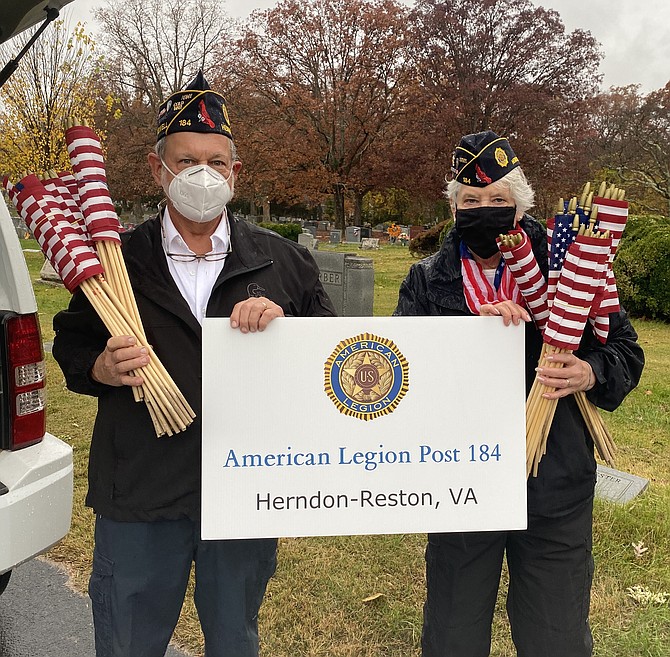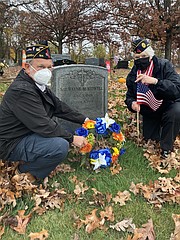 Due to COVID restrictions, the Town of Herndon canceled its public recognition program on the Town Green for its Veterans Day Observance sponsored annually by The Wayne M. Kidwell American Legion Post 184 Herndon-Reston. In a repeat performance of their Memorial Day 2020 service when the Northern Virginia region remained under Governor Ralph Northam's stay-at-home restrictions, Post 184 continued to "make the extra effort to remember our veterans despite all of the restrictions in place," according to Post Commander David Womack. "Veterans still adapt and adjust to meet the needs of family and community during this pandemic," he said.
According to Christine Cutler, Post 184 Adjunct, the Post remained equally concerned about the safety of its members and dedicated volunteers from the Herndon-Reston community. In the past these volunteers, Herndon High School Navy Junior ROTC, the Reston Chorale, Herndon Woman's Club, Boy Scout Troop #1570 and community businesses proved vital in the program's production and the Post's installation of the Avenue of Flags at Chestnut Grove Cemetery in the Town of Herndon.
With COVID precautions in mind, Post 184 planned a modified version of the "Avenue of Flags." It consisted of the installation of sixty-six 8" by 12" United States cemetery flags, each mounted on a wooden dowel with a gilded spear head at the top end, and the identification cards listing the names of the honored veterans. The small flags represented the burial flags in the Post's care, donated by family members of interred veterans. To limit social contact only two people would install the flags.
Early on Veterans Day morning, Cutler and her husband Michael Cutler, Vice Commander of the Post and Avenue of Flags coordinator drove to Chestnut Grove Cemetery. In the drenching rain, they placed a remembrance wreath and small flag at the final resting place for the Post's namesake, Sgt. Wayne M. Kidwell. In a quiet voice, Mike Cutler said, "Thank you," to the Vietnam War Era casualty on March 8, 1968, recognizing his service with honor in the United States Army.

Next, the Cutlers installed the small flags and name cards, flanking both sides of the entry road into the cemetery. According to Christine Cutler, post members and volunteers in the community would have put up the tall flag poles the day before, sinking them into marked in-ground sleeves. Then, on Veterans Day, shortly after sunup, teams of two composed of Post and community members would have raised the large casket flags to honor the veterans. The bold and proud display of flags would have soared majestically throughout the day. At sunset more community teams, this time in sets of three, would have lowered the flags, carefully folded them, removed the poles and returned all safely to storage.
"The Post really misses the interaction with the community organizations…I'm honored to do this, truly honored. That's why we're the American Legion, to support our veterans," said Christine Cutler.