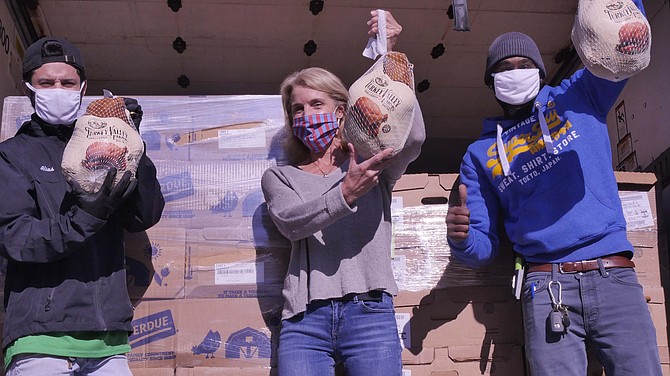 A refrigerated Cisco semi-trailer sprinkled with raindrops pulls up in front of the Arlington Food Assistance Center (AFAC) headquarters on Wednesday, Nov. 11. It is packed full of turkeys.
"Next week is Turkey Week," Jolie Smith explains. Smith is in charge of development for AFAC and has been running a Hope Against Hunger effort to collect $25 donations to provide a Thanksgiving dinner to AFAC's 2,500 clients.

"It may be more families at this time of the year, and it's possible we'll be ordering more turkeys." She says some people who are qualified to receive AFAC groceries come only once a year to get Thanksgiving dinner because it is so expensive. Smith says referrals to AFAC are up 45 percent this year due to COVID. "We don't know what to expect next week."
Alias Santiago unlocks the heavy back door of the trailer to check out the turkeys but the door won't budge. Smith calls for Warehouse Manager Ray Bynum who arrives, analyzes the situation and gives the door a jerk and then a quick pop, and it comes loose. The door had frozen shut along with the turkeys.
Smith says the $25 will provide a turkey and fresh produce that goes with a traditional dinner. "We always have potatoes and we'll have canned pumpkin and donated pie crusts and vegetables that go with a Thanksgiving dinner." She says that next week when the families come to pick up their regular supplemental groceries that they will receive eggs and milk and bread, plus the fresh produce and other holiday items they select and a turkey. They will pick it up at the end of the line "because turkeys are heavy."
Smith says that when COVID-19 hit in March, AFAC had to take everything outside, and distribution of groceries changed. Families got a choice of protein, a bag of milk and eggs and two prepackaged bags in order to cut down on contact and ensure safety. Everyone was wearing masks. Smith says that fortunately they haven't had one case of coronavirus in the staff or volunteers.
Now AFAC has been able to return to the "choice model" since all of the safeguards have been in place. "We wanted to bring the choice model back. It is more dignified for the family. It's super important."
She says this effort will be repeated at Christmas with Chicken Week which will be the week before Christmas. Smith says donations for these Thanksgiving dinners may be made on the AFAC website until Dec. 31. She says, "In addition, we will have two matching grants that will allow us to double each contribution.
Anyone who wishes to donate nonperishable food to help AFAC provide food for the holiday dinners can drop it off at the AFAC warehouse located at 2708 S. Nelson Street or several other locations listed on the AFAC website. These food donations are particularly important this year since the annual national Scouting for Food initiative has been cancelled due to the coronavirus. Each year Scouting for Food has contributed thousands of pounds of donated food to AFAC. Note some individual scout troops are holding a food drive in their neighborhoods.
AFAC is a non-profit organization that supplies supplemental groceries to Arlington families in need. It was established in 1988 by a small group of residents and six congregations to feed 19 struggling families. Ten years ago the average had grown to about 1,100 families and five years ago to 1,700. Now with the challenges faced due to the impact of the pandemic, the number climbed from the new average of 2,400 to 2,885 in mid-March.