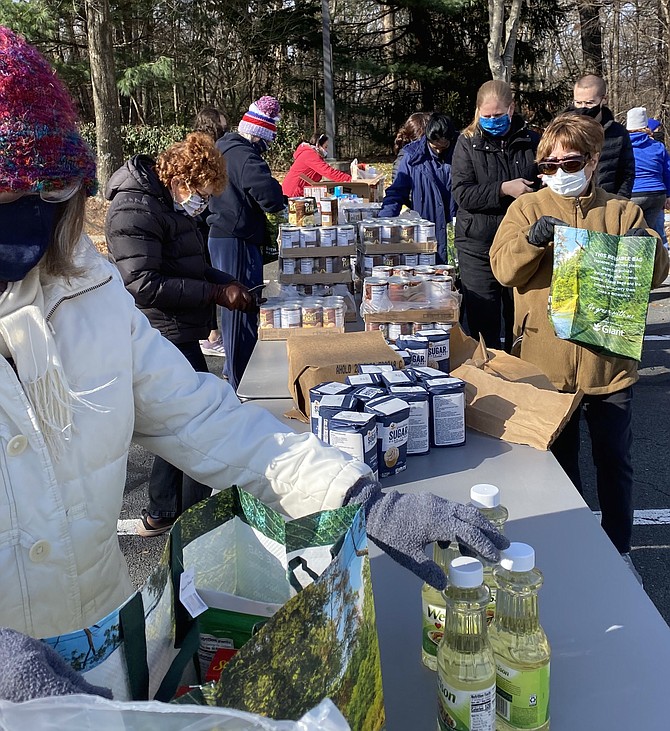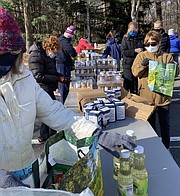 Cornerstones was back at it again, ready to assist 1,000 Reston and Herndon families struggling to make ends meet this holiday season. For a total of 36 hours the week of Nov. 16 through Fri. Nov. 20, volunteers accepted, sorted, boxed, and readied donations for the nonprofit organization's Thanksgiving Food Drive.
On Thursday, volunteers assembled 303 food bags in the parking lot of St. John Neumann Catholic Church in Reston and, when fully packed, brought them into the church hall for additional sorting. For many in the community with stressed budgets and financial challenges, a Thanksgiving dinner wouldn't be possible without this assistance.
According to Ralph Tartaglione of Reston, thirty-five volunteers were there at 9 a.m. and they would have two shifts. "We will probably have around fifty volunteers by the end of the day," he said. Like many volunteers, Urania Rodrigues of the Town of Herndon said she was there to help others less fortunate. Jon Yates of Herndon said he planned on staying for three hours.
Susan Alger is Director of Volunteer and Community Engagement. She said that this year because of COVID, Cornerstones was running its Thanksgiving Food Drive with its Gifts for Kids Drive to reduce the number of interactions for everyone involved. This way, Cornerstones could get the children's gift cards to the parents before the next COVID wave took off. "We have an elf who's sitting in another room. She went through all the gift cards and checked everybody's wish list twice making sure we had their cards lined up for them," she said.
Looking out over the river of food bags, Alger said people signed up for assistance in August and September. Each family would get 30 things, mainly staples. Asked about the turkey, Alger said, "Gift cards are a whole lot easier to carry than a turkey and they don't fall on you," she said.
Sandra Baron of Oak Hill began sorting the boxes in the church hall. "Everybody wants to do something because the world is such a mess... and this is a great opportunity."