There won't be a Turkey Bowl in Hall's Hill this year, for the first time since most residents can remember. The Thanksgiving Day tradition is cancelled due to the pandemic. Even the chrome-polished cars that gathered on the day won't be there; the road in front of the field is torn up from construction. Arlington residents are approaching Thanksgiving dinner with a different attitude this year, however; many more are focussing on the things that make them grateful, like health, and family, even if they are on a zoom call instead of across the table.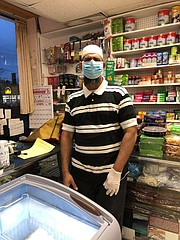 Moyen Uddin, owner of the Asia Market, specialty grocery and butcher shop on Lee Highway, is grateful for much.
"We can't gather this year," he said disconsolately. " I am just cooking a chicken, that's all, but I am thanking God that in future we will gather next year; last year was difficult with the pandemic, we lost a lot of business, about 20 percent of our sales, but we managed without help to get through the worst of that time because we had a good year before the pandemic. I became an American citizen," he said with a smile behind his mask. "And I voted in the election this month. My son came home from Penn State for the holidays, and my wife and two sons are healthy, so I have a lot to be thankful for."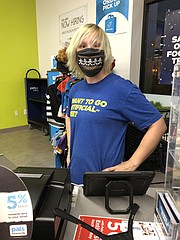 Lila Harmon of Arlington said she is thankful for friends and family; she will do what she pretty much always does on Thanksgiving: sit down with her Mom, immediate family, boyfriend and eat turkey.

Jim Moore of Moore's barber shop isn't doing anything this year: he might eat a turkey bacon sandwich for breakfast, he joked. Grateful will be the emphasis this year, not food.
Sharon Shutler managed to get her family together before the holidays, since the weather permitted outdoor seating and it was easier to travel safely before things got crazy. Shutler said she was grateful for much this year, not necessarily in this order: "My crazy black lab who is always happy and playfully eccentric; my two daughters who are fun, great cooks, and remarkably resilient; my husband who remains always calm and shockingly optimistic; warm sunny days; the endless varieties of perennials and shrubs, though this abundance creates gardening dilemmas; my activist friends – kindred spirits who made the last 4 years bearable."
Some Arlingtonians are trying hard to raise funds for people who have been affected by the pandemic, and some of them will run the Turkey Trot virtual 5K to do that.
And for those who feel a little lonely this year, Bob and Edith's Diner is now open for business on Lee Highway, and they will be offering their standard open faced turkey sandwich with two sides, from 7 am to 3 pm on Thanksgiving Day.