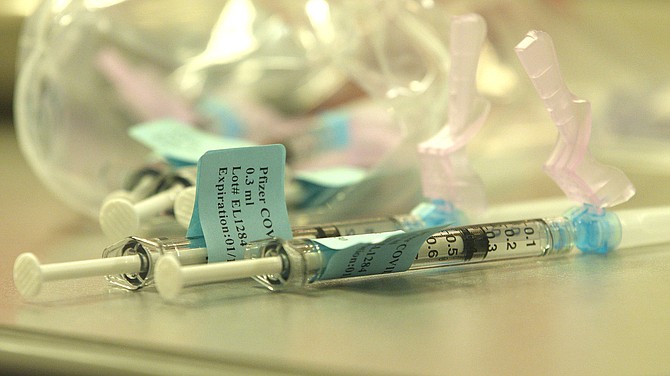 When Maryland opened eligibility for Covid-19 vaccine to those in Category 1B, Montgomery County did not. They were a week behind.
Now the state is including those eligible from Phase 1C:
Individuals with intellectual and developmental disabilities

Education staff, including K-12 teachers, support staff and daycare providers

Public safety workers not covered in Phase 1A

Health care workers not covered in Phase 1A, including but not limited to lab services, public health, vaccine manufacturing and other health care professions

Front line judiciary staff

Continuity of government

Food/agriculture production, critical manufacturing, U.S. Postal Service, public mass transit, grocery store employees

Veterinarians and support staff

Clergy and other essential support for houses of worship

Adults age 65 and older.
Who is currently eligible in Montgomery County?
Phase 1B includes residents over the age of 75 plus frontline essential workers.
As of Jan. 25, the County had received 26,900 first doses, and administered 23,591, which is 87.7 percent administered of those received, according to the County. www.montgomerycountymd.gov/covid19/vaccine/
"Progress through the priority groups depends entirely on how much vaccine we receive from the Maryland Department of Health and when we receive it. We estimate that there are an estimated 30,000 to 40,000 individuals in the first priority group (1A). We will not wait until everyone in that group is vaccinated before moving to the next group, but we are aiming to get maximum uptake of vaccinations by each group.
Vaccinations are by appointment only, and the county says it will provide a link to the appointment system when we move to the next priority groups.
Priority Group 1C includes individuals with underlying medical conditions which increase the risk of serious, life-threatening complications from COVID-19. The county says it expects additional guidance from the CDC on which underlying medical conditions will be included.
"Vaccines will not be widely available until later in 2021. Eventually everyone who wants a vaccine will be able to receive one."
It is expected that private doctors and some retailers will eventually be able to order vaccine directly and assist in vaccinating community residents, but there is no current timeline as to when that will happen."