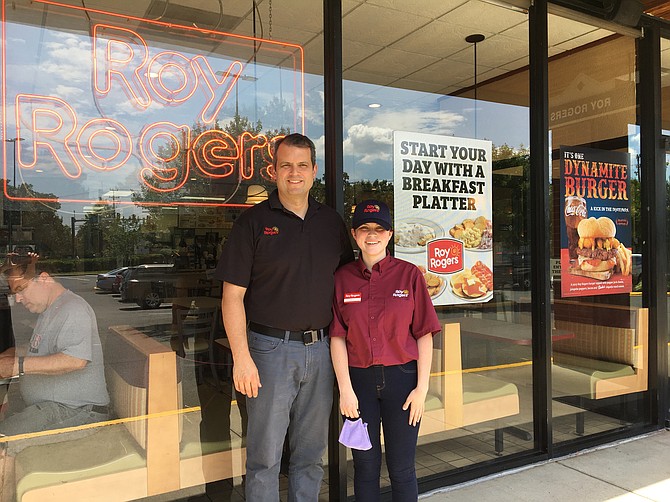 Burgers, fried chicken, and roast beef are all available at Roy Rogers Restaurants where real food with the best ingredients is served in a comfortable, enjoyable setting. That's the Roy Rogers tradition.
The local Roy Rogers Restaurants are located in Manchester Lakes shopping center, Belle View shopping center, and on Richmond Highway at the corner of Jeff Todd Way. The restaurant at Richmond Highway and Jeff Todd Way has outdoor seating.
The Belle View location is still closed and being re-built after the devastating shopping center fire in October 2019.
The dining rooms are open for customers, with appropriate social distancing and their delicious menu is also available by ordering online for carryout.
Franconia resident Jason Hunt and his family own and operate the local Roy Rogers Restaurants. They welcome regular customers as well as those trying the menu for the first time.
"Many of our customers return over and over to the restaurant," says Hunt, "because they know they will receive great food each time they order."
"We ensure CDC guidelines on cleanliness are strictly followed in each restaurant," Hunt said. "Our customers expect and receive friendly service and quality food."
There is a breakfast menu served from 7 a.m. to 10:30 a.m. with breakfast sandwiches, biscuit and gravy and chipped beef platters, pancakes, scrambled eggs, and those famous biscuits and breakfast fries. The lunch and dinner menu begins at 10:30 a.m. and goes until closing at 9 p.m. and includes a variety of burgers, roast beef sandwiches, and fried chicken or chicken sandwiches.
Roy Rogers also has a full menu of side items with fresh garden salads, fruit cups, fries from real potatoes, cole slaw, mac and cheese, and baked beans. And don't forget dessert. Hot fudge brownie sundaes and strawberry shortcakes are two favorites, and all the ice cream is hand dipped to order.
A children's menu is available at https://www.royrogersrestaurants.com/menu/kids with nutritional information. Roy Rogers works to make delicious meals for children that are also nourishing.
Support a local restaurant that employs local people and supports the community. Online orders may be placed by visiting https://royrogersrestaurants.olo.com/ and typing in your address to find the closest Roy Rogers restaurant. You can also find Roy Rogers on DoorDash for delivery.
Roy Rogers Restaurants are the "Restaurant of the Week" from Mount Vernon Lee Chamber of Commerce. Restaurants are an industry deeply affected by the Covid-19 pandemic. Support local restaurants and help retain local jobs and the variety of wonderful eateries in our community.
Roy Rogers Restaurant
7013-F Manchester Boulevard
Franconia, VA 22310
703-719-5980
Roy Rogers Restaurant
8860 Richmond Highway
Alexandria, VA 22309
703-799-0170
Order online at https://royrogersrestaurants.olo.com/
Open Everyday 7 a.m. to 9 p.m.