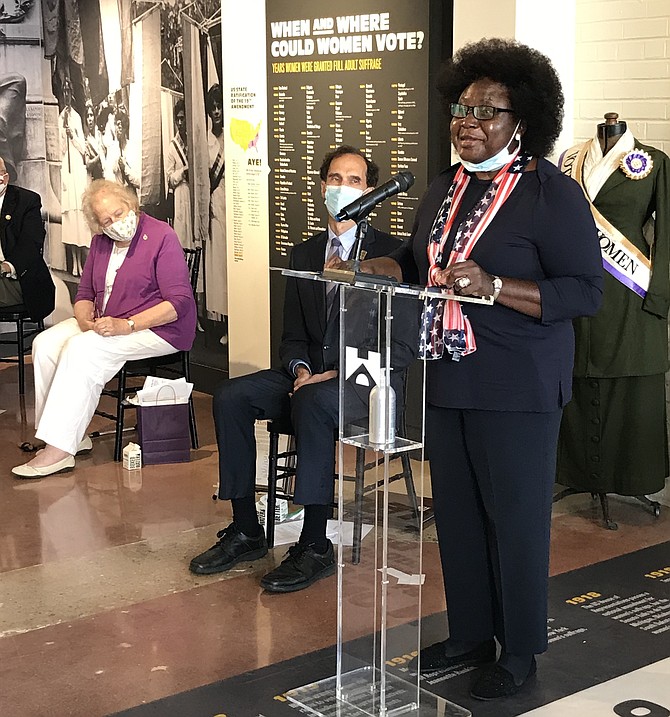 Welcome to the Mount Vernon District! It has been a challenging, but also exciting year so far in Lorton. We have come together as friends and neighbors to protect and support each other during the COVID-19 pandemic. In fact, we just celebrated the groundbreaking of the new Lorton Community Center and Library renovation that will be a multigenerational and multifaceted community support system. Planning continues for the South County Police Station and Animal Shelter and Alpine X is considering building an indoor ski facility, boutique hotel and sky bar on the closed Lorton Landfill. We also just celebrated the and the Year of the Woman with the 100th Anniversary of Women's Right to Vote at the Lucy Burns Museum at the Workhouse Arts Center. While the Lorton community continues to evolve, it also continues to be a tight-knit community with a strong South County identity.
The many amenities that have and continue to open in the area – the Workhouse Arts Center, the Laurel Hill Golf Club, new homes and retail at Liberty and expansive mountain bike trails, just to name a few – make Lorton an ideal place to live, work, learn and play. With all this in mind, my office is leading the Lorton Visioning 2040 effort with community members to ensure Lorton retains its character while growing in ways the community wants.
Even if you are new to the area, you likely know that Fairfax County has one of the best school systems in the country, but for us it goes beyond that. Life-long learning is important to many of our residents and I am proud to say we are bringing more opportunities through our future partnerships at Original Mount Vernon High School (OMVHS) with the Northern Virginia Community College (NVCC) and Fairfax County Public Schools (FCPS). In addition, the synergy created by collocating Teen and Senior Centers, the Library, Neighborhood and Community Services, and the Lorton Community Action Center (LCAC) in the new Lorton Community Center will provide many more active and passive learning activities for residents of all ages and abilities.
The South County area abounds with parks and recreational opportunities. Put on your walking shoes and head to Laurel Hill Park or Fountainhead Regional Park. Spend the day paddling on one of the many rivers and creeks at Pohick Bay Park, Occoquan Regional Park or Mason Neck State Park. Ride some of the best bike trails in Northern Virginia at Laurel Hill Park and Meadowood Recreation Area or use the many trails along our roadways for your daily commute. Frisbee golf, foot golf and regular golf opportunities are abundant as well. To find your adventure, check out our parks page on the Mount Vernon District webpage: https://www.fairfaxcounty.gov/mountvernon/.
My number one priority is always you and our office is here to help! I strive to engage deeply and frequently with the people of Mount Vernon. TEAM MVD provides timely constituent service as we continue to build the ideal community in which to live and thrive. We are here to answer your questions and will respond within two business days. Email us at MTVernon@FairfaxCounty.gov, call 703-780-7518 or stop by our office at 2511 Parkers Lane, Mount Vernon. I also have extended office hours on Thursdays and the second Saturday of each month, walk-ins and appointments are always welcomed.
You have chosen a great place to live, educate your children, grow your career and engage with your neighbors. Welcome to the Mount Vernon District, where history, heritage, outdoor living, educational opportunities and public safety come together to support our exciting future! Visit our website (https://www.fairfaxcounty.gov/mountvernon/) to sign up for our newsletter, follow us on Facebook and Twitter and learn about the myriad of District projects, important topics, area activities and upcoming events in your new community. More information about the Mount Vernon District can be found in our Newcomer Guide!