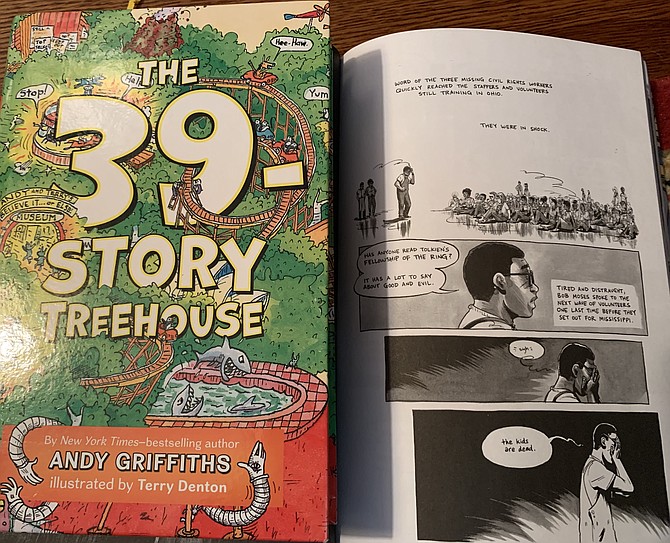 It's a line from the Pulitzer Prize-winning classic, To Kill a Mockingbird, that is at the heart of the literary philosophy of Anne Briggs, web services and communications librarian at Montgomery College Library.
"The character Scout Finch says, 'Until I feared I would lose it, I never loved to read. One does not love breathing,'" said Briggs. "This National Book Month, help make reading as natural as breathing for your children."
Established by the National Book Foundation in 2003 and held each October, National Book Month was created to celebrate the importance of reading, writing and literature. Educators and librarians such as Briggs, are encouraging families to celebrate the month together.
"Use [this] month as an opportunity to refocus on the importance of reading in your family," she said. "Take time to read or listen to audiobooks with your children, working with your child to pick the books that interest them."
In fact, some educators encourage parents to focus on helping children choose books that spark curiosity. "Just because a book is award-winning and highly recommended by your friends doesn't necessarily mean your child will latch onto it," said education consultant Arash Fayz, co-founder and executive director of LATutors123. "Encourage your child to identify topics that they enjoy learning about or would like to learn about and let them pick out a book themselves. This will empower them to feel a sense of ownership over the book choice."
"While we don't have a lot of empirical data, we do see that people who are prolific or creative writers are also voracious readers."
— Michelle LaFrance, Ph.D., George Mason University
National Book Month is also a time to underscore the connection between avid reading and the quality of one's writing skills. "While we don't have a lot of empirical data, we do see that people who are prolific or creative writers are also voracious readers," said Michelle LaFrance, an associate professor in the Department of English at George Mason University. "People with an exposure to a wide variety of books also have a great sense of curiosity."
For students who have difficulty reading or simply don't enjoy it, LaFrance says, "Let them read what they are interested in and worry less about the quality. Audiobooks and graphic novels, which don't get enough credit, can share stories in deep ways. I would suggest them for kids who tend to be reluctant readers."
"Reading allows readers to learn and to grow and to imagine and to use their creativity and to be moved," added education consultant Karen Gross. "It's key is to increasing vocabulary and a love of words and a sense of the power of words."
While a family trip to the library might not be an option during the pandemic, local public libraries are offering virtual access. From an All American Girl Club event in Alexandria and a parent-child book clubs in Fairfax County to a family story time in Montgomery County, and middle school science fiction and fantasy book clubs in Arlington, families can enjoy literature without leaving home.
"Most public libraries are offering free virtual events to help families remain engaged with reading during the pandemic," said Briggs. "Making time for reading and storytelling in your family can help you raise lifelong readers and learners, and enjoy the educational and emotional benefits that come with reading."