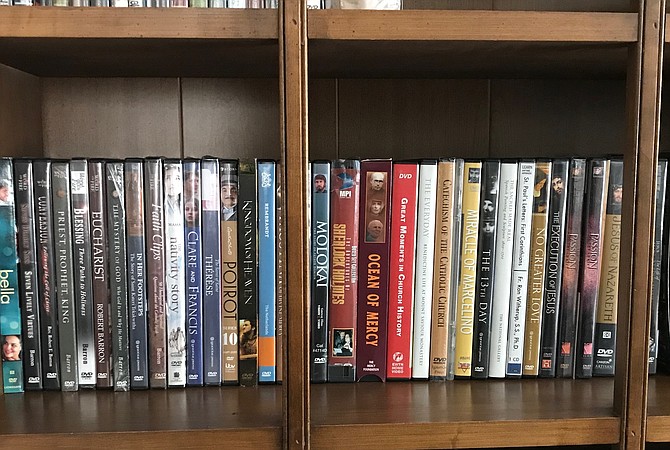 With summer comes roadtrips. In fact, a study by New York University's School of Professional studies showed that 63 percent of American families will take a vacation by car this summer. Long stretches of interstate and backseat time call for loading up on audio books before hitting the road.
"Audio books are great for long car rides and they're much better than video games," said Barbara Marshall, department chair for Education and Social Sciences at Montgomery College. "They don't take the place of actually reading a book, but there is a time and place for them.
One of those times, says Marshall, is long drives without scenic views. She and others who are familiar with children's literature suggest some of the best books for family vacations by car.
"Audiobooks are great for long car rides and much better than video games." — Barbara Marshall, Montgomery College
"Ghost" by Jason Reynolds and narrated by Guy Lockard is a recommendation by Jennifer Rothschild, Youth Services Collection Development Librarian for Arlington Public Libraries. This 3.5 hour audio books is about a gifted runner named Ghost who has a chance to run for a prestigious middle school track team, but is challenged to stay on track both literally and figuratively in order to reach his full potential.
Fantasy buffs might appreciate "Dealing with Dragons" by Patricia C. Wrede, while fans of dystopian novels might enjoy "Leviathan," written by Scott Westerfeld and narrated by Alan Cumming, suggests Rothschild.
Set in an alternate version of WWI, Leviathan is the first in a trilogy. Primary characters include Prince Aleksander, the would-be heir to the Austro-Hungarian throne, and Deryn, a girl who disguises herself as a boy to serve in the British Air Service. The story takes off when the two cross paths.
History lovers might appreciate another Rothschild pick: "Notorious Benedict Arnold" which was written by Steve Sheinkin and narrated by Mark Bramhall. Running at 6.5 hours, this is a true story about an American war hero who loses his career and freedom for greater recognition.
Music lovers might enjoy "Solo" by Kwame Alexander, says Yunna Iqbal of Scrawl Books in Reston. The audio version of the New York Times best selling book by the same name, tells the tale of Blade, the son of a former rock star with a drug addiction. Intertwined with songs, the story follows Blade as he tries to escape his escape his family's fame and fortune.
"Each chapter has a specific song and story follows and that makes it good for both young kids and older kids," said Iqbal.
"Artemis Fowl" by Eoin Colfer, narrated by Nathaniel Parker could appeal to thrill-seekers. The main character, a 12-year-old named Artemis Fowl is the heir to a crime family who appears to be unusually skilled at masterminding crimes until greed threatens to ruin his most his brilliant plan. This Rothschild suggestion runs 6.5 hours.
Timeless classics like "Charles and the Chocolate Factory" and "James and the Giant Peach," both by Roald Dahl, are also fail-safe choices for family road trips, says Iqbal.
"Ghost Boys" by Jewell Parker Rhodes is a recommendation from Lelia Nebeker, Book Buyer at One More Page Books in Arlington. "It's a very short book, so if you're only driving for three hours, you can probably finish it," she said. "It's from the perspective of a seventh-grade black boy who is shot and killed by the police, and his ghost is telling the story of seeing the world after his death, where he meets the ghost of Emmett Till. It's a heartbreaking book, but beautifully written, well performed on the audiobook."
Despite the mature sounding premise, Nebeker says that it's intended for readers ages 9 and up.
"'Avalon High by Meg Cabot' is a fun contemporary take on the King Arthur myth by the prolific Meg Cabot," advised Nebeker. "This one does take place in a high school setting, but it's appropriate for ages 10 and up for sure. So cute and funny."
"Two of my coworkers read 'Love Sugar Magic: A Dash of Trouble' by Anna Meriano … and raved about it," said Nebeker.
"'Amal Unbound' by Aisha Saeed is about a 14-year-old girl in Pakistan who becomes a servant to pay off her family's debts," said Nebeker. "[This is] another book for young readers that has some mature content, but is good for ages 10 and up and will start good discussion between parents and young readers."
"Howl's Moving Castle" by Diana Wynne Jones and "A Wrinkle in Time" by Madeleine L'Engle are two additional suggestions from Nebeker.
For a wider selection of choices, Marshall suggests the American Library Association's website, which offers reviews of audio books: www.ala.org/alsc/awardsgrants/notalists/ncr.