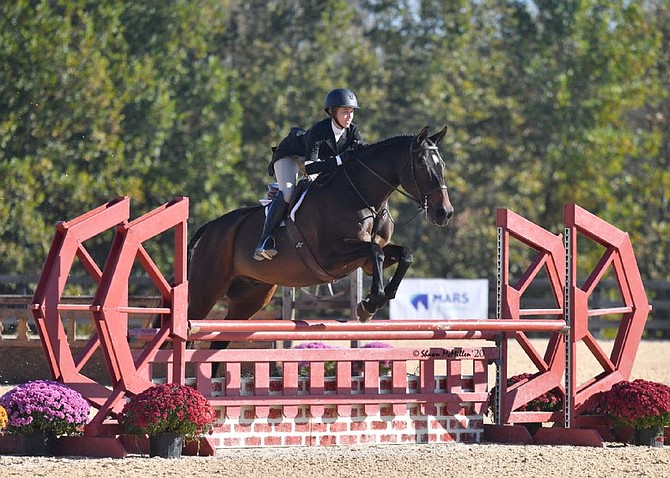 Since she was a child, equestrian Kayla Wolfe has looked at her time on horseback as a chance to get her mind off everything else a 17-year-old
has to worry about in addition to the challenges of 2020.
"Gives me a sense of stability," Wolfe said. "Mentally, it's a huge part of my life."
It's now become a bigger part of her life after recently winning the Laura Pickett Excellence in Horsemanship Award for her enthusiasm and horsemanship at the regional level of the 2020 Washington International Horse Show. She got the award on Oct. 18 at the Morven Park International Equestrian Center in Leesburg.
Riding on Sobri-K, a steed she has ridden for the past three years keeps her focused. So focused that she is planning on continuing her equestrian passion next year at University of California-Davis where they have a big equestrian program.
Riding on Sobri-K "is a safe haven for me," Wolfe said.
The Laura Pickett Trophy for Excellence in Horsemanship was donated to the Washington International Horse Show (WIHS) by Vicki Lowell and created in memory of equestrian and trainer – Laura Pickett.
Pickett lost her fight against breast cancer at just 52 years of age, after a five-year battle. The Trophy honors her contributions to the sport she loved and the legacy she left behind. She inspired enthusiasm for life, in addition to good horsemanship, and her award is presented to an "up and coming" rider who best exhibits the same qualities. Of those nominated, Wolfe rose to the top and was presented the honor from WIHS Project Coordinator Lara McPherson.
"While showing on the local circuit over the years I have learned how much Laura Pickett meant to the riding community, and it is such an honor to be a recipient of this award and carry on her name and what she stood for," said Wolfe.
Meghan Solis, Wolfe's mother, has supported her equestrian yearning since she was a 7-year-old growing up in Burke. She watched her growth from the days when Kayla rode at Tamarack Stables in Lorton, and then other stables in Middleburg and Leesburg. "It certainly teaches her a lot of discipline, respect for the animal," Solis said.
Wolfe is in her senior year at Bishop Ireton in Alexandria where she participates in the National Honor Society and Peer Helpers, and applied for UCDavis to take part in their equestrian program. She chose this school on her own, even though the family doesn't have a link to California. Her mother said she'll probably earn a degree in business or engineering, but they liked the strong equestrian program that was offered there. "There is a dream she's had for years," Solis said. Wolfe plans on competing in other shows up until she goes off to college next fall.