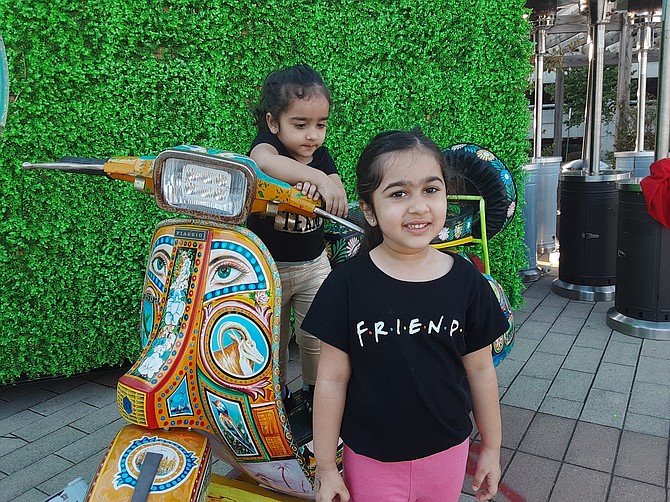 In India and Pakistan, the dhaba is a roadside food stop that attracts all kinds and may act as a truck stop along a busy highway. At the corner of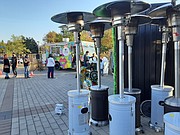 Spring Mall and Frontier Drives in Springfield, a local dhaba has sprung up with the Cha Tea House truck serving Pakistani cuisine.
"We are working with the mall, this is the third day," said Sofhia Qamar, who's running the operation with her family members Suhail Kamran and his wife Saba. "We're all family," she said.
Summia Farooq heard about it online, and showed up on Monday evening for a glass of tea, a staple at dhabas. "It was all over social media," she said. Her daughters Summia, 2, and Maryam, 4, were climbing all over the elaborately painted scooter that was on site. In Pakistan, Farooq has been to other dhaba's. "They have a lot, all over the place," she said.
When the Springfield Mall was renovated years ago, they created an outdoor area on the other side of the south parking garage that hasn't been used much since the renovation was complete. With the dhaba set up, there were tables brought out, lighting, and outdoor heaters that were ready when the warm evenings give way to regular late October weather.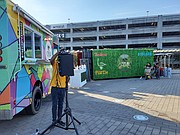 The food and drink was served from a truck and the other truck was covered with a green matting material for decoration. On the menu was Chicken Tikka, served with a paratha roll ($8), Seekh Kabab ($9), Kashmiri Milkshake ($8) and Doodh Patti Cha, ($3) which is a tea they pronounce like chai. Food and drink is served from 5-9 p.m. "We close at 9 but we let people hang out and have a good time," said Qamar.
The first night, the word spread rapidly and about 1,000 people showed up. "We weren't expecting such a crowd," said Qamar, admitting that they ran out of food but were better prepared the following nights.
The area where the dhaba was held is a pergola square that town center general manager Ed Christenson thinks the dhaba is a good use of space. "It's a space for the community to gather," he said. In the past, a "Fit for Mom" group used it for exercise.
International Flair
The shaba is sometimes called the Punjabi dhaba, since many truck drivers in the Indian subcontinent are of Punjabi descent, and Punjabi food and music are popular throughout the Indian subcontinent. The word dhaba has come to represent any restaurant that serves Punjabi food, especially the heavily spiced and fried Punjabi fare preferred by many truck drivers. Dhaba roadside eateries are a common feature on Punjab's national and state highways. The cha tea has caffeine as well, which might be like stopping for coffee as truck drivers do in this country.