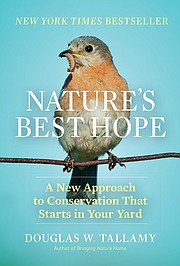 Libraries in Montgomery County are still closed, but Potomac Friends of the Library are continuing their Author Talks – virtually.
Coming up Monday, Sept.14 at 10 a.m. is Douglas Tallamy discussing his book Nature's Best Hope: A New Approach to Conservation That Starts in Your Yard.
Tallamy is chair of the Department of Entomology and Wildlife Ecology at The University of Delaware.
"Chief among his research goals is to better understand the many ways insects interact with plants and how such interactions determine the diversity of animal communities," according to amazon.com.
Reviewing the book in the Virginia Native Plant Society newsletter, Sue Dingwell writes, "…a powerful wellspring of inspiration for the many people craving an opportunity to be pat of transformative change for our challenged world."
The program is co-sponsored by the Potomac Village Garden Club.
To hear Dr. Tallamy speak, log into https://zoom.us/j/95945486073.
Looking ahead to October, Michael Dobbs, author of The Unwanted: America, Auschwitz, and a Village Caught Between will speak at 11 a.m. Friday, Oct. 2.
Dobbs is a local author and winner of the 2019 National Jewish Book Award. For Zoom information, visit https://mcpl.libnet.info/events.
Jennifer Ryan will discuss her World War II novels, The Spies of Shilling Lane and The Chilbury Ladies Choir, both set in London, on Friday, Oct. 23 at 11 a.m. For that event, log onto https://zoom.us/j/91018889970.
The Friends' Autumn Newsletter offers information on several other events this fall, including the library book club, a list of events sponsored by Potomac Community Village and Potomac.
For more information, visit https://www.folmc.org/chapters/potomac-chapter/.