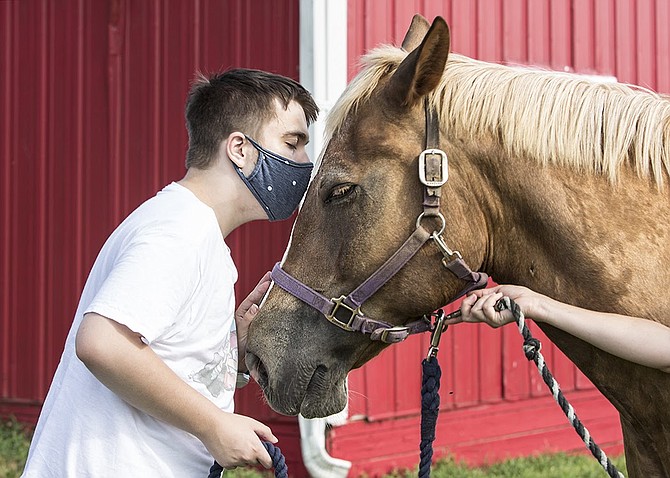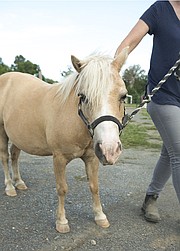 "When your child is young and has a diagnosis, you try anything," says Rachel Kirkland. Her son Jimmy is diagnosed on the spectrum and, at nine, was considered non-verbal. While he had some physical challenges as well, his parents were primarily concerned about his ability to communicate.
But once they decided on therapeutic riding, the waiting game began. It took a year for a slot to open up at Northern Virginia Therapeutic Riding (NVTRP) in Clifton. At NVTRP, when a client starts, family and professionals all come together to do an assessment of the client's needs to help inform the therapeutic riding plan. In Jimmy's case, his occupational and speech therapists both participate. The assessment is repeated every year.
Nine year later, while he certainly sits correctly on the horse when he rides, his biggest gains have been in his expressive and reception communications. "He learned from riding that communication has purpose," says his mom proudly. "He has learned to follow instructions and to give verbal directions to the horse."
Kirkland explained: "He must respond to prompts from his instructor in order to get on to the next activity. And he wants to get to that next activity, so he complies. And he has learned the importance of using a voice at the proper sound level, to direct the horse effectively."
Jimmy deeply loves the horses. And he definitely has favorites, Like Maybelle. "Every time I've been out to see him [riding] his face is absolutely pure joy," says Kirkland.
The stay-at-home order was hard. Jimmy has received postcards and emails which have helped. But it's definitely not the same. And because he requires two side-walkers to ensure he stays safely on the horse, as well as someone to lead the horse, it's not been considered virus-safe for him to return to riding as of yet.
His mom was determined to help figure out a way to get Jimmy back to riding and began training as a sidewalker in August. Pre-training, Kirkland was equally resolute and squeamish, "I don't know if I need to buy boots. I don't really like the heat. But oh my gosh I'm going to walk alongside [so Jimmy can go back to riding], I don't care if the horse poops on me!" Jimmy's sixteen year old brother and a friend trained alongside with Kirkland. Now, a return to riding is just weeks away for Jimmy.
In addition to therapeutic riding, NVTRP offers equine assisted activities and therapy services where clients work with a horse, a mental health professional and an equine specialist.
NVTRP has found ways to bring the equine experience to populations who might not be able to get out to Clifton. Teddy the Rough Rider is a miniature horse who travels in his specially modified Ford Expedition to locations including memory care facilities and the Washington School for Girls, where he is used to support leadership and curriculum on what it means to be a good citizen. While multi-talented, no, Teddy doesn't drive the Ford.

Full-sized horses travel with NVTRP to a local memory care facility for visits too. Several months ago, Gallagher received a letter from the daughter of a patient, explaining what the visit with the horses meant to her and her father, who has Alzheimer's. The visits, she said, bring him so much joy, and return him, at least a little, to himself.
Northern Virginia Therapeutic Riding is celebrating its 40th anniversary this year. It's been a hard year to be running a capital campaign, but Kelsey Gallagher, executive director, is committed to finding a path forward to build an indoor ring. Without one, only the independent therapeutic riders are able to ride during the harsh winter months.
Like everyone, NVTRP has had to bend and grow to continue to serve its community during the pandemic.
NVTRP's partnership with George Washington University meant that they had access to GW Occupation therapy students, who developed and created exercise videos to help clients keep up their strength. There have been weekly links of articles and puzzles.
"Teddy Time" is a fan favorite, with live video of that sweet miniature horse Teddy. NVTRP used this time to "Teach clients and volunteers about things they don't normally get a chance to talk about," says Gallagher, "Things like horse nutrition and how you check a horse's pulse." Her son has gotten involved, reading horse related picture books to Teddy for clients of all ages to enjoy.
"Good Night Farm" gave clients and volunteers and their families the opportunity to come in their pajamas to view (from their cars) the horses' evening activities including dinner, baths and getting ready for bed.

For Jimmy, it was a very special treat, he had not been to the barns since the lock-down and, according to his mom, even though he wasn't there to ride, just being there removed some of his anxiety, making his return to ride a "when," not and "if." While he didn't come in his pj's, at 19, it was well before his bedtime, his mom described his reaction to once again being at the barn. "His face was pure joy."