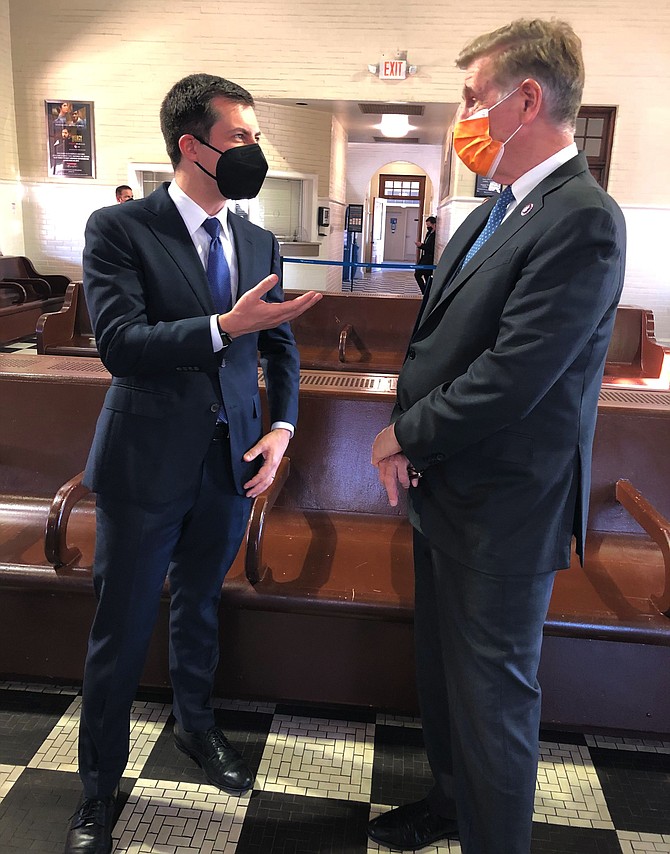 On Tuesday, March 30, Governor Ralph Northam announced that the Commonwealth finalized agreements with Amtrak, CSX, and Virginia Railway Express, launching a $3.7 billion investment to expand and improve passenger, commuter, and freight rail in Virginia and create a vital connection in America's national rail network between the Northeast and Southeast corridors. U.S. Secretary of Transportation Pete Buttigieg joined the event at Alexandria's Amtrak/Virginia Railway Express (VRE) station, highlighting the American Rescue Plan recently passed by Congress, which includes $1.7 billion to get Amtrak employees back to work, restore daily long-distance service, and help states cover lost revenue in state-supported routes. It also includes critical funding for transit and rail networks.
"Northern Virginia is at the crossroads of the Mid-Atlantic rail network, where the existing Long Bridge is the only rail bridge connecting Virginia to Washington, D.C., creating a choke point for rail traffic between the Southeast and Northeast," said U.S. Rep. Don Beyer (D-8) . "I worked with a coalition of my colleagues in Congress to authorize and fund a new Long Bridge, an effort that also helped the Commonwealth secure access to the federal land needed for construction of the new Long Bridge. This project is estimated to bring nearly $6 billion annually in benefits to the region by 2040 and is a key component of Transforming Rail in Virginia." The partnering agreements support the construction of a $1.9 billion bridge over the Potomac River dedicated to passenger rail, acquisition of 386 miles of railroad right-of-way and 223 miles of track from CSX, and an investment of more than $1 billion in additional infrastructure improvements by the Commonwealth.
"At the National Landing BID, we couldn't be more excited that Virginia has finalized agreements with Amtrak, CSX and Virginia Railway Express to expand, improve and better connect rail service in the Commonwealth. This significant investment exemplifies the much-needed commitment to prioritize transportation access and modernize our infrastructure network. As we look towards National Landing's vibrant future, this transformative transportation plan will help to propel our recovery and position the region for economic advantage and inclusive growth," said Tracy Sayegh Gabriel, President and Executive Director of the National Landing BID.