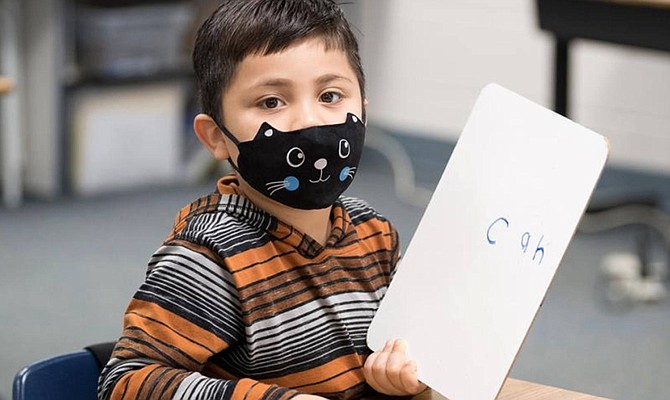 Some students in the Fairfax County Public Schools system could be poised to clean off the family dining room table by April 20.
Fairfax County Superintendent of Schools Dr. Scott Brabrand, in a phone interview the morning of April 6, said that FCPS will offer four days a week in-person school instruction to some students beginning April 20.
"This expansion to four days is really the next to the last step before returning kids to five days of instruction in the fall," said Brabrand. "It will help us get additional experience with more students that are in buildings and making sure we're doing our safety measures well."
FCPS is mindful of the CDC's most recent guidance related to physical distancing in schools and other measures, Brabrand said. The division will continue to implement mitigation strategies such as monitoring disease data and it will be expanding vaccination opportunities for students and staff.
FCPS will extend the first opportunity to return to four days of in-person learning to its most vulnerable children. Any student struggling now, virtual or in-person as determined by school officials, will be offered four days a week of in-person instruction. Brabrand said that school staff is looking through students' academics, especially third-quarter progress, IEPs, and the 504 processes. That is happening this week and next week.
"By April 20, kids that had selected two days of in-person will have, as school staffing and capacity allow, the opportunity to do four days of in-person. ... All of that will help prepare us to have five days of in-person instruction in the fall," said Brabrand.
BRABRAND said the expansion is not a pilot program with small numbers of students but a significant expansion across all its schools. "We're going to have tens of thousands of additional students receiving in-person instruction. This is a major step forward and the last step before going to five days of in-person instruction."
Brabrand said that the in-person acceptance rates per school have varied from 20 percent of students being in-person to 80 percent. That variability means in-person learning will look different at each school. Variability is one of the nuances in the expansion. The plan, though, is dependent upon staff availability. Staff "really stepped up," according to Brabrand.
Meanwhile, FCPS is working closely with the health department and monitoring additional opportunities for younger students to get access to the vaccine. Currently, no one younger than 16 can be vaccinated, but trials are underway for younger children, and vaccination could be expanded before the start of school in the fall.
"We may get authorization for kids even younger than 16, to have an aggressive campaign ... to vaccinate as many of our kids who are eligible to receive the vaccine before school starts in the fall. That'll be another layer of safety and security for students and staff."
LOOKING BACK on the past 13 months of the pandemic, Brabrand said he would have appreciated receiving CDC guidance "sooner and clearer." "The confusion at the beginning of the pandemic set the course for a lot of confusion and mixed messages throughout the pandemic. Our first priority was keeping students and staff safe. We've gotten more clarity. We've gotten the guidance we've needed. And we're using that guidance to move our schools back to normal operations as quickly as possible and as safely as possible."