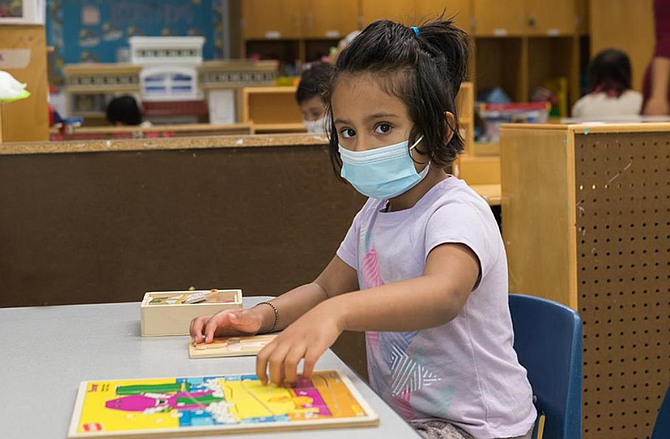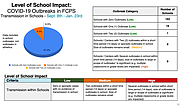 Fairfax County Public School students, whose parents or guardians opt for in-person learning for their children, are headed back to the classroom at least two days a week by March 16.
On Feb. 2, the School Board unanimously consented during its work session to support Superintendent Scott Brabrand to proceed with his proposed timeline presented that day in the Return to School Update. According to Megan McLaughlin, Braddock District School Board member, the School Board has the ultimate authority to open and close schools.
During the final minutes of the work session and before the consensus vote, given the Board's apparent agreement on the proposed timeline, Laura Jane Cohen, Springfield District School Board member, said, "I can only vote to support this plan, Dr. Brabrand, if you are going to keep your foot on the pedal of making sure that our teachers are getting the support that they need … Mr. Smith [Marty Smith, chief operating officer] has done incredible work of trying to get with Inova and figuring out what teachers haven't gotten [the vaccine] and prioritize. But we have to keep going in both directions, full tilt, of continuing to put pressure on to get those vaccines in people's arms and also to make sure folks have what they need in the buildings to be successful," said Cohen.
Cohen added that data must be released in real-time. "Our staff and families deserve to know what they are walking into."
Brabrand said, "We've come this far. I'm not about to quit on the Board, the community, or FCPS. We will see this through."
Brabrand acknowledged the vaccines and the plan for getting children back into schools was only "step one" of getting out of the pandemic. There would be challenges, and they needed to turn their time and attention to doing this well. "I will honor that commitment to you and your colleagues," said Brabrand.
The Board first supported, in a vote of 8-to-2, a procedural action to move forward with a pending consensus vote on the timeline, rather than wait and formally take action during the upcoming Feb. 4 regular meeting. School Board members Karen Keys-Gamarra (At-large) and Tamara Derenak Kaufax (Lee) opposed the consideration to vote on the matter on Feb. 2. "I don't believe that's how we inform the community," said Keys-Gamarra.
Given the eight votes of support to move forward with the consensus vote, the Board went ahead. Reading out the votes by name, McLaughlin announced the superintendent's proposed timeline's unanimous support as presented.
"I hope you can see this is a more positive overall outcome," said McLaughlin. "We support this school division moving forward with its best efforts to educate our children. …This next step to returning to in-person learning for those who have elected it is critical."
Since the start of 2021, when all FCPS students returned to virtual learning after coronavirus infection rates surged regionally and nationally, the school division worked on a plan to get all students back in the classroom.
The current downward trend in Covid cases and percent positivity in the County led Brabrand and his leadership team to present their Return to School Update on Feb. 2.
According to Brabrand, those recent COVID trends, along with the Jan. 14 issue of "Interim Guidance for Reopening PreK-12" by the Virginia Department of Education and Virginia Department of Health, the partnership with Inova to vaccinate all staff and educators who wanted it, and finally staffing and operational changes, gave him and his leadership team confidence to move forward.
Brabrand had said, "It is our desire to return all our students to in-person learning by March 16, for at least two days a week of in-person instruction."
Brabrand acknowledged the challenges, variants of COVID-19 emerging, recommendations for masking, the vaccine process and supply. "However, our return to in-person plan that we are presenting today is not impacted by these issues at this time."
View The Decision-Making Model for Return to In-Person Learning on the Fairfax County Public Schools website.