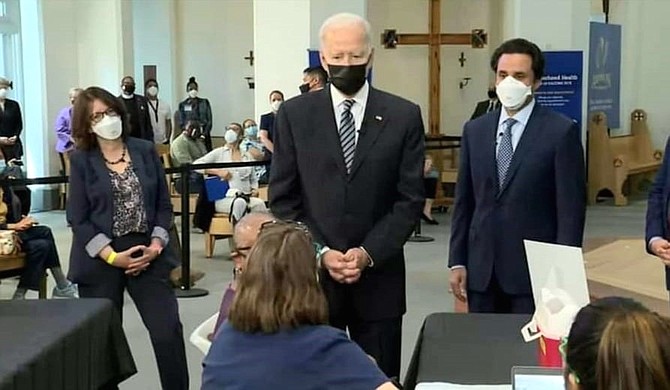 President Joe Biden made a visit April 6 to a Neighborhood Health vaccination clinic at Virginia Theological Seminary, using the occasion to announce the expansion of COVID-19 vaccine eligibility.
"You're doing the right thing," Biden said to those waiting to receive the vaccine. "And when you go back, when you go home, get all your friends, tell them, 'Get a shot when they can.' Everyone's going to be able to [get the vaccine] before the month is out. Every age."
Biden announced that every adult will be eligible by April 19 to sign up to be vaccinated, a two-week acceleration from his original May 1 goal.
During a tour of the Immanuel Chapel site, the president spoke with staff and patients, most waiting for their second vaccine dose.
"That's the way to beat this," Biden said. "Get the vaccination when you can."
Roughly 300 people a day come through the vaccination site, with Neighborhood Health administering about 20,000 doses, or about 5,000 shots a week. Of those who reported their ethnicity and race, more than 85 percent have been people of color.
Neighborhood Health is focused on increasing vaccine equity. It has set up seven vaccination sites in areas accessible to underserved communities in Alexandria, Arlington and Fairfax County. The sites are located in churches, community centers and retail areas. The vaccine program is not open to the general public. Instead, it is focused on its low-income patient population as well as individuals referred from approximately 100 partner organizations that serve low-income communities and people of color who have been disproportionately impacted by the pandemic.
"We are grateful to our dedicated staff, volunteers and partners in the faith community, nonprofits, and local government who are working together to vaccinate the communities that have been most impacted by COVID-19," said Neighborhood Health's Executive Director Dr. Basim Khan. "We are honored that President Biden chose to visit one of our vaccine sites."
More like this story