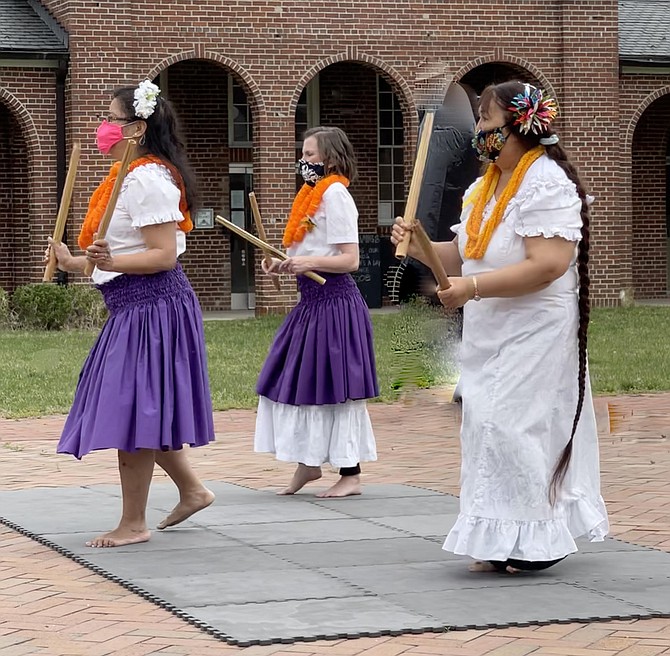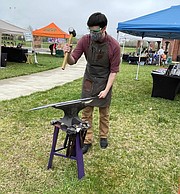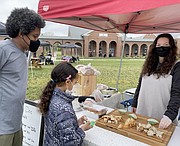 The Workhouse Arts Center, Lorton, kicked off its seasonal Community Market on April 10. Now beginning its second season, the Market opening included special activities celebrating Spring cherry blossom time, with Hawaiian dance performances, haiku readings, and cherry blossom themed art, as well as the Market's usual offering of local vendors' crafts, food and other products. Although far from the Tidal Basin, the Workhouse is an official participant in the National Cherry Blossom Festival.
With a nod to the famous blossoms and Asian and Pacific Island culture, the Community Market's activities included workshops on origami cherry blossom and butterfly making and a metal forging demonstration.
Recognizing the community's needs during the health crisis, the Community Market started last year, seeking to engage neighbors and friends in relief through art activities and promote local businesses with a safe outdoor venue, explained Erin Wright, Event Rental Manager. The venue meets Covid-19 response safety requirements for social distancing in a large outdoor space. As a Community Market, the event evolved from its early beginnings as a farmer's market selling fresh produce and food, to include a wider variety of products, crafters, artisans, hobbyists, food trucks, and small businesses. Thirty-five vendors currently are under contract, for periods of one to seven months, with new vendors expected throughout the season. The Market will open every Saturday from 10 a.m. to 2 p.m., until Oct. 30.